Meet the Others: Karli Henneman
The Game Changers. The Rule Breakers. The Innovators. Discover some of the fantastic emerging talent showcasing their work at The Other Art Fair.
Karli Henneman is a Los Angeles based artist whose serene exploration of light and shadow investigates the ambiguous markings of urban spaces. Her hard-edge painting technique offers a meditative perceptual experience through the intricate interplay of simple geometric forms. Using a neutral palette with subtle variations of color and tonal differences, she creates works of both equal opposition and volume.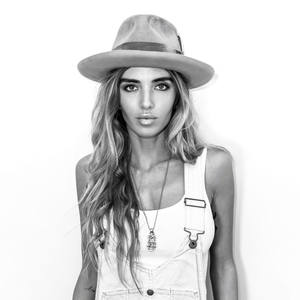 Questioning our modern world through methodical exhibits of shades of gray. The distinct clean lines and tonal shifts of Karli's work imbue a spark of coaction between the formal structures of her subject matter; brutalist form meeting elegant shadow. Her language of minimalist elements on vertically orientated linen canvases unify her paintings with both balance and a keen sense of craft. 
---
Q&A with the Artist
Tell us about who you are and what you do. What is your background?
I am a Los Angeles based painter investigating the ambiguous markings of architectural spaces. I received my BFA from Parsons; The New School for Design (NYC), and studied Art Therapy at NYU.
What are the major themes you pursue in your work?
Minimalism, brutalism form meeting elegant shadow, and subdue palette variations.
How did you first get interested in your medium and what draws you to it specifically?
I initially was inspired to create this body of work by examining how light moves through my home. I discovered dynamic shadows and rays of light cast through my windows and doors; along with captivating formations of geometric shapes where the walls met the ceiling.
How has your style and practice changed over the years?
While living in New York City I created very colorful, large scale, and labor intensive mixed media pieces. After moving to Los Angeles (in 2018), and becoming a mother; the time I had available to create my art was much more limited. When I decided to start painting again, I pulled inspiration from what surrounded me. I also wanted to create art that was serene, meditative, and easy to live with.
Can you walk us through your process? How long do you spend on one work? How do you know when it's finished?
I start by taking high contrast photos of structural forms, beams of light, and shadows on the walls (since light and shadow are in constant fluctuation throughout the day). Working from photographs helps me solidify the moment. I then tape-off the edges of the canvas. I enjoy working with paint in a "grounded" space made by the clean lines of the tape. I only use three paint colors; white, black, and sienna. The limited amount of colors challenges me to create a dynamic environment in my work with subtle tonal shifts. Since I have a young son, the time available for me to create revolves around his schedule. If I'm luckily, I can finish a small piece in day. Most times the canvas needs to be revisited several times throughout the week.
What series or project are you working on next?
Studies on watercolor paper
What is the best advice given to you as an artist?
If it feels good…keep doing it.
Shop artwork by Karli and other trailblazing artists at The Other Art Fair's Online Studios.
Introducing The Other Art Fair Online Studios, a new online platform offering art lovers around the world access to over 800 Fair artists. The Online Studios will keep our community feeling inspired, engaged, and continue to spread joy through art.