Meet The Others: Karen Thomas
The Game Changers. The Rule Breakers. The Innovators. Discover some of the fantastic emerging talent showcasing their work at The Other Art Fair. 
Karen Thomas is acclaimed for her pop-culture figures and loosely dynamic painting style. Her infamous Superhero Originals present her own comment on well-known characters' identities, and her tiny, postcard portraits present celebrities downsized, rather than the opposite. In doing so, Karen Thomas has created a distinguished style, recognisable for its thick and vivacious brushstrokes.

How would you describe your artwork?
My paintings are loosely dynamic with strong vivacious brushstrokes. At present I'm working with a combination of acrylic, charcoal, and chalk, mainly on paper or sheets of canvas; they range from postcard size to up to 250m.
I tend to work thematically. The Superhero Originals series reconstructs well-known characters in a wildly expressionistic manner, while the Postcard Collectibles transpose celebrities into small, enigmatic portraits.
This year I'm showing a new body of work entitled Figurer le Féminin, drawn from random observation, or borrowed from film and magazines.
What does making art mean to you?
It's what I do. It's a bit obsessional, really. When I'm not working in my studio, I try to see as many shows or fairs as I can, read artist biographies, or scour the internet to discover new work. I like to see things that make me want to rush back to my studio to get my brushes out!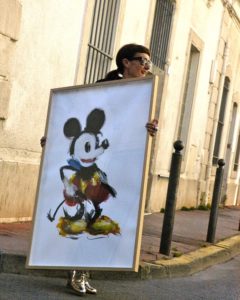 How did you get started making art?
I've always made things, but I think I really started to paint seriously after leaving college. I sold my first painting at an outdoor street festival in Sète, France in the late eighties and haven't stopped painting since.
What is it like to be part of the Other Art Fair?
Most of the time I work by myself, so showing my work in London with up to 130 artists and around 13,000 visitors is really energizing. It's very motivational to get feedback from such a wide-ranging public. The Fair team are very supportive and there's a great community spirit.
What is your favourite piece of work on your Saatchi Art profile and why?
It's difficult to say what my favourite piece of work is – it changes all the time and it's generally the next thing I'm doing! Sometimes, l'll rediscover pieces and think, "That wasn't bad." My favourite piece at the moment is called "Suburban Summer." It's a painting on paper 100 x 70cm, which I debuted at The Other Art Fair in Brooklyn, New York.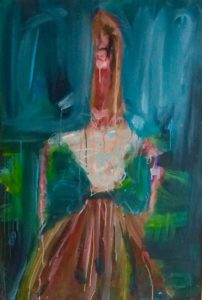 Find out more about The Other Art Fair online now and Join The Others to stay updated with the latest fair news and application deadlines.