Meet The Others: Ian Thomas
The Game Changers. The Rule Breakers. The Innovators. Discover some of the fantastic emerging talent showcasing their work at The Other Art Fair.
Based in Sydney, Australia and painting for around 20 years, Ian Thomas has now staged 13 solo exhibitions and had works included in numerous group shows in Sydney, Melbourne and Brisbane. Working with mixed media, he produces vigorous, witty, rough-edged abstract works referencing music, film, travel and literature. Ian's paintings are held in private and corporate collections throughout Australasia and Europe, having been purchased by such varied collectors as renowned fashion designer Colette Dinnigan and Melbourne's five star Grand Hyatt hotel.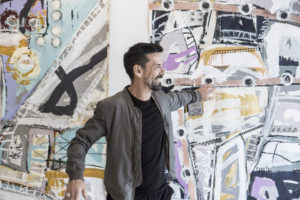 ---
Q&A with the Artist
Tell us about who you are and what you do.
 

What is your background?

I have been a practising artist for around 20 years. My background is in Public Relations and styling fashion, still life photography and events. I now work full-time in my studio and have exhibited around Australia, in London and Paris.
How has your style and practice changed over the years?
I have moved from large scale abstract painting to more minimal, non-objective work and have recently started working with installation as opposed to 2D wall works.
Where do you draw inspiration from and what does your work aim to say?
I'm inspired by popular culture – music, literature and screen, but particularly by travel and place.
What is the biggest challenge you've faced as an artist and how did you overcome it?
The confidence to show work in public – It's a very exposing moment. But it's useful to remember that not everybody is going to respond to your work – just enjoy engaging with people who do.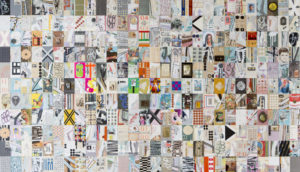 What was the best advice given to you as an artist?
Enjoy the process of making and don't focus on the end result.
What can people expect from you next? Do you have any exciting projects/opportunities coming up?
I've just taken on a voluntary position as Gallery Manager at Factory49 in Marrickville. It's an exciting opportunity to work with a group of incredibly interesting non-representational artists.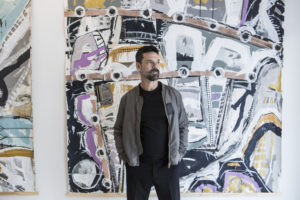 Shop artwork by Ian and other trailblazing artists at The Other Art Fair's Online Studios.
Introducing The Other Art Fair Online Studios, a new online platform offering art lovers around the world access to over 800 Fair artists. The Online Studios will keep our community feeling inspired, engaged, and continue to spread joy through art.