Meet The Others: Helen Brough
Helen Brough uses bright contrasting colours to bring the natural subjects in her paintings to life. Trained at the Chelsea School of Art and the recipient of numerous art prizes, Helen Brough has taken part in The Other Art Fair in London, Bristol and, most recently, New York. Read on below to find out more about Helen and her practice.
How would you describe your artwork?
The new series I started at the beginning of the year focuses on all flowers.  The series is titled "Fiori," which is the Italian word for flower, not to be confused with the word FURY. It is my colorful floral protest at the horror we are witnessing on a daily level throughout the globe.
What does making art mean to you?
It means a lot, and it is all I can really do.
How did you get started making art?
When I was young I always painted, so much that I ruined my bedroom carpet. Thankfully, my parents have always been very supportive.
What is it like to be a part of The Other Art Fair?
It's a lovely fair to be part of. It's a very close group that organizes it and they're all problem solvers, rather than problem makers, so even when there are the usual mishaps, everything runs smoothly. They also really put the artist first and make the experience as best as they possibly can.
What is your favourite piece for sale on your Saatchi Art profile and why.
My favorite piece was Rosa Famiglia (2017), an oil on aluminum. It just sold at the newly launched The Other Art Fair in Brooklyn, New York. I'm busy getting back to work and will have some new paintings finished soon.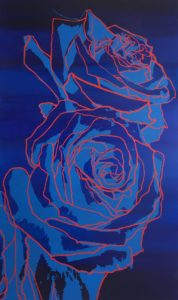 Find out more about The Other Art Fair online now and Join The Others to stay updated with the latest fair news and application deadlines.