Meet The Others: Grant Smith
The Game Changers. The Rule Breakers. The Innovators. Discover some of the fantastic emerging talent showcasing their work at The Other Art Fair.
Originally hailing from the southern beaches of Sydney, Australia photographer Grant Smith spent most of his adolescence doing what he is passionate about; surfing, travel and taking pictures with the humble camera obscura. Smith's love of the ocean and nomadic outdoor adventure has shaped his photographic style which is considered to be cinematic, conceptual and narrative lead. Grant took part in his first edition of The Other Art Fair in London in March 2017.
_
_
How would you describe your artwork?
My art work is a collection of images of a life lived in a close relationship with mother nature, moments in time that I have found while traveling or at home.
My work is an extension of my lifestyle, the images are narrative lead, graphic in design and cinematic in style, light and colour.
What does making art mean to you?
It is very much an outlet of expression and a format to tell stories through Photography. It's therapeutic in many ways. The chance to transport people to another place and provoke an emotion out people is the thing I enjoy the most.
How did you get started making art?
I started taking photos when I was 16 as I felt I could tell a stories better through photography then I could writing. I also enjoyed the craftsmanship in using a dark room to create a photo from start to finish.
What is it like to be a part of The Other Art Fair?
It's amazing! I was so happy that I got picked and to be able to share my work with the wider public. It's such a great platform for artist to launch their work.
What is your favourite piece for sale on your Saatchi Art profile and why?
'Melt' is my favourite piece. It remind me for being 6 years old down at the beach with my family and having ice cream dripping down my hand as you couldn't eat it fast enough in the blazing hot sun. It's the feeling of being transported back that time which I feel is quite powerful.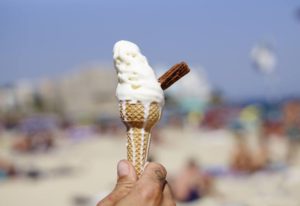 Apply online now to take part in the next London edition of The Other Art Fair in October 2017.