Meet The Others: Gillian Hyland
The Game Changers. The Rule Breakers. The Innovators. Discover some of the fantastic emerging talent showcasing their work at The Other Art Fair.
Gillian Hyland describes herself as an image maker and story teller. She creates supernatural staged images, presented as film stills or dramatic moments in her photographs. The narratives in Hyland's pieces are psychologically evocative – at once sublimely theatrical yet poignant, creating an entire story from just one snapshot.
How would you describe your artwork?
'Words In Sight' is a narrative photography series which has been inspired by poems I've written over the past decade. The poems captured my life and emotions in words; I think of the photographs as an interpretation, or a reimagining, of those words, which offer a new perspective on past events.
I create fictional environments, imaginative and theatrical in which I emphasise the characters emotional state by playing with colours, composition, textures, and aesthetic settings in order to produce an evocative atmosphere.
I have also, in creating these images, drawn inspiration from the rich literary tradition of Ireland. Stories help people see life through the eyes of others; whether the tale is set in the present day or the distant past, the common emotional threads remain the same, and will still be relevant tomorrow.
The aim of the photographs in is not only to explore my own past experiences, and my sense of self, but to tell a story. The images suggest a larger narrative within a single incident; they also attempt to tap into a universal understanding of emotion and identity.
It's not about creating a pretty picture, for me it's the intention that lies beneath it that is truly worthwhile. I'm drawn to the thinking mind behind the face, the subjects eyes holding a story in their gaze, that is what I aim to capture through my photographs.
What does making art mean to you?
Creating the photographs is a layered experience from the initial narrative inception to the process of discovering the right locations, people and styling to bring to life the emotional message I'm aiming to convey.
It is very instinctual and random process in many ways, the picture comes together through so many elements working in unison, in order to let this happen I need to trust my gut and make decisions based on what feels right. It switches on another side of my creative mind and is fulfilling in a way that nothing else can match.

How did you get started making art?
My career began in publishing, where I worked as a fashion stylist and features writer for a number of well-known national magazines. This led to a move into the television industry, and later into the film industry, where I worked in a variety of roles, including stylist, set designer, and art director. During this period I created imagery for fashion shoots, commercials and advertising campaigns for a range of high-profile international clients and brands. This diverse background helped me develop a passion for making images, which evolved into my own distinctive photographic style.
What is it like to be a part of The Other Art Fair?
I love taking part in the fair, it's a unique experience as the artist gets to meet new buyers and hear feedback on their artworks from a wide range of people. I learn what people love about the pictures and am always surprised by some peoples comments and perceptions of what the images convey to them.
My photographs are meant to be provocative so for me it's essential to learn what response the viewer has to them. It is also a chance for me to meet other artists, some photographers but many working in different mediums, it's a very fun and supportive environment which I'm happy to be a part of.
What is your favourite piece for sale on your Saatchi Art profile and why?
It is always hard to pick a favourite artwork, at the moment I like 'Trying Hard To Breathe' it is from my most recent series, I fell in love with the distressed location which I found randomly in Havana city on one of the many days I spent walking the streets in search of interesting spaces to photograph. I also feel the boxer resonates a strong emotion within the setting and I can look at this picture many times and feel something different about it.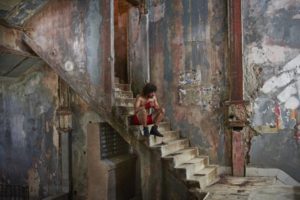 Find out more about The Other Art Fair online now and Join The Others to stay updated with the latest fair news and application deadlines.