Meet The Others: Fran Giffard
The Game Changers. The Rule Breakers. The Innovators. Discover some of the fantastic emerging talent showcasing their work at The Other Art Fair.
Fran Giffard creates vibrant works of art from her used Moleskin diary pages. By painting colourful birds from all over the world on personal found-material, Fran's unique pieces are eye-catching and popular with all types of art-lovers.
__
__
How would you describe your artwork?
I paint birds over my unbound Moleskine diary pages using watercolour, ink, gouache, and pencil. I carefully compose each painting around my handwritten notes, maps, recipes, and to-do lists. From a distance, these pieces have the appearance of a field journal, however, once read it is clear that the entries are personal. In a similar manner to natural illustrations, I try to make each of my birds beautiful, bold, and full of character.
What does making art mean to you?
I spend almost all of my time looking at and painting birds. Even when I'm not in the studio, I'm thinking about colour and composition while looking out for new species to draw! It's impossible for me to separate my art and life as they are so interconnected. I am what I do.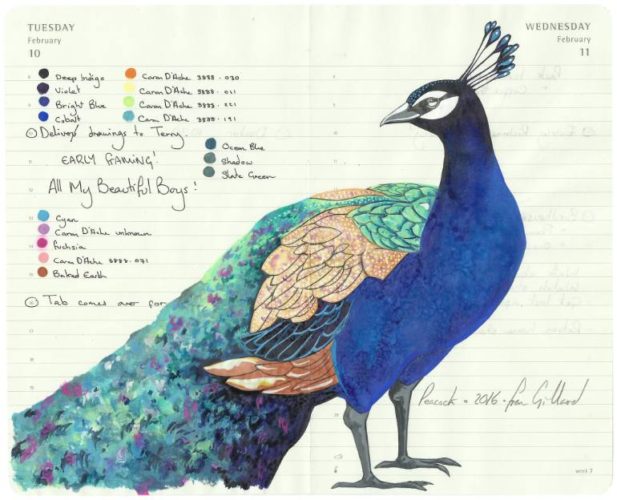 How did you get started making art?
I'd always experimented with drawing and painting as a child. I also had an early interest in nature. Both of these passions came together at art college and I simply haven't looked back!
What is it like to be a part of The Other Art Fair?
The Other Art Fair is always an exciting experience. Becoming friends with such a diverse group of artists and meeting new and enthusiastic clients is both thrilling and edifying. Everyone – from the TOAF team to fellow artists and visitors – is incredibly supportive and interested. There's always a huge buzz of excitement for the duration of the fair. I'm looking forward to returning later in the year!