Meet The Others: Etienne Clément
The Game Changers. The Rule Breakers. The Innovators. Discover some of the fantastic emerging talent showcasing their work at The Other Art Fair.

Describing himself as a 'story-smith' Etienne Clement photographs spaces of which every aspect he has fabricated. Tiny plastic objects and figures inhibit the scenes inspired by both fact and fiction. Read on to learn more about Etienne's work and his experience at The Other Art Fair in March.
How would you describe your artwork?
Baroque. Playful. Childhood extended
What does making art mean to you?
Put time into something that is meaningful, that I value. It fulfills my need to express, to achieve Sainthood…(joke) Whilst making art, I make up a 'world', I tell a story that is both based on fact and fiction.
How did you get started making art?
I am self-taught. My work has always been linked to Architecture/ Interior (I taught Photography at the Architectural Association for a while). Building models/sets and telling stories within is what I am good at, I guess.
What is it like to be a part of The Other Art Fair?
Fun and friendly. Nice crowd.
What is your favourite piece for sale on your Saatchi Art profile and why
Boudoir. An Exhibition Private View. 1720. It is the most accomplished.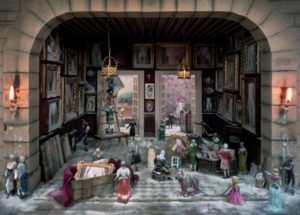 Find out more about The Other Art Fair online now and Join The Others to stay updated with the latest fair news and application deadlines.