Meet The Others: Erez Solo Rimon
The Game Changers. The Rule Breakers. The Innovators.
Discover some of the fantastic emerging talent showcasing their work at The Other Art Fair. 
Originally from the coastline city of Tel Aviv, Israeli artist Erez Solo Rimon most recently exhibited at the October 2016 London edition of The Other Art Fair. Since completing his degree in Textile Design in 2012, Erez has exhibited across the globe in Belgium, Israel, Italy and the UK, collaborating with respected institutions such as the Museum of Design Holon in Israel. Here Erez discusses his unique practice of transforming basic knitting patterns into beautiful works of art. 
"In my artwork I am developing new ways of expression while using the most basic knitting techniques. My objects are created by layering and piling geometric knits, that together with maneuvering amongst the different attributes of the matter create new shapes. The loops and layers, affected by the placement and natural light, generate a shape that reveals an image and by that giving the object its meaning."
How would you describe your artwork?
My work is materiel and technique based, I examine the tensions between artistry and art, the boundaries between design and art. I'm exploring images that come through working from the materiel and technique, and how they influence conceptual ideas.
What does making art mean to you?
Art for me is a way for exploring and understanding life and communicating my ideas to other people.
How did you get started making art?
During my high school years I was in a fine art department. In that time, while studying art history and different art mediums, I started exploring my passion, aesthetics and craft. A search that continued years on.
What is it like to be a part of The Other Art Fair?
I think for an artist it is really important to get out of the studio, meeting and communicating with other artists. Having the chance to have an audience seeing your art and hearing the response and getting real time feedback.
What is your favourite piece for sale on your Saatchi Art profile and why?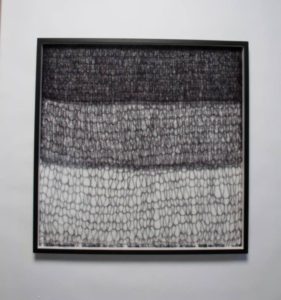 It's hard to pick one, I really love seeing new pieces presented with earlier work. I like the way my work on Saatchi Art comes together as a gallery of works but also each piece stands on its own. If I have to pick one it would be `Piled`(black mohair) where each layer has been knitted with a different level of density. I love that in one simple piece comes through a variety of tension.