Meet The Others: Elsa Marie Keefe
The Game Changers. The Rule Breakers. The Innovators. Discover some of the fantastic emerging talent showcasing their work at The Other Art Fair.
Elsa Marie Keefe is an artist based in New York City. Her work is primarily focused around the human body and nature. Through both photography and mixed media, she transmits a message of transcendence and universal beauty.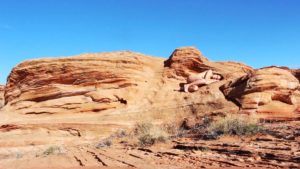 There are no mistakes, only variations, Elsa Marie Keefe
Tell us about who you are and what you do. What is your background?
I'm a visual artist and nudist with a focus on nude in nature fine art photography, mixed media, performance art, and video production. I'm based in Brooklyn, NY and in addition to working on my physical art, I'm a part of the local nudist communities where I've had the privilege of running nude women's healing circles over the past year. My background is in communications, fine art photography and liberal arts. I utilize themes throughout various disciplines relating to space and time to inform the narrative in my art.
What are the major themes you pursue in your work?
The major themes in my work include mysticism, freedom, social change, human beings, and the environment.

Radium, Elsa Marie Keefe
How did you first get interested in your medium and what draws you to it specifically?
I first became interested in photography when I was a young child and received my first polaroid camera. I would dress up my cats and take pictures. As I grew older I was enthralled with travel photography which slowly transitioned from landscapes and cityscapes to people. By the end of high school, beginning of college, I was using a basic point and shoot camera to document and share my personal experiences, always attempting to capture the endless beauty of the world through my subjective reality.  I didn't have a tv growing up so I was given art materials to pass the time. I began making collages in middle school and high school as a way to make sense of life events and aesthetic tendencies. Art has always been my therapy. After spending ample time in museums over the years I was always interested in the photography exhibitions, specifically nude imagery, and even more specifically nudes in nature. Growing up by the sea, spending summers in the woods, living off the land is what drives the aesthetic of my work. In college, during a period of depression, I began fine art photography classes to help my psyche. Around this time I had just returned from Italy where I studied renaissance art and architecture. I also stumbled into an exhibit in Milan comprised of the work by Marco Glaviano, where I remember seeing his black and white image of Cindy Crawford nude with a tree. Years later I remember this subliminally inspiring me. What draws me to this medium is the inherent, timeless connection that human beings have with mother nature. The photograph is able to capture this visual in a timely, concise manner. After many years of simply focusing on photography, I rediscovered my love of mixed media art. I bought resin at the art store one day and looked at the piles of collected leaves, bones, flowers, crystals etc. on my floor in my studio in Denver, CO. I decided to start experimenting with creating physical manifestations of the natural world and then combining that with my photography. The symbiotic relationship between humans and nature is what drives my continual work with the subject matter. Photographers and artists such as Peter Beard and Robert Rauschenberg have inspired me over recent years when I see congruencies between our styles and themes.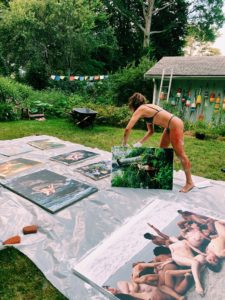 How has your style and practice changed over the years?
My style and practice has changed over the years with my transition from fashion photography to nude in nature fine art photography, to mixed media. I remember being harshly questioned in my photo critiques in college about why I chose stereotypical models or placed them in sexualized postures with lingerie. I didn't know why I was shooting this imagery besides the fact that I used my friends as models and personal clothing to create the image. I realized that I didn't want to be contributing to the unrealistic standard of beauty set forth by and for modern man. I didn't want to further sexualize the female body. One day my favorite professor asked me if I'd ever considered shooting nudes. I thought about it for a moment and realized that I hadn't thought about it, but that I was open to trying it, especially because I grew up in a rather nudist household where clothing was never required. From that point on I began shooting nude photography, starting with a self-portrait series in Lubec, Maine that I later turned into a surreal series with the nude in nature images overlayed with clouds that I would shoot out of airplane windows when I flew. This body of work was my thesis project in college for my fine art photography program. It was intended to represent the space between heaven and earth, the unknown, inspired my my studies in religion at the time. After this series, I continued with standard nude in nature images over the years. This remains the backbone of my work, the structure of my overall portfolio.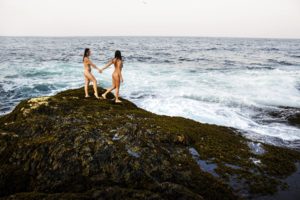 Sea Love No.2, Elsa Marie Keefe
Can you walk us through your process? How long do you spend on one work? How do you know when it's finished?
My process is driven by serendipity and intuition. I take my camera with me whenever I venture into the natural world. I set up a tripod and shoot the humans that surround me, and if there is no one, I shoot myself. I go with the flow and explore the world as I work. For my mixed media pieces, I print the photographs I take on rolled canvas then paste them to wooden panels or canvas. I collect rocks, leaves, bones etc. when I'm in nature, which I later place around the canvas and finally finish with paint, metallic materials, and resin. Its hard to say how long a piece takes because sometimes I'll use an image I took years ago, or one from a group shoot that took months of planning and a day of shooting, hours of editing. Then I'll place the found objects, which also took days or months to collect and or press, around the frame. I'll work on perfecting this visual landscape for hours, days, weeks or months, depending on the piece and depending on my mood. I never know if something is finished. I don't think anything is ever done, however if I allowed my mind to determine my actions I'd never finish anything, so when I feel somewhat satisfied I'll throw resin on the piece, then give it a name, sign it, and photograph the work. It gives me peace of mind knowing that I can always return to it and add more.
What series or project are you working on next?
My next project / series will be creating a nude tarot card series. Each card will be a large scale mixed media work of art that I will later turn into a deck. I also want to photograph myself and soulmates in all of the national parks in the country and then on each continent. My dream series is to shoot nudes with wild animals. I'm named after a lion. I've always wanted to lay naked with a lion and take a picture.
What is the best advice given to you as an artist?
The best advice given to me as an artist was to separate the business side of me from the artist side of me. This has been an extremely hard practice, but one of great importance. Also, always follow your heart, and practice patience. Patience is a virtue my dad used to say, it's what gets me through each day.
Shop artwork by Elsa and other trailblazing artists at The Other Art Fair's Online Studios.
Introducing The Other Art Fair Online Studios, a new online platform offering art lovers around the world access to over 800 Fair artists. The Online Studios will keep our community feeling inspired, engaged, and continue to spread joy through art.