Meet The Others: Elena Garcia de la Fuente
The Game Changers. The Rule Breakers. The Innovators.
Discover some of the fantastic emerging talent showcasing their work at The Other Art Fair. 
Spanish artist Elena Garcia de la Fuente has lived and worked in London since 1999. Since completing her studies in Fine Art in Madrid at the Universidad Complutense and then in the UK at Leeds Metropolitan University, Elena has been successful in receiving a much sought after Funding Award from the prestigious Prince's Trust, and has also shortlisted for the Winsor & Newton Painting Prize and the National Open Art Competition. Elena has exhibited internationally in the UK, Germany and Spain, and her artwork has been acquired by the likes of Gavin Turk, Jim Chanos and the Font-Irwin Collection. Here Elena discusses her work, being a voyeur and viewing art through modern technology.
How would you describe your artwork?
I make contemporary figurative paintings that explore certain codes of behaviour inside the museum in a playful manner. When visiting exhibitions I become a voyeur looking for interesting scenes that catch my attention and taking photos of people without them noticing. I later use these photos as source material for my paintings, referencing how we look and interact with the world around us, touching themes such as the way we view art through modern technology. The paintings also reflect spaces of quietness and stillness that hold a poetic element, inviting us to meditate and create our own narrative.
I'm interested in the meta-referential aspect of the paintings and the parallelism created by the scene represented and the moment the viewer faces it, realising they have become part of the work and that they're probably being observed by an audience.
'If we discover how we see paintings we shall also discover something about ourselves and the situation in which we are learning' John Berger.
What does making art mean to you?
For me making art is a way to understand myself and reflect on the world around me. I also like the idea that I'm leaving something behind, something that will serve as a testament of the time it was made in. Art as memory.
I feel privileged to be able to a make something with my hands, especially now in the digital era. When I'm painting I disconnect from the world and feel free to express myself the way I want to.
How did you get started making art?
I started making art as a young girl at school. Ever since I remember I was obsessed with drawing things as I saw them. I started copying images from my favourite cartoons, then I collected photographs from magazines and copied those too. I also made lots of life drawing. Art was my favourite subject at school and I had a really good teacher that understood my enthusiasm and feed my passion. When it was time to decide what to study at university, there was only one option, so I studied Fine Arts.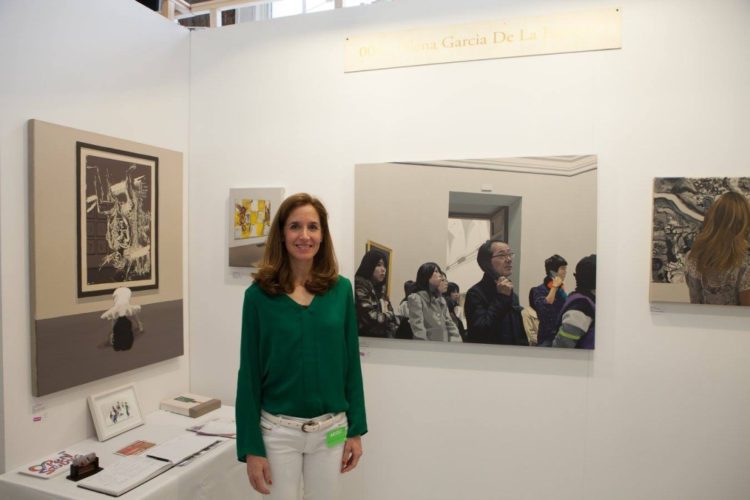 What is it like to be a part of The Other Art Fair?
Exhibiting at The Other art Fair makes you feel part of the art world in London. The Other Art Fair has a great energy and is a very friendly art fair. The city has many artists, art fairs and galleries and it's overwhelming trying to figure out where one fits as an artist. As an independent artist, it's an amazing opportunity to showcase your work to thousands of art lovers and art industry people, to gain exposure and meet new clients.
With each edition there's always improvements. Most recently, the fair made a new alliance with Saatchi Art and there's been some exciting changes already, like the opportunity to sell your work online on an already successful global website such as Saatchi Art. It was also wonderful to have been selected this year by Rebecca Wilson, Chief Curator at Saatchi Art, as one of the Must-See artists at the October edition of The Other Art Fair. This recognition meant a lot to me personally and professionally.
What is it like on the day of the Fair?
The day of the fair is very exciting because you finally get to show what you have been working on in the intimacy of your studio. It's brilliant to see people's reactions and to engage in conversations about the work. I personally really enjoy this interaction with the visitors to the point that some of the discussions have inspired me to develop my ideas further.
During the fair you also have the opportunity to meet fellow artists and build new friendships with like-minded people. I am inspired by the other exhibiting artists and their works, and we are also all able to exchange ideas and opportunities.
What is your favourite piece for sale on your Saatchi Art profile and why?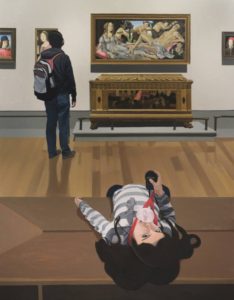 My favourite piece for sale is the big version of 'Bubblecelli', which measuring 180 x 140 cm is my biggest painting to date. It
was inspired by a scene I witnessed when visiting the National Gallery. I like it because of the way it engages with the spectator when facing the painting due to it's size and unusual composition.  When you first look at it, your gaze focuses in a man who looks attentively at Boticcelli's 'Venus and Mars'. Suddenly you notice someone looking at you from below, and then your eyes meet with that of a girl lying on a bench. Rather uninterested in the art around her, she is looking at us with a big bubble gum. At this point we realize as viewers that we have become part of the painting too