Meet The Others: Denise Dell'Olio
The Game Changers. The Rule Breakers. The Innovators. Discover some of the fantastic emerging talent showcasing their work at The Other Art Fair.
The Other Art Fair Brooklyn Artist Denise Dell'Olio's black and white images of New York City poetically capture her everyday observations. Shooting towards almost symmetrical scenes, Denise also adds a compelling dynamism to her photographs by overlaying multiple layers of light and shadow.
_
_
How would you describe your artwork?
I start with urban settings, and I work most with architecture, because I love to focus on symmetry, contrasting shadows, and light. Multi-layering makes work that is strikingly bold and memorable.
What does making art mean to you?
It means everything to me. I live it everyday of my life, it's a part of me that I can never let go. 
How did you get started making art?
In my senior year in high school, I started illustrating in a basic art class. It's amazing. I never even knew I had a talent until that year. But that moment set my path: I majored in art I college and have been a maker ever since.
What is it like to be a part of The Other Art Fair?
My photography is a passion that I make time for outside of my daily work in advertising. So this experience is a real honor for me, and an opportunity I never thought I'd get to be a part of.
What is your favourite piece for sale on your Saatchi Art profile and why?
"Aria" When I shot Aria I was moved by the moment. I love images most when they are shot in a moment. And at that moment, the man on the left was singing an Aria. He sounded like an angel. It was 15 degrees that day, and my hands and body were numb. But the sound and the visual scene captivated so much so, that it warmed me from the inside out. I actually am at my 6th edition of that piece. I think others feel what I felt when they view it.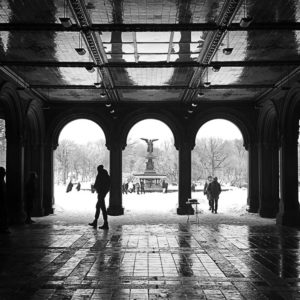 Find out more and apply online for your chance to take part as an exhibiting artist at one of the global editions of The Other Art Fair.