Meet The Others: David Spencer
The Game Changers. The Rule Breakers. The Innovators. Discover some of the fantastic emerging talent showcasing their work at The Other Art Fair.
Painter David Spencer showcased his inspiring colourful artworks at The Other Art Fair Sydney in October 2016. When speaking about his work he describes that he 'relishes in mistakes' and enjoys the juxtaposition of layering and detail in the compositions he creates.
_
_
How would you describe your artwork?
In my paintings I reference urban life and the modern industrial world, while acknowledging nature's beauty and surprise. I am encouraged by change and pushing boundaries. I relish in mistakes and tire of repetition. I love the power and statement in simple compositions juxtaposed with areas of layering and detail.
What does making art mean to you?
There's so many feelings that occur when I paint. From excitement to frustration, to surprise and elation. Painting is like a rollercoaster sometimes and like any adventure, it can be quite addictive.
How did you get started making art?
I used to watch my Mum draw as a child and later went to a Special Art High School and later studied Fine Art. Travelled the world until I had enough life experience and then had my first solo exhibition in 2004.
What is it like to be a part of The Other Art Fair?
It was a great privilege to be apart of broad group of artists. It was exciting to meet and network with so many like minded people that brought wonderful energy, advice and insight. The sales we're great too!
What is your favourite piece for sale on your SA profile and why?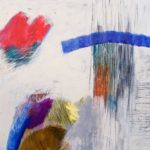 "As the wind blows (through the trees)" It's a mature piece that reflects my current exploration and desires in painting.