Meet the Others: David McGlothlin
The Game Changers. The Rule Breakers. The Innovators. Discover some of the fantastic emerging talent showcasing their work at The Other Art Fair.
David McGlothlin's work has evolved through many styles, referencing a diverse group of influencers like Fritz Scholder, David Salle, Julian Schnabel, and the Pop painters of the 60s. David spent many years as an illustrator for the American children's television series, Barney & Friends, and on multiple children's books before painting full-time. 
David is based in Dallas, Texas. His works have been exhibited across the Dallas area at 500x Gallery, Alan Simmons Gallery, Full City Rooster, Continental Gin Building and The Other Art Fair Dallas.
---
Q&A with the Artist
Tell us about who you are and what you do.  What is your background?
I am a Dallas artist, with 5 decades of painting under my belt.  My primary medium has always been paint. I was an illustrator for a dozen years, mostly working in production airbrush for Point of Purchase and on children's books.  Although I did have some formal education, I consider myself to be self-taught.  Over the years I have been blessed with several successful careers, but have always committed an equal amount of effort and time to painting.
What are the major themes you pursue in your work?
There have been many themes I have addressed in my work.  As a young painter: political, religious, and social commentary was more prevalent. I was heavily influenced by the southwest contemporary painters.  Artists like the late Indian painter Fritz Scholder, and the Cuban painter Luis Cruz Azeceta, turned me to more freedom in my brushwork, and focusing less on the subject matter, and more on how the paint is applied.  I have ventured into many genres.  Figurative, landscape, minimalism, abstract and color field.  I currently consider myself a pop realist.  Most recently, I am drawn to two themes: the majesty of the animal, and the beauty of the Baroque and Renaissance –  imagining these images in pop and patterned environments.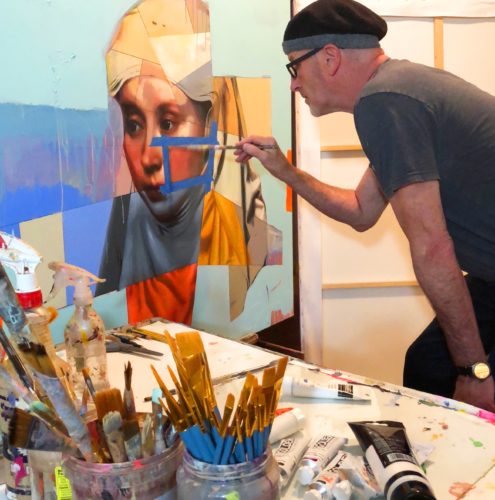 How did you first get interested in your medium, and what draws you to it specifically?
My interest in painting was sparked at a young age by my Grandfather, he himself was a painter.  I grew up with his canvases adorning the walls of my childhood home.  I would stare endlessly at them.  My painting skills were honed with realistic watercolor, I used gouache as an illustrator, and spent years with oil paints. Although I have experimented and invested time in sculpture, photography, print making and ceramics, I am always drawn back to canvas and paint.  For the past two decades I have worked almost exclusively with acrylics.  I paint fast,  make additions and changes often, and love building up layers. Acrylic paint is ideal for my process.  I recently have also used latex paint for large areas in the initial stages of a painting.  I love the chalky matte finish, and the way the acrylic brushes over it's surface.
How has your style and practice changed over the years?
I have experimented with many styles.  For me the journey demanded it.  I often would copy a painting of someone I admired.  Originality was at once an obsession.  It is no longer.  Painting for me allows influences of course, but I feel comfortable and intuitive in my style.   Years ago, a quote by CS Lewis had a big impact on me.  "Even in literature and art, no man who bothers about originality will ever be original: whereas if you simply try to tell the truth, without caring twopence how often it has been told before, you will, nine times out of ten become original without ever having noticed it."
Hopefully, my style will continue to evolve, and never become static.
Practices have become extremely discipled.  Paint everyday.  Wake up, coffee, prayer and meditation, paint.  Paint some more.  Until recently I had always had a remote studio.  I am working from home currently which has the disadvantage of space limitations, but the advantage of maximizing time in front of a canvas.
Can you walk us through your process? How do you begin?  When do you know its finished?
I am constantly looking for the next subject.  It's intuitive.  I can see it in a multitude of places.  The museum, or a peeling billboard.  I used to sketch out my ideas.  Now the process evolves around a photo as reference.  The iPhone and other technology are my companions.  Twenty phone apps help with the inspiration.  Compose, layer, change, remove and add.  There are easily a thousand developed ideas on my phone at any time.  I live with them.  At some point I will pull 8 or 10 for the foundation of a series.
I always have 5 to 10 paintings going at one time.   It's not uncommon for each to go through many evolutions.  Painting out areas, adding other elements.  Some paintings take several days, others I pull out a year later to work on.  I often feel a piece is complete, only months later to make major changes.  I've learned over time to live with it, and hold off on that coat of varnish.
What series or project are you working on next?
I have several series in the works.  Prelims are complete for a group incorporating hard edge geometric shapes over more painterly backgrounds.  I am also very excited about two large diptychs I hope to have complete to show at The Other Art Fair Dallas this Fall.  These have the scale and feel of altar pieces, both with religious overtones, and for me, a celebration.
What is the best advice given to you as an artist?
If you're going to be a painter, paint.  Do it relentlessly and with passion.  There are no shortcuts.  Put in the time.  The only way to evolve is in the process of doing.
Introducing… The Online Studios – The Other Art Fair, delivered to you. A new online platform offering art lovers around the world access to over 800 Fair artists, The Online Studios will keep our community feeling inspired, engaged, and continue to spread joy through art.