Meet the Others: Craig Keenan
The Game Changers. The Rule Breakers. The Innovators. Discover some of the fantastic emerging talent showcasing their work at The Other Art Fair.
The Other Art Fair London artist Craig Keenan creates expressive, beautiful and well composed pieces, free from the weight of traditional conceptual underpinnings. His cyanotypes masterfully demonstrate the harmony between analogue and digital techniques. Read on to understand more about Craig's practice and his best piece of advice for fellow artists.
(Profile image by Adrian Flower)
Tell us about who you are and what you do. What is your background? 
My Name is Craig Keenan, and I am a printmaker specialising in Cyanotypes.
I have a BA in Writing from Dartington College of Arts. And for the last ten years I've been a screen printing technician and tutor at Print Club London. I now produce fine art screen print editions with m'colleague under the name Mesh & Blade. And all of these things enable me to focus in on my own practice, which is Cyanotype printmaking.
If you could describe your work in 3 words, what would they be? 
Blue, Painterly and Photographic
Can you walk us through your process? How do you know when an artwork is finished? 
My process is typically quite structured as a result fo being put through the prism of printmaking.
I'lll take photos of whatever subject matter I'm working with, edit in photoshop, produce a digital negative, prepare the paper by applying the chemical solution, dry for 24 hours (minimum), expose and wash out, dry for 24 hours.
Thats it in a nutshell, but obviously there's a lot more to it in terms of dreaming up ideas, experimentation with composition and or light balance etc.
I'm not sure what it is that tells me when somethings done… It usually comes after hours of tweaking and adjusting and ultimately circling back round to a much earlier stage in the composition. It's done when adding to it starts to take away from it if that makes sense.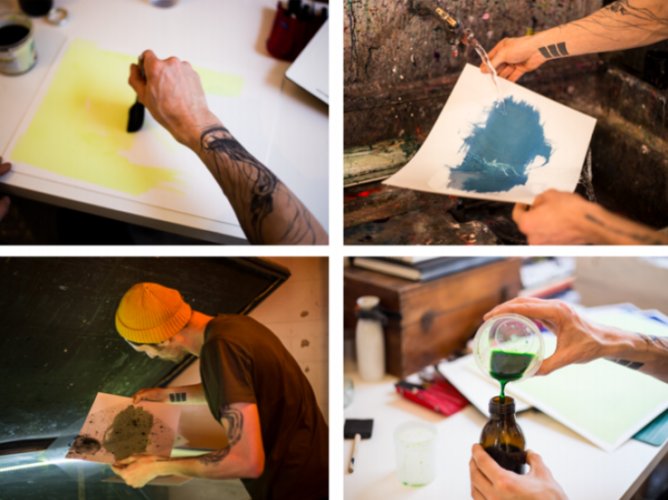 Has being in isolation affected your artwork practice in any way?
At the beginning of lockdown I saw it as a fun challenge to shoot things I have at home, I was making mountain ranges out of bedsheets and sitting in my garden waiting for that perfect cloud to form to add in to the composition. But now I'm just aching to be out in the world somewhere taking pictures of real mountains and cloud hunting properly!

What is the best advice given to you as an artist?
Probably the best advice given to me as an artist was to make things bigger. I work at a small scale quite a lot mainly because its easier, in terms of everything from the making to the storage to framing or shipping. But the bigger the work is the more fun it is to make. And the more impactful.
I didn't believe in myself enough to spend money producing work at a larger scale but thanks to that advice, I sold a big one, and got paid big for it! As a result I earned the money to pay for all materials plus framing and then do it all over again! (And that's the ultimate goal for me: Earn money to spend on making more art!)
Can you tell us something about you that people would be surprised to hear?
Something people are ALWAYS surprised to hear about me is that I'm a huge football fan! I guess the Venn diagram of artists and football fans has quite a small overlap. But that's where I reside!
Shop artwork by Craig and other trailblazing artists at The Other Art Fair's Online Studios.
Introducing The Other Art Fair Online Studios, a new online platform offering art lovers around the world access to over 800 Fair artists. The Online Studios will keep our community feeling inspired, engaged, and continue to spread joy through art.