Meet The Others: Cody Choi
The Game Changers. The Rule Breakers. The Innovators. Discover some of the fantastic emerging talent showcasing their work at The Other Art Fair.
Cody Choi has taken his love and passion of dancing and turned it into beautiful, energetic works of art through photography. A popular addition to The Other Art Fair's selection of emerging artists, Cody's life-long dedication to dance, choreography and movement is accurately portrayed in his art.
_
_
How would you describe your artwork?  
To describe my art work is easy, dance photography. It's simple. I like things simple, I like energy, I like emotions, so that's about my art work
What does making art mean to you? 
Making art for me is a way to communicate feeling, to make us feel, make us think, and make our emotion dance.
How did you get started making art?
I started doing dance photography when I was dancing around the world with Matthew Bourne's Swan Lake for 3 years. I did't think I would become a dance photography one day, it happened naturally. Choreography is definite my first love of creating art. My choreography has been shown at Royal Opera House, BBC and I will keep choreographing. 
Every stage of your career, specially when you're a creative person, if you are an artist, you need to show work because when you're 30 years old you won't be able to create the same thing as when you were 20. So every journey is different. When you look back you'll be glad that you did it.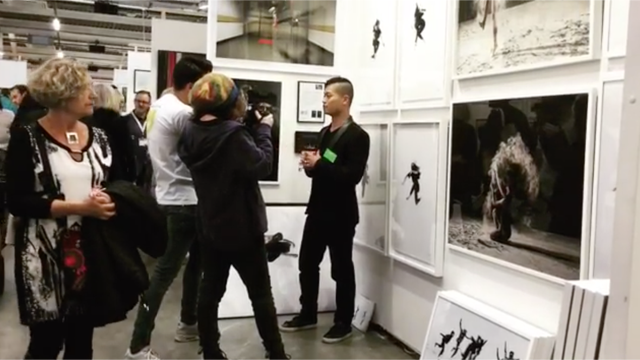 What is it like to be a part of The Other Art Fair?
All all staff and artist are amazing and super friendly. It's the best fair for artists to showcase their work. Thank you for having me.  I've learnt a lot 
What is your favourite piece for sale on your SA profile and why? 
It would be Self Portrait #1. My self portrait photography that I took when I was touring for Matthew Bourne's Swan Lake. It is a record of myself dancing in one of the best dance companies and touring around the world for three years- One important highlight of my life!
I feel, as a dancer And a photographer, photography plays a very important role to archive the dancers' physique, their movements, their styles, emotional expressions, these are the things that can change or evolve as time goes by- in a matter of years, months or even by weeks- just when a dancer has moved from one project to another.