Meet The Others: Chris Riley
Meet Chris Riley, the Brisbane-based artist bringing Palm Springs to Sydney this December 1-4 at The Cutaway.
If you've ever wished a summer holiday could be eternal, Chris Riley's paintings make that wish a reality. Each of Chris' paintings are a one-of-a-kind celebration of Palm Springs, providing a window to the popular holiday destination and its history.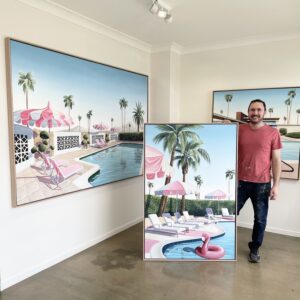 Known as a mecca for mid-century architecture and 'Hollywood's Playground,' Chris Riley's paintings reference the Golden Age of Palm Springs and its relaxing allure. 
In works such as 'Private Oasis,' Riley captures the large windows and open-planned architecture that boomed across America from 1945 – 1969. The imagery of pools, long beach chairs, striped umbrellas and retro cars are recurring; nodding to the poolside scenes captured in photographs like that of Marilyn Monroe at The Racquet Club in 1949.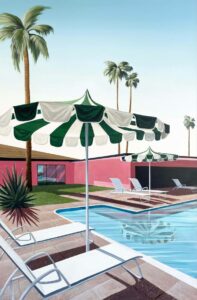 The architecture, colours and retro vibes of Palm Springs are perfectly matched with Chris' bold energetic style. Working between the lines of realism and expressionism, Riley's practice has aligned naturally with the destination.
For anyone whose been to Palm Springs, you'll know that the combination of summer sun and the unbelievable view of the San Jacinto mountains creates a magical feeling.  Riley to plays with light and shadow to really bring you into that desert sun. Working with acrylic, a typical painting for Chris will take 5-8 hours, or longer depending on the size.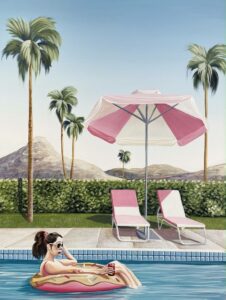 "I don't get caught up in the finer details as I love how when you stand far away, my work looks detailed and then you get up close and can see the loose brush strokes which have created the illusion of detail."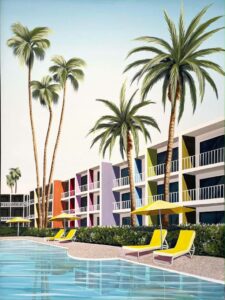 For Chris, his journey as an artist has been an "incredible ride." It wasn't until his late 20s that he picked up a paintbrush after struggling to find an artwork for his apartment. 
"I painted one myself, and the feedback from friends and family was overwhelmingly positive. When my wife Tracy suggested I begin painting for a living, that idea made me happier than my job at the time. I love to paint, so why not?"
From selling pieces at markets, quitting his job and painting full time, then opening his first studio space in East Brisbane, to now running a studio space and gallery at its Coorparoo location, The Other Art Fair is his next big step as an emerging artist. 
Chris Riley joins 135 artists exhibiting at The Other Art Fair Sydney, December 1-4 at The Cutaway at Barangaroo.