Meet the Others: Charlotte Sverdrup
A moon-like landscape: white, barren and out of this world. Colours of the Moon, a striking series by Charlotte Sverdrup depicts the largest Mountain plateau in Europe. We asked Charlotte some questions to learn more about this extremely unique series.
Charlotte Sverdrup is a Norweigan-French photographer based in Oslo. Her range of subject matter is diverse and reflects the global citizen she is, having studied in France and Australia and exhibited from New York to Norway, Charlotte's work cannot be confined to one category. Charlotte has exhibited work globally including The Other Art Fair London and Brooklyn.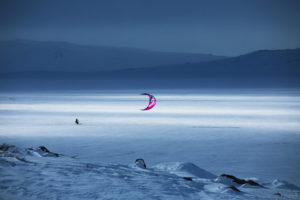 Colours of the Moon I
How would you describe your practice?
I have been a full-time photographer for 12 years now mostly working for private clients and advertising agencies. In addition to my commercial assignments, I also spend time working on my own personal projects, often over several years. I am an observer at heart and enjoy capturing everyday life. I am curious and seek stories, people and places and enjoy the variety of my work and how much I get to experience and see that I wouldn't if I was sat in an office every day. As Annie Leibovitz says "I see life through a lens".
Your "Colours of the Moon" series captures the stunning landscape in Hardangervidda, Norway. Can you describe the weather and light in Hardangervidda a bit more, is there a certain time of day that you favor to shoot in or is there a best time of day for the winds?
The weather in Hardangervidda during winter is cold, raw, powerful and constantly changing. It can change so quickly that you can have clear vision one minute and then everything goes white the next, completely losing track of where you are. It can also change from very windy to eerily silent or vice versa within hours. Luckily the weather forecast is pretty accurate, so it's possible to know when to be out there. The daylight is very limited with approximately 6-7 hours of daylight around Christmas and longer days towards summer. During the summer (and particularly in July) there are just few hours of darkness.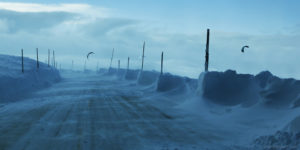 Kite Panorama
I have spent many days photographing the scenery and a beautifully sunny day can make for great photos, but over the years that I have worked on my "Colours of the Moon" series I tended to photograph more on days when the weather changed rapidly as the light is more interesting. I do love a good sunset and the beautiful "magic hour" but for this project I have not aimed at a specific time of day as the winds are more important to me. No wind means no kiters. On really bad days the road crossing the mountain plateau is closed, but in order to photograph these extreme weather conditions I have begged the people ploughing the roads to be able to get up there and they have been very understanding towards my project, letting me be the only car to drive with them in a convoy.
Nature will always be stronger than us, so by making the kiters seem like little puppets on a stage shows how small we are and how absurd it is to play against these forces.
The weather and the scenery play a big part in my series. I was not interested in doing typical action filled sports photography, as this was never just about the sport or the landscape. It was the combination and the beauty of the two elements that interested me and how we challenge ourselves whilst being at the mercy of the weather and its winds. Nature will always be stronger than us, so by making the kiters seem like little puppets on a stage shows how small we are and how absurd it is to play against these forces. At the same time, I hope that these images serve as a reminder of all the joy nature gives us and how climate change may have a huge impact on things we currently take for granted.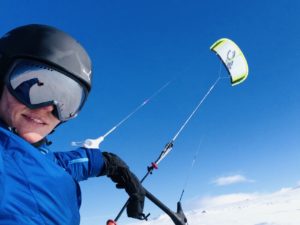 The artist snow kiting in Hardangervidda
Apart from the landscape of Hardangervidda, are there other aspects of Norway or Norwegian culture that inform and inspire your practice?
Absolutely! Norway is a beautiful country filled with nature that is breathtaking and inspires me wherever I go. Hardangervidda is special to me as I have spent many of my holidays up there and it also differs from traditional images of fjords and steep mountains that many see or think of when they describe what the country is known for. Every culture has its habits and traditions and this is what I am essentially looking for. Norwegians enjoy the outdoor life and being in nature so it is interesting to portray that as a self-reflective project. In fact, Norwegians talk a lot about the weather and plan the days according to it. We tend to joke about it too: "If you have nothing to say, talk about the weather". It's through observing this that I really see our quirky sides. It could be something as simple as people saying "hi" to each other and smiling when we cross paths in nature, whilst in the city everyone goes on about their business and you get more of the introverted" don't talk to me" vibe. Nature equals freedom and people seem to relax more. Norwegians love their holidays more than anything! They will be queuing up to get out of the city on a Friday to drive to their cabins to enjoy some time off.
You have travelled all over the world, do you have any places that inspire you the most or you find yourself most drawn to?
This question is so hard to answer because I tend to find something beautiful and interesting in every country I go to, but I do love going to places that are different from what I am used to, like in Asia. I am still fascinated by the modern and traditional aspects of the Japanese culture. The country is equal in size to Norway, has 126 million inhabitants whereas we are 5 million, yet for a country of that size they are such opposites to us and outstandingly disciplined and polite – to a point where it almost seems self destructive. When I was there, my friend's suitcase rolled down the escalator by accident and hit a woman from behind at the bottom of the stairs. She was comically sliding down the rest of the escalator sat on top of the suitcase. I was terrified thinking it must have hurt and shocked her, so we ran down to rescue her and to apologize, but when we got to her she stood up, bowed and apologized to us instead.
Seeing other ways of life fills me with stories and makes me feel richer and wiser. I love the diversity, the things I learn and how it makes me reflect on my own upbringing.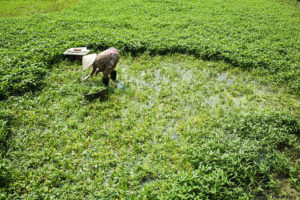 Woman in field, Vietnam
What are you excited for in 2020?
Working on my new projects and growing as an artist. 2019 was filled with great experiences and exhibitions in Oslo, London and New York. This has resulted in sales in the US, UK, France and Norway and now I will also be selling my artwork through a gallery in Oslo.