Meet the Others: Bryce Watanasoponwong
The Game Changers. The Rule Breakers. The Innovators. Discover some of the fantastic emerging talent showcasing their work at The Other Art Fair.
Introducing Thai-Australian street photographer, Bryce Watanasoponwong. Bryce explores the worlds most other people pass by. Bryce will make his debut at The Other Art Fair in Sydney this year and took the time to speak to us about his photography, those who have influenced him and how, no matter how colourful they were, spreadsheets were never going to help scratch his creative itch.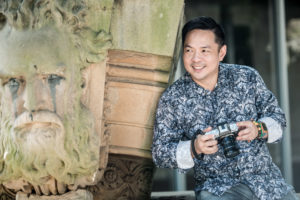 Tell us about who you are and what you do. What's your background?
My name is Bryce Watanasoponwong, and I'm a Thai-Australian photographer. I received my bachelor's and master's degrees in accounting, information and business administration from universities in Thailand and Australia, which has become my second home.
My photography journey began in 2011 when I bought my first camera from a duty-free shop at Taiwan's Taoyuan International Airport for a holiday with my parents. I started taking pictures of strangers on the street, spending hours exploring whatever city I happened to be in. Soon I fell in love with street photography, with a particular focus on a documentary style.
Within months I began to explore portraiture, working with a close friend, award-winning Sydney-based wedding photographer, Michael Zanetti.  With each wedding shoot I participated in, I gained confidence in trusting my photographic eyes and creative instincts.
After eighteen years in Australia, I decided to return to Thailand and pursue business opportunities in real estate and hospitality. During these early years, I put photography on hold to focus on establishing my presence in professional areas. Though I was happy to be back home and immersed in a thriving career, I also realised how much I missed being behind the camera. It was at this time that I decided to pursue my true passion.
Where do you draw inspiration from, and what does your work aim to say?
In the Colours of Emotion series, I consider the relationship of the nature of emotion, shape, pattern and colour, which I use as a metaphor for understanding the human condition that connects us all. My artwork in this series reflects my emotions as I wander in the street, edit images, or print them on a selected medium.
"Incorporating the works of other forms of arts has helped me gain a new and expanded perspective on my photography and the world in general."
Can you walk us through your process for creating a work?
I never follow any hard and fast rules of how I create my work, but, in general, I follow these basic steps: taking the image, deciding if I want to use the image in a collection or series, choosing the medium (paper) for print, and mounting and/or framing.
1.Taking the Image
My aim is to visit new cities that I have never visited before to gain inspiration for my work.  I particularly enjoy exploring exotic places, such as Myanmar, India, Bangladesh and among others. I love immersing myself in the lives of the city, meeting the locals, and observing their daily lives. Each town has its unique culture which inspires as a photographer.  I can spend the entire day walking on the streets, taking images that I find interesting whether being portraits of strangers, street scenes, animals, or unusual shapes, patterns, and colours. I find beauty in all of it.
2.Image Selection
Having taken photographs, I then select what I consider to be my best. I only choose pictures that have outstanding elements, such as moments, compositions, shadows, colours, lines, shapes, and patterns.
3.Medium Choice
Selecting a medium for printing is critical because choosing the right one makes your artwork stand out. Since my images in the Colours of Emotion series contain mostly colours, shapes, lines, and patterns, using the correct medium is paramount for displaying the image details.  Then there are times that I prefer the watercolour look for my artworks.  For these images, I used ILFORD Textured Cotton Rag (310gsm). Alternatively, I also used ILFORD Galerie Canvas Natural (340 gsm) for my artwork in this series. It is a cotton blend canvas with a matt surface and a natural tint that enhances images with colours and provides deep and dense blacks.
4.Mounting and/or Framing
Mounting & Framing is enormously essential for any images. The correct choice can have a significant impact on how viewers see your artworks. For my debut exhibition, I selected mounted the pictures that were printed on ILFORD Cotton Rag attached on Gator Foamboard with Archival Tape and framed them with ILFORD Galerie Frame Shallow Gab.  For subsequent exhibition of the same series, I chose to use images on ILFORD Galerie Canvas stretched and framed with ILFORD Gloating Frame.  I was delighted with the outcome.
Who are your biggest influences, and why?
I've studied the images of many world-renowned photographic collectives, including Magnum Photos, Up, and Burn My Eye.  In particular, I'm inspired by the work of such photographers as:
          Magnum Photos
Henri-Cartier Bresson, Elliott Erwitt, Harry Gruyart, David Alan Harvey, Alex Webb, Carl De Keyzer, Nikos Economopoulos, and our Aussie legend Trent Parke
          Up (previously known as In-Public)
Maciej Dakowicz, Richard Bram, Matt Stuart, Siegfried Hansen, Charalampos Kydonakis, Thai-bred Tavepong Pratoomwong, and our own Aussie, Jesse Marlow
          Burn My Eye
Pau Buscato, Dimitris Makrygiannakis, and Thai-raised Rammy Narula and Kanrapee Chokpaiboon
Besides, I have been greatly influenced and inspired by the works of Mark Rothko and Jackson Pollock. Incorporating the works of other forms of arts has helped me gain a new and expanded perspective on my photography and the world in general.
What can people expect from you next?
Upcoming projects include
Collaborative work with Thai artists and producers for art projects, including interior home decor, fashion and fabric products, etc.
Photographic exhibitions in Thailand and Australia.
Photobook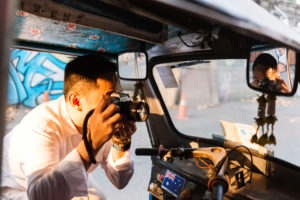 Can you give us something about yourself people might be surprised to hear?
I enjoy much of my printing at home because I love to see the freshly produced artworks.
When I was young, I was more enthusiastic about mathematics than the arts.
During my corporate life as an analyst, I would spend time colouring spreadsheets to make them look beautiful for my team to view. I needed to make sure that my reports looked excellent with the colours of my choice.
Introducing… The Online Studios – The Other Art Fair, delivered to you. A new online platform offering art lovers around the world access to over 800 Fair artists, The Online Studios will keep our community feeling inspired, engaged, and continue to spread joy through art.