Meet the Others: Brigitte Yoshiko Pruchnow
The Game Changers. The Rule Breakers. The Innovators. Discover some of the fantastic emerging talent showcasing their work at The Other Art Fair.
The Other Art Fair artist Brigitte's photorealistic paintings capture patterns of light and shadow on different surfaces meet to create captured moments of deep tranquility and cinematic quality. We interviewed Brigitte to find out more about her practice, inspiration and what she's working on next.
Tell us about who you are and what you do. 
With a German father and a Japanese mother I combine two cultures in my soul, which is reflected in my work. I paint and I make drawings, and I am influenced both by modern Western Realism and Pop Art as well as Japanese wood cuts and Japanese Animé films. In my paintings I use acrylics, but I also apply modelling paste, vintage cloth and silk thread stitching, in order to make the different surface structures both visually but also experiential.
I have painted since I was able to hold a brush, influenced by my artistic mother, who also used to paint. I used to make drawings and explored the world of graphic novels, creating one or two page short stories in a graphical style very much influenced by the Belgian ligne claire style but also by some avantgarde graphic novel artists of the 80's and 90's. Although I have a Masters degree in Japanology, Philosophy and History of Art my heart always beats for the visual arts. After my Masters degree I went on and enrolled at the Munich Film Academy. I graduated with a diploma, and while working with film I did my own storyboards. As a painter and graphical artist I really started to work full-time only after I began making paintings for my son, when he was little. I think, until then my inner critic's voice was too loud, but then I could set free a creative flow that hasn't stopped flowing ever since.
What are the major themes you pursue in your work? 
I am interested in how we perceive the things that surround us. In an aesthetic sense as well as in a philosophical or psychological sense. I am always aware that the only thing that hits our optical senses is light. And similar to how our brains always compare the perceptions with memories to then be able to constitute a coherent visual world around us, I am interested in testing how all of a sudden a colored area, a line or a dot in a certain visual context becomes an easily comprehended figuration, although these in themselves are nothing but abstract forms. I choose subjects which become a pronounced stage for shadow and light, for instance water with all its distortions and fractions of light, glass, metal, hair, all sorts of shiny surfaces, but also clothing with its different structures and patterns. Also, as a reminiscence to my film maker background, I try to find unusual angles of my subjects, such as from above or asymmetrical, or I cut parts of the image. As I then more or less meticulously try to evoke a photorealistic result, I look and handle the originally fleeting moment in a very prolonged time, and I think thus I create an image in which the onlooker can delve themselves into and step out of their everyday routine. In the best case the person then gets "centered", a concept which I draw from Zen Buddhism, which is also an influence of my Japanese upcoming.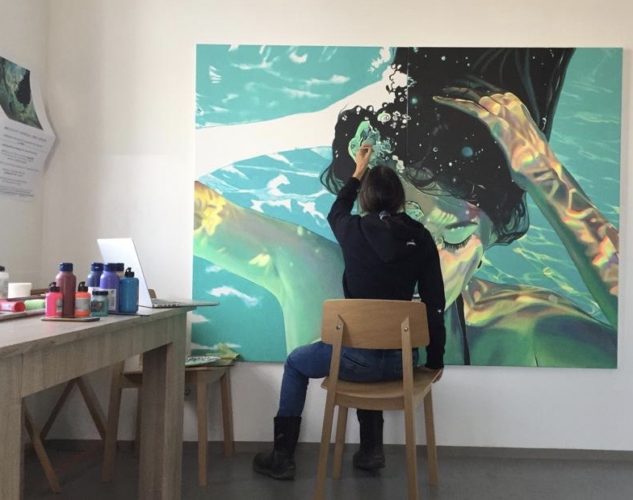 How did you first get interested in your mediums and what draws you to them specifically?
I come from drawing, so I used to use pencil, colored pencil, ink, etc. But I also always loved watercolor and oil. But when I discovered acrylic paint I was all in for it. I love the brightness of the neon hues, and I love how quickly you can work with them. The difficulty although is that is dries so fast and I miss the ability to work wet-in-wet, which allows you to blend hues more beautifully. With acrylics this can become quite patchy and ugly. So I had to develop special techniques, like using special acrylic paint gels which retard the drying process. But overall I prefer acrylics because you can work with water, which is good for me, I need my paint fluid! And it spares me the rather painful brushing cleaning with oil color. I use acrylic modelling clay in order to get exactly the kind of underground I need, be it super smooth or 3-D like structured, whatever is most suitable for the subject I am painting. I love the raw unprimed linen because of the haptic quality, and vintage cloth application and stitching came with the raw linen, as an additional element that adds to the layers of an image.
How has your style and practice changed over the years?
I think that first I painted a little more roughly, more in an almost impressionist manner, but I got more and more interested in trying to refine my painting style, with more detail and with more attention to how the things I paint actually look like. I work with layers of very fluid acrylic paint, trying to let layers shine through for instance when I paint skin, thus creating a glow from within. Very often this is obtained by using neon colors, too. This layering I learned with Nihonga, a Japanese traditional painting technique, where pigments in different grain sizes are applied. When using modelling paste I create very fine prime undergrounds or very haptic almost 3-D like surfaces. I still try to simplify forms while keeping my brushwork precise. As in my drawings in the end I have a very fluid way of handling lines or the paintbrush. My experience with Chinese calligraphy with a brush dipped in wet ink and moved with focused but fast brush movements is mirrored here.
Can you walk us through your process? How long do you spend on one work? How do you know when it's finished? 
I walk and move around with open eyes, always interested in finding a special subject, something that entices, surprises or touches me emotionally. A play of light or something ordinary as my breakfast sandwich in front of me on my plate. I then take a photograph which becomes my reference for my painting. I very often change the coloring or contrast of the original photo in order to have a more pronounced coloring. I make a pencil sketch, with rough outlines on the canvas, sometimes apply modelling clay and then I start painting always with the photo on a laptop as a reference. I put layers of acrylic paint on the canvas, many of them, until I reach a richness or deepness in coloring. I use palette knives, brushes, sponges, toothbrushes etc. Smaller works can be done in a few days, larger canvasses take up weeks, the largest so far even many months. It takes time to know when a work is done, sometimes I revisit them for smaller touch ups. But I am mostly satisfied, when the painting becomes "whole". That's hard to describe what exactly that means to me. It is when a piece becomes a homogenous entity of its own, where all parts of the painting get connected and you do have a sense of completion, nothing falls out or distracts you from the overall impression. I do like to omit parts when painting, though, but that's in order to concentrate on the essential elements of a painting. And when I think it's finished I certainly put my little Japanese stamp on it, which says "hikari", which is "light"or "shine" in Japanese, because for me that's what my art is all about!
What series or project are you working on next?
Currently I am working on a series with old photographs from my family's past. I especially love the ones, that are not perfect, for instance when they are out of focus, blurred, overexposed or too dark because they are set against back light. It is because that reminds me of how memories are formed. They, too get blurred or changed, depending on what narrative your mind builds around them. When choosing the photos for this series, I always think of all timelines involved. In the persons depicted, past, present and future are somehow included, although not visible on the surface. Sometimes that involves hardships or fulfillment in the future of which the person when photographed in the past didn't know anything about yet. Sometimes it means that a basically unhappy person in my family still can be seen as touched by light, even though they themselves might not be aware of it. Light is always around and within us, even if darkened by some shadow. It is a very personal series, but I do hope that it speaks to others, too. Apart from that I always continue my older series with water, rain, still lives. These themes still move me.
What is the best advice given to you as an artist?
Just do it! Don't worry about what others think, don't be muted by your inner critic. Just like Andy Warhol says, "Don't think about making art, just get it done. Let everyone else decide if it's good or bad, whether they love it or hate it. While they are deciding, make even more art!" I used to be inhibited by my loud voice of my inner critic, and still I have discussions with it. But there is freedom and happiness and growth for me only when I pick up my brush on a daily basis, very much like going to a normal 9 to 5 job. I then get surprised at what I accomplish even after a sometimes difficult and strenuous process. I understand new things and see them come to life, and that's the biggest reward.
Shop artwork by Brigitte and other trailblazing artists at The Other Art Fair's Online Studios.
Introducing The Other Art Fair Online Studios, a new online platform offering art lovers around the world access to over 800 Fair artists. The Online Studios will keep our community feeling inspired, engaged, and continue to spread joy through art.