Meet The Others: Bridget Davies
The Game Changers. The Rule Breakers. The Innovators. Discover some of the fantastic emerging talent showcasing their work at The Other Art Fair.
Artist Bridget Davies has created a large and impressive portfolio of romantic fashion drawings. A seasoned exhibitor at The Other Art Fair, we're looking forward to see what Bridget has in store for the next 2017 Spring Edition.
_
_
How would you describe your artwork?
Playful, flirty, instinctive, dark at times, light at times!
Although fashion based I am not really inspired by fashion per se, as more by the feel of the fashion from the past; the Forties and Fifties in particular have a classic, ageless beauty expressed by fashions of the time. I am influenced enormously by the elegant and beautiful fashion drawings by illustrators of this period, as well as contemporary fashion artists and illustrators working today. I love the playful, flirty and romantic story telling in the work of illustrators such as Rene Gruau and Andre-Edouard Marty to name but two. I am also currently playing with the idea that a piece of work can, at first, look like a successful abstract and then slowly it becomes clear that it is a fashion painting.
What does making art mean to you?
It's an integral part of who I am, and to be able to create is an accumulation of lots of wonderful things. It can also be quite an emotional exploration as I do inject how I am feeling and what I am thinking quite subtly, and sometimes surreptitiously, into my paintings.
I also like working by myself for myself. I have a very varied routine, so I am never bored. I either have art fairs to prepare for or illustrations and commissions to produce. I also work with interior designers. Also working for myself mean I am able to go off for a run or take part in a yoga class when I fancy.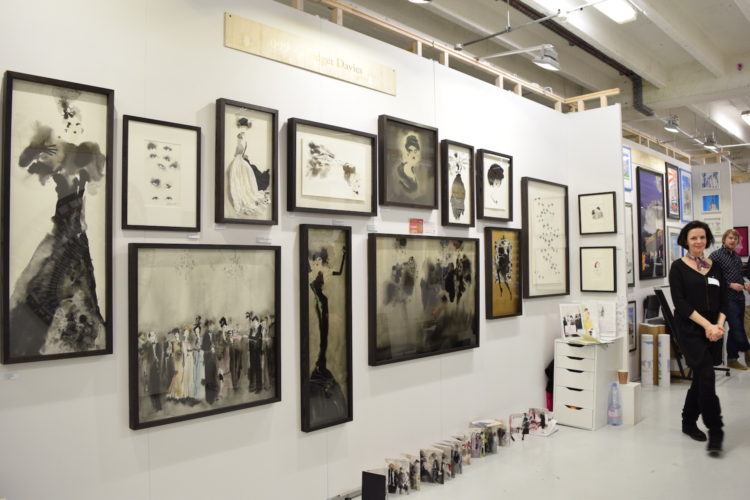 How did you get started making art?
I do believe it began when I was a child, and I liked to make paper dolls, all with an array of outfits to fit any occasion. It was taken more seriously when I was taking my fashion degree, and we had a visiting lecturer who worked as a fashion illustrator. I've always loved drawing the human figure/life drawing, both of males and females, but this was different. I developed a strong fascination for fashion illustration and drawing (I collect books on this subject). I'm not sure why… maybe it is a prolific blend of the different elements that come together, to produce a successful painting; competent observational skills and draftsmanship, good graphic awareness, and the playful, flirtatious narrative.
What is it like to be a part of The Other Art Fair?
Always very exciting as it is such an atmospheric fair. It has a fantastic buzz and energy and I'm very happy and proud to be part of it!
What is your favourite piece for sale on your SA profile and why?
Hmmm…. I think it would have to be Showgirl – Undressed as its execution was so free and spontaneous. It's on unstretched cartridge paper which is rare for me. I either use a thick watercolour paper or stretch the thinner watercolour papers. I always get slightly nervous when faced with an expensive, prepared sheet of paper and I think this piece shows that I had no apprehensions at all.
Meet Bridget Davies and more at The Other Art Fair on 30 March – 2 April in Bloomsbury's stunning Victoria House. Book tickets now.