Meet the Others: Alexandra Plim
The Game Changers. The Rule Breakers. The Innovators. Discover some of the fantastic emerging talent showcasing their work at The Other Art Fair.
Meet Alexandra Plim, an expressive abstract artist based in Sydney, Australia and her work can regularly be seen on show at The Other Art Fair Sydney. She paints intuitively using colour, texture and bold marks. Alexandra is also an actor and her art often evokes drama and movement on the canvas, her work itself is a candid performance for which there is no script…
Tell us about who you are and what you do. What's your background?
My name is Alexandra Plim. I am an actor and abstract artist based in Sydney, Australia. I have two little girls, who keep me on my toes and I live with my husband Tom who is a DJ. It's a pretty creative household really. I have always been a creative type. I love dancing, singing, sewing, fashion, historical costume design, crafting, card making, collage, clay etc. You name it, I've tried it!
Where do you draw inspiration from and what does your work aim to say?
My work often explores our varied and precious Australian landscape, far away from the big city. I think city dwellers like myself often dream of those wide open spaces, tree filled bushscapes, hills and tranquil valleys. It's just so intoxicating!
But, I am also just obsessed with the actual paint! Making marks and smooshing colour all over the place, the performance of art making, expressing my emotions, using my energy and experimenting.
There is something about art and painting, the letting go, the hours of rehearsal paintings, the drawings and sketches. And then you just need to let it all go and paint! It's very similar to the process of theatre performance.
Sometimes a painting reminds me of a particular place in the landscape or a place I have been, or a feeling or a conversation. A painting may mark a moment in time, or even a state of mind. But once the painting is finished, what it means, is between the viewer and the painting.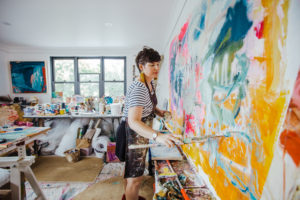 "I am totally addicted to the irreverent process of creating a painting. Much like rehearsing a play or improvising on stage, painting requires me to be in the moment. And it is a wonderful feeling."
Can you walk us through your process for creating a work?
When I paint, I need surface. Anything! Paper, cardboard, timber, panels, fabric, canvas, linen, whatever is at hand. I reach for whatever colour that comes to mind first and start from there. The first marks are always the most exciting. No pressure, no concept, no failure, just pure freedom. I make it up as I go along, each mark or stroke or colour informs the next. "What happens when I mix these two? Is that one dry and this one wet? What happens when I scratch into the paint? With a paint brush or with a scraper? What happens when I squish these two canvases together? How does that look? How does it feel? Does it make sense to me?" It seems a constant asking of questions. Sometimes with no clear answers.
Who are your biggest influences and why?
My biggest art influences are a mix of international and Australian artists. Probably Elisabeth Cummings, Fred Williams, Joan Mitchell, Helen Frankenthaler, Cy Twombly, Sally Gabori, Tony Tuckson, Ken Done, Lee Krasner, Franz Kline, Ian Fairweather. I am obsessed with all of their work, their determination to find their own styles and go at their own pace.
My personal influences would be family. My mum, my grandmothers, my great grandmother and a collection of fairy god mothers, who are/ were all creative, inventive, funny and indefatigable in their own ways!
What can people expect from you next?
Who knows?! With a pandemic upon us, my output is certainly constrained at the moment. But, we are all using our creativity to adapt to change very quickly. I am home-schooling my two kids for the foreseeable future, so studio times are few and far between. But when I do get to painting, I want it to be more expressive, looser, bolder and more abstract.
Can you give us something about yourself people might be surprised to hear?
Well, there's a few things. I trained at university to be a stage designer and manager, and then followed my passion to train as an actor. (I also trained as an opera singer for a few years!) Over the years I've performed on stage in fringe festivals in Australia and in Edinburgh, and done bits and pieces on TV. I've even performed a time travelling DJ dance party show for kids!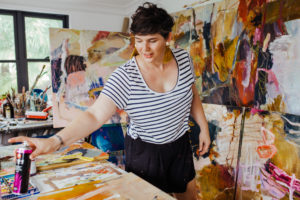 Introducing… The Online Studios – The Other Art Fair, delivered to you. A new online platform offering art lovers around the world access to over 800 Fair artists, The Online Studios will keep our community feeling inspired, engaged, and continue to spread joy through art.