Meet The Others: Aleta Lederwasch
The Game Changers. The Rule Breakers. The Innovators. Discover some of the fantastic emerging talent showcasing their work at The Other Art Fair.
Aleta Lederwasch is one of the emerging artists who took part in the recent edition of The Other Art Fair Sydney. An artist from a young age, Aleta sketches figures and then finishes them off with gouache and watercolor, creating a subtle yet distinctive piece of art. In an interview from The Other Art Fair, Aleta discusses her work and it's recent shift towards incorporating nature in her drawings, merging human figures with landscapes.
How would you describe your artwork? 
My hope for these works is that they provide people with opportunities to reflect on their relationship with nature, evoke empathy and compassion toward the land and its inhabitants, and to inspire a desire to reconnect with nature and our true selves.
What does making art mean to you?
Humans are incredibly creative beings and art is such a beautiful visual way of expressing this gift of creativity. Art is a humbling reminder of the infinite spectrum of ways in which we perceive and experience the world. Just think of all the billions upon billions of people who have created art no two artworks have ever been exactly the same! Art offers a beautiful way of enriching the lives of both those who make it and those who engage with it. Looking back through past works remind me of how intensely present the process of art making is. I can vividly remember creating almost each work I've ever done, including drawings from when I was about three. Art also offers us an intimate connection with past, present and future generations as it breaks through language and cultural barriers and speaks to universal emotions.
How did you get started making art?
I've been holding a pencil ever since I can remember. My dad has a portrait I did of him when I was 2. My parents sent me to an art school when i was about 5 to give me space to make art. I absolutely loved going there and just sat on my own most of the time drawing and painting birds. I started life drawing at the age of 11 and that's been my main focus since.
What is it like to be a part of The Other Art Fair?
Absolutely fantastic. It brought exposure to such a huge audience over the four day art fair, as well as in the lead up and post fair. The fair enjoyed such a strong sense of community – it was so wonderful meeting the other artists and enjoying running our stands together. I had a great time getting to know the other artists. Everyone was so supportive of each other. The organizers were all so helpful, enthusiastic, professional, fun and motivating.
What is your favourite piece for sale on your SA profile and why?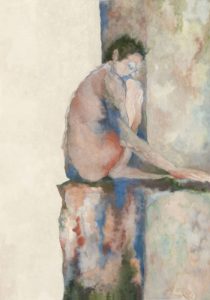 Man of the Eucalypt – I love where this guy takes me every time I look at him – I feel an immediate sense of calm, as if I were in the bush sitting there in that tree. I love his contemplative pose and the sense of belonging I feel he has with the tree, and I love the colours and how they swim together in the Eucalypt trunk.
This piece is part of a larger and ongoing collection (currently about 25) that explores the intimate and sacred relationship between humans and the natural environment. Each piece presents a figure immersed in some form of nature – rock, forest, mountain, water, and in this case a Eucalypt tree.
Interested in applying for The Other Art Fair? Apply now to The Other Art Fair Melbourne. Want to find out more about The Other Art Fair? Visit our website to find out more about The Other Art Fair Sydney and our other global fairs.