Meet The Others: Alejandra Sieder & Celia Fernandez
The power of Collaboration
When the average person thinks of an Artist, often the visual conjured up is the lone genius.  A single person whose perspective is so unique and different that they feel like an outsider – like a Dali, or a Vincent Van Gogh.  Along with the idea that all great artists are male, or tortured souls, or doomed to unhappy endings, the idea that artists work alone has long been proved to be an untrue stereotype!
Artist communities are a huge part of most artists' practice, and by working collaboratively we've seen some of the most creative and inventive pieces in contemporary art.  One of my favourite classic artist Duo's are Christo and Jeanne-Claude, who did the very large and very pink 'Surrounded Islands', and collectives like the famous Guerilla Girls have shown what's possible when you work together for a common goal (like calling out sexism and racism in the art world!).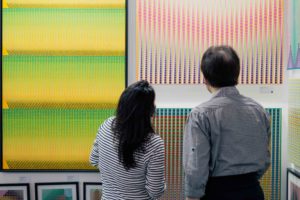 Today I wanted to focus on two amazing artists from last December's edition of The Other Art Fair Sydney, who each have their own distinctive style and practice, but who worked together in the lead up to the show to create a collaborative piece that beautifully combines the style of each to create something neither would have done by themselves! 

Celia Fernandez and Alejandra Sieder would both describe themselves as inspired by the Op-Art movement, which bend the mind and the eye in order to challenge perception, aesthetics and social conventions – but the output they produce is widely different!  In Celia's work you'll notice the influence of artists like Yayoi Kusama whose work is bursting with spots and vibrant colours, while Alejandra's palette is generally limited to the bold and graphic black and white, embracing Dali-like distortions and sometimes even text.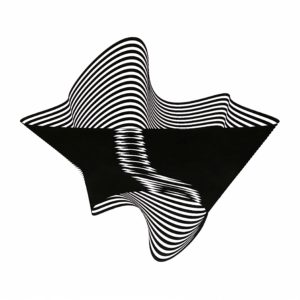 Alejandra grew up in Venezuela, where she studied Graphic Design and Art.  Her work is like a landscape of the mind, exploring the relationship between conscious and subconscious, intrusive thoughts and emotion.  "My works are the result of a moment that I have lived, an idea, an image that I saw or a feeling that is contained in the soul."  She's drawn to the bold black and white she uses because of it's balance, and the way it plays with the eye to create motion and 3D effects.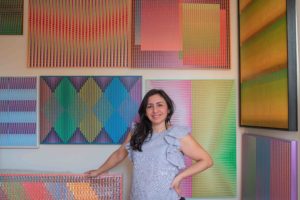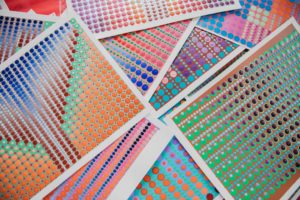 Celia is Argentinian, and after leaving when she was 22 she's lived in many different countries, including Spain and The Netherlands.  Completely self taught, it was actually the love of Op-Art that inspired her to pick up a paintbrush.  Although the colour choices are vibrant and wild, the technique itself of applying layered dots is very restrained and technical. 
"I always say that Dots found me instead of the other way around, it wasn't a conscious decision to start using them as my main technique, the more a explored them the more comfortable I felt"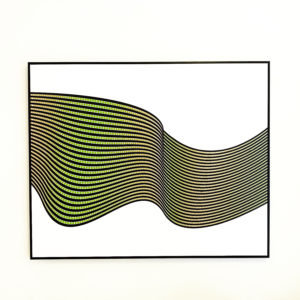 The collaborative piece "Hope" is striking – Alejandra's trademark style can be seen in the bold black lines that curve in such a way to give the viewer the sense they recede into the canvas, sharp and delicate, but also restrained.  This shape provides structure for Celia's technicolour dots, that sit between the lines creating a gradient that almost gives the eye a sense the work is vibrating.  The resulting piece is fabulous and unique, true to both individuals and also completely different from anything they could have done alone.  If ever you needed an example of how powerful a tool collaboration can be, 'Hope' certainly provides that!
Applications for the Sydney & Melbourne editions of The Other Art Fair are open now – and it's free to apply!