Meet The Others: Adam Robinson
Born in Sydney but now based in London Adam Robinson's work reflects his passion for colour and the processes of collecting and arranging.
_
_
How would you describe your artwork?
My work reflects my passion for colour, the processes of collecting and arranging, and the concept of nostalgia.
For the most part I assemble onto canvas vintage paper ephemera originating from the 1930's right through to the early 1970's: postcards, magazine covers and board game parts to name a few.
Artefacts from those periods in history are particularly familiar and appeal to me despite not growing up through them, I suppose it's because they are connected to the previous generations of my parents and grandparents.
I enjoy using repetition in my work so most of them feature multiples of the same item. However each component is usually sourced from a different place, and so each can bring to the whole its individual history.
What does making art mean to you?
Thinking about art and ultimately making my own artworks means everything to me and is something I feel compelled to do. I never tire of searching for objects I can use and it's always exciting stumbling across the perfect materials.
Figuring out what to do with my discoveries is conversely a sometimes frustrating exercise because it can take me a long time to get everything arranged in a satisfactory way, or I may hit some technical issues with the materials I use.
When my pieces are complete I'm often fascinated and sometimes surprised by what my works mean to other people. Knowing that something I have created can bring enjoyment to others brings me an immense sense of satisfaction.
How did you get started making art?
Although there were some art components to my Theatre Design course at university, it wasn't until a few years later that I began producing artworks in earnest and experimenting with my style.
I hadn't yet settled on the elements I use today but even back then I very much enjoyed repurposing discarded items of furniture and other household objects in my artworks. As with many artists, funding an artwork can be an issue so this was a great way for me to keep costs as low as possible.
At the end of the day, although I have always experimented with art in private what really got me started was the encouragement and support from friends and family
What is it like to be a part of The Other Art Fair?
Not having exhibited in London before it's undoubtedly hard work getting everything organised in the lead-up to the event, however being accepted to the Fair is a major coup for me.
Apart from the real sense of validation, it's a tremendous opportunity to meet with members of the public and make connections with other artists.
What is your favourite piece for sale on the Saatchi art profile, and why?
Totopoly is one of my current favourites, in part because it is the only one so far where I have used actual playing pieces rather than just the paper ephemera I normally use.
The chipped paint on the metallic horses really communicates to me the obvious signs of heavy use which adds to the history, and I think the repetition in the piece gives it a real sense of movement.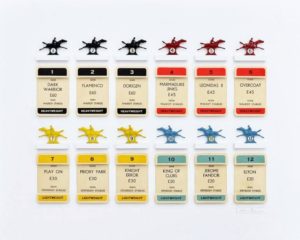 Meet Adam Robinson at the inaugural edition of The Other Art Fair New York – June 1-4. Buy tickets online now.