London: Creative Giants presents Analogue/digital
This March at The Other Art Fair, art curation crew Creative Giants have amassed a collection that champions the analogue-digital space; artworks that explore, embrace, challenge or radically oppose analogue, digital or a mash-up of the two.
Upon entering the Creative Giants' space, visitors to The Other Art Fair will be transported into a realm of immersive experiences. Expect to be wowed by super-size street art, immersive visuals and  interactive digital art. You'll also be able to place yourself inside a painting, through the wonders of augmented reality, and a giclée fine art printer will be on site executing limited edition works for the duration of the art fair.
Featured Installation Artists
We Are Midnight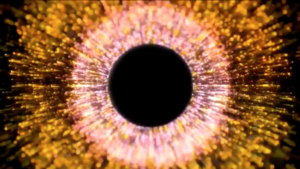 WeAreMidnight is an interactive and audiovisual art collaboration between Ela Brunel Hawes and Daniel Shutt. Their mission is to create out of ordinary stage performances, audio visual shows and live visual sets. The pair started their creative journey together 5 years ago. Since then, their art has been shown on major music stages at Glastonbury, Coachella, Boomtown and Ozora festivals, and on tour with The Human League.
At The Other Art Fair, their two installations offer immersive interactive worlds for the viewer. Reflection is an interactive digital mirror which takes a live video feed of the person in front of it. The viewer's facial expressions and body movements are tracked and processed in real time. The artwork's interactive elements then respond accordingly.
In Inner Journey The viewer's brainwaves directly influence events on a never ending animated artwork. By monitoring brain waves – specifically levels of consciousness such as awareness, deep thought, attention – and body movements like blinking, tilting the head – events are triggered within the work.
Adam Neate & VR Craftworks
Bringing together fundraising for The Big Issue, acclaimed artist Adam Neate and technology wizards VR Craftworks, we offer a world first: a chance to step inside a virtual world created by the Artist Adam Neate.
Neate's painting "Into the Blue" will be on display within the Analogue/digital space and viewers are invited to trigger a limited edition augmented reality experience. Each day 200 visitors will be able to enter a virtual world designed by Neate, featuring the painting. All funds raised by the sale of the painting will go to the Big Issue and the lucky owner will not only get to keep the work, but also be able to visit Neate's virtual world in perpetuity.
Doug Foster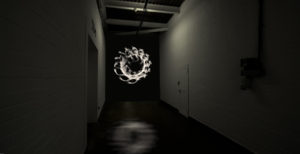 "Mesmerizing" is the word most often used to describe Doug Foster's work. He employs craft skills honed in a previous life as a lighting cameraman to create imagery that aims to affect people at a visceral level. Years of research into the human visual system have informed his use of repeating spatial patterns and subtle temporal rhythms to stimulate primal areas of the brain. His projection installations might appear to be abstract compositions on first sight, but they soon reveal themselves to be constructed with intricately filmed elements from nature.
In his installation for Analogue/digital, was made by Doug Foster, in collaboration with Simon Birch, for the touring 'The 14th Factory' project which originally opened in Los Angeles. Dormouse is the first film installation to be encountered as you enter the exhibition and acts as the threshold of the "rabbit hole". It was shot in Beijing and features well known Chinese performance artists Cang Xin, Li Wei and Yang Zhichao, amongst others.
J. Demsky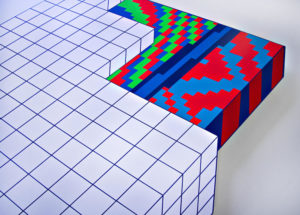 Hailing from Elche, Spain J.Demsky began painting in the early 1990s. For more than 20 years, his murals have been transforming walls, as he has effortlessly moved through a myriad of different styles, earning his rightful place in the pantheon of street artists currently tearing up the contemporary art world.
Taking his influence from manga cartoons, Marvel comics and the Star Wars saga, Demsky's style can be described as at once traditional and futuristic, ordered and chaotic, geometric and liquid. The pieces are composed of graphic letter forms and layers of overlapping semi-transparent shapes. Precise and complex lines, bright colours, and deep dark areas give the artwork a hypnotic effect and tantalize the viewer.
The street art sensation will be dressing the Creative Giant space, as well as selling original works.
Other contributing artists:
Experience the Creative Giants Analogue/digital installation space at The Other Art Fair London, March 14-17 at the Old Truman Brewery. Book your tickets online now.