London: Art Upcycle
Reduce, Reuse,  Upcycle
As part of our Greener Futures initiative, Kate Bryan, Broadcaster and Head of Collections at Soho House has curated a daily programme of artists working live at the fair. The artists will be available to fair goers to 'Upcycle' their art. Encouraged to bring an unwanted print, an unloved old painting, their own artwork or a tired piece resigned to the junkpile, the public can pay £95 to have their artwork born again. Find out who will be upcycling work at The Other Art Fair London this Spring.
Charming Baker
Thursday 14 March: 6-8pm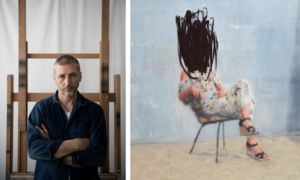 Our VIP Upcycle artist is Charming Baker who will be at the fair Thursday evening during the Vernissage. Baker is one of London's most beloved artists, creating serious paintings that speak to a huge audience about the big questions of existence. Championed by Damien Hirst, who said "It's hard to say what makes a painting great. Who gives a damn? Charming Baker's paintings are great." He has been to known to fire bullets through his canvasses, and violently scribble out exquisite drawings, so his upcycle process will not be for the faint of heart. For £95 you will be able to meet Charming Baker, who lives up to his name, as well as take home artwork selected by you, but recreated into a Charming Baker original by him.
Sarah Maple
Friday 15 March: 3-5pm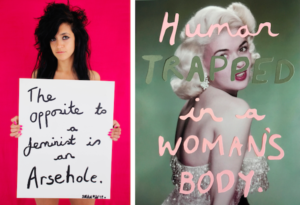 Sarah Maple is a young British artist whose work uses humour, satire and shock tactics to make us reconsider commonly held beliefs about gender, race and identity.
A gifted painter, she also works across various mediums of collage, photography, performance and ready made objects to create her contemporary work which sits on the more charming side of art activism. Relishing her position as an outsider she also often puts the joke on the art world and its lofty elitist airs. At the Upcycle stand you won't get anything short of a powerful, personal work and a very memorable meeting.
Eliza Hopewell
Friday 15 March: 6-8pm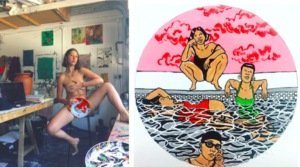 Eliza Hopewell is known as the Unapologetic artist, turning the genteel 19th century pastime of ladies painting plates on it's head. Known for broadening the representation of women to include taboo but natural subjects such as body hair, masturbation and periods, Hopewell is  a figurative painter fed and loved by the Instagram age. Her paintings employ humour, pathos and charm whilst also packing a punch. She has worked with Vogue, Bella Freud and has a waiting list for her bespoke commissions. Expect brave, witty and wall worthy work.
Danny Augustine
Saturday 16 March: 1-3pm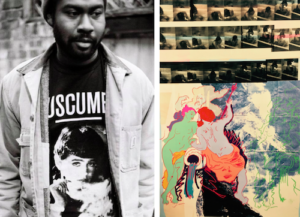 Danny Augustine is a rare artist who manages to maintain a distinct voice of his own whilst channelling, celebrating and investigating great artists and movements of the past. An experienced print maker, Augustine employs both found visuals and imagery that he creates himself with the camera or pen which appears to belong to another era. Chameleon like in his approach to picture making, much of his work shares an enduring belief in icons, identity and conjuring a distinct sense of time or place with ethereal sources. He is the Upcycle artist that might just give a dash of Hockney or classicism to your tired old artwork.
Tom Pope
Saturday 16 March: 4-6pm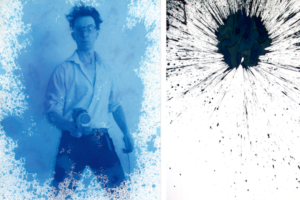 Some artists work in a hermit like state, their art existing in a vacuum. By stark contrast, the young prize-winning graduate, Tom Pope thrives on the audience and participation is his catalyst for dynamic, quirky art across many media. At the Other Art Fair his principle mechanism for upcycling will be random controlled acts of paint balling. Pope never fails to deliver a memorable experience for everyone involved in his passionate projects, but never loses sight of making thought-provoking and interesting artworks.
Rose Blake
Sunday 17 March: 1-3pm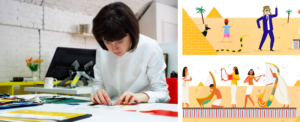 Rose Blake is an illustrator. And she is also an artist. Her work constantly challenges the notion that the two practices must be kept separate, that an illustration cannot resonate with meaning once parted from its text accompaniment in the same way that a painting can stand alone. Rose employs a colourful, witty and knowingly simple approach to her pictures which either reduce a feeling, place or activity to the purest of forms or conversely create a rich, verdant world full of hidden symbols and meaning. Her hand is completely distinctive and it will lavish your unloved artwork with attention creating something that speaks of twenty first century pop.
Henry Hussey
Sunday 17 March: 4-6pm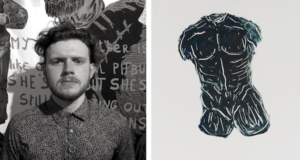 Henry Hussey makes bold, powerful work that comes from a private, emotional place. Known for employing tapestry and textiles, Hussey manages to create art which is at once personal whilst also speaking to a large audience. Often employing text, his complex layered imagery draws from mythology and heraldry. Also, a young master draftsman, Hussey is as comfortable leading life drawing classes with an unusual edge, capturing form and identity in all its strangeness with what seems effortless sweeps of his hand.
Book your tickets for The Other Art Fair London, 14-17 March, Old Truman Brewery online now.