London: Aphra Shemza's Current Climate
Aphra Shemza is a London based multimedia artist exploring the impact and legacy of technology on our world. Working with abstraction, interactivity and light, Shemza combines traditional sculpting techniques with the latest technology to create her work. Shemza's work is multidisciplinary making reference to Modernism with a renewed optimism.
At the Autumn edition of The Other Art Fair London (3-6 October, 2019) Aphra Shemza will be showing Current Climate alongside other works. Current Climate is a real-time data visualization piece. Each light represents four different countries in the world; Red = USA, Blue = UK, Orange = India and Turquoise = Denmark, chosen either for the effects that climate change is already having on that country or as a wealthy nation who could be doing more to legislate around the climate crisis. The lights are connected to four news sources from each country and each time climate change is mentioned in the news the lights change accordingly. The piece serves as a reminder that urgent action needs to take place but we are not talking about the issues enough. View a record of all the news stories the piece has responded to here.
Coding by Tim Murray-Browne.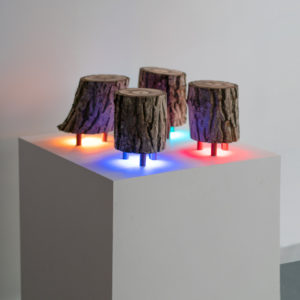 Shemza has created both public and private commissions for Save the Children, GlaxoSmithKline and Anagram this year alone. She exhibits regularly with recent highlights including V&A Digital Futures, Winter Lights Festival and Xi'an Maker Faire in China with the British Council. She has also participated in public speaking events, notably at Tate Britain, the British Library and The Courtauld Institute.
In 2018 she launched www.art-ology.co.uk, a peer resource for artists who wish to be mindful of their environmental impact with the support of SPACE. Her research about sustainability in the media arts has been published by the Electronic Visual Arts conference in London, and she now sits on their organising committee.
Meet Aphra Shemza at The Other Art Fair London, Victoria House from 3-6 October 2019. Book your tickets online now.