London: Announcing the Central Saint Martins Graduate Prize Winners
For the summer 2019 edition of The Other Art Fair London we have partnered with Central Saint Martins to introduce the Graduate Art Prize. 
The prize offers 8 final year students the opportunity to exhibit in the Crossing as part of the July fair. The winners were selected by Fair Founder Ryan Stanier and UK Fair Manager Jess Chow based on their final degree show in May 2019. Following the fair, one final winner will be selected and given a free stand at the Autumn edition of the fair by Ryan Stanier, Jess Chow and Chief Curator and VP Art Advisory Saatchi Art Rebecca Wilson based on the curation of their stand at the July fair.
Congratulations to the winners:
Tom Whittaker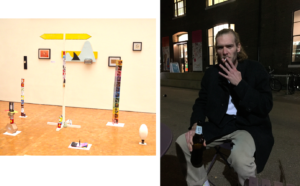 The Land Of Myths And Legends:
This series of works is a narrative, a reimagining of Hercules and his twelve labours and it's metaphorically meaning. The narrative follows the life and body of work of a musician, Sue Relo and their band Shark Infested Waters, through Aotearoa (a semi-mythical, semi-real New Zealand). The series hopes to tell a story of identity of the individual, community, and environment; looking at fame, love, grief, addiction, cultural heritage, and community. 'The Land Of Myths And Legends' poses the question: "How would you want to be remembered when you are gone?"
Anastasia Alekseeva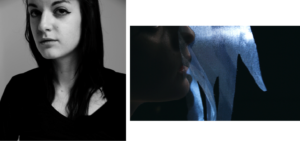 Situated across moving image, performance and sound, Anastasia's work derives from the idea of the communicating body as a site of identity. Within her performative work her role is that of a site, within her films the body and its identity become slippery through framing, editing and sound that grant it to undergo a metamorphosis, transitioning between states and spaces.
Selby Hurst Inglefield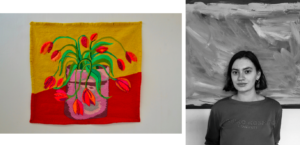 Selby's practice is mainly textiles based, using the technique of rug punching/rug hooking to create wall tapestries to address themes of storytelling, autobiography and fantasy. For Selby, the process of making her works as one that is repetitive and time-consuming is a healing practice that allows time for Selby to create and resolve issues through making.
Chai Kamrai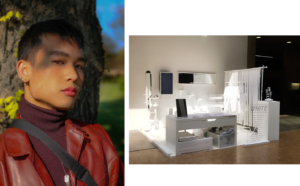 Chai's practice examines race, sexuality and control through satire and appropriation of popular culture. His work is self-indulgent and autobiographical; he is obsessed with himself and it shows. He also enjoys making memes online.
Monika Kuhne-Jorgensen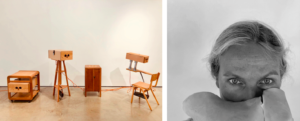 Monika combines small everyday narratives with bigger, social subject matter. Her practice revolves around ideas of authenticity, individuality and identity. Focusing on the playfulness of life, which she describes as like playing a continuous game of hide and seek, she simultaneously taps into the tradition of fine art and vernacular iconography using props, masks and her body to generate imagery.
Saroj Patel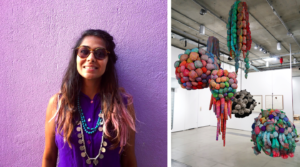 Saroj uses a variety of materials and processes to create sculptures, installation, paintings, videos and performances that are informed by her interest into the natural environment and mythology. She enjoys engaging the viewer through interaction and so aims to create new and unpredictable cycles of thought and associations such that new emotions are evoked.
Terry Dimoulias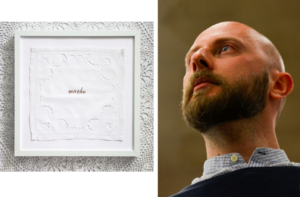 Terry uses fabrics and agricultural products from his home land in Greece in order to reflect on the displacement of trauma in contemporary identities. Through an amalgamation of materials including lace and olive paste, Terry uses his works to explore different notions of personal 'belonging', whilst touching upon the wider social and political realities of our time.
Riko Yasumiya

Riko produces visual works and artefacts that relate to human anatomy and how this informs and encourages greater awareness of how the body works. She uses a range of materials including textile, mixed media and 3D construction to encourage tactile and kinetic responses from her audience while presenting graphic information that relates directly to medical knowledge.
Book your tickets for The Other Art Fair London (4-7 July, King's Cross) online now.