IWD Chicago: Talking The Alternative with Lisa Krannichfeld
Lisa Krannichfeld talks to our Fair Director, Sophie Lucas, about how she captures the spirit of women in her work.
From her studio in Little Rock, Arkansas, Lisa Krannichfeld, artist and self-confessed 100% introvert, is using her craft to rebel against traditional depictions of women found throughout art historical narratives. She has created striking new imagery for female portraiture, that, judging by the huge popularity of these pieces, is relevant and inspiring.
This interview is part of our global International Women's Day campaign where we are talking to 6 great female artists who will each be presenting their work at one of our Spring fairs; London, Sydney, Los Angeles, Brooklyn, Melbourne and Chicago.
Your artworks are incredibly detailed. Please tell me about your process
I use many different materials and my process is complex, it took several years to perfect.
The start of the process is my favorite stage: I am simultaneously anxious and relaxed as I start to place ink on the blank surface. I add watercolor, using plenty of liquid, and enjoy how the fluid water allows for spontaneity, encourages looseness; there is a mixture of chaos and order.
Once the work has completely dried, I build up complex layers of collage using intricate Japanese Chiyogami papers and cyanotype prints, and occasionally apply acrylic paint to create three-dimensional shaded areas.
The final step is the resin and the blow-torch firing – I have a separate room dedicated to this stage!
Please tell me about the women in your artworks
I wish to represent women of all walks of life. The individuality of the figures is removed – either I 'cut off' the face at the top of artwork or use the 'wet-on-wet' process to deliberately smudge the facial features.
I describe my work as expressive figurative art. The spirit of the women is captured in their poses, particularly their hands. I have always loved drawing hands so use these as a tool for conveying emotion.
The women are strong, confrontational. In my 'Undomesticated Interiors' series, the women are almost animalistic, they embody a human version of aggressive animal behavior: snarling, watchful, ready to snap.

You say that you draw to refute the historical depictions of women. Are there any artists or periods that you specifically reference?  
It is an impression realized over years of art history classes: the consistently passive depiction of women in traditional portraiture. Consider the female sitters in 17th-19th century paintings: the women are often lounging in domestic settings; they are nude or tightly corseted; they are treated as a decorative object.
It is incredibly rare to find representations of women that do more than simply present them as pretty, poised or beautiful. I wanted to explore an alternative to this.
Do you like being celebrated as a 'woman artist'?
It is a necessary term for now, however, I don't want to be termed a 'woman artist' forever. One day there will only be 'artists'.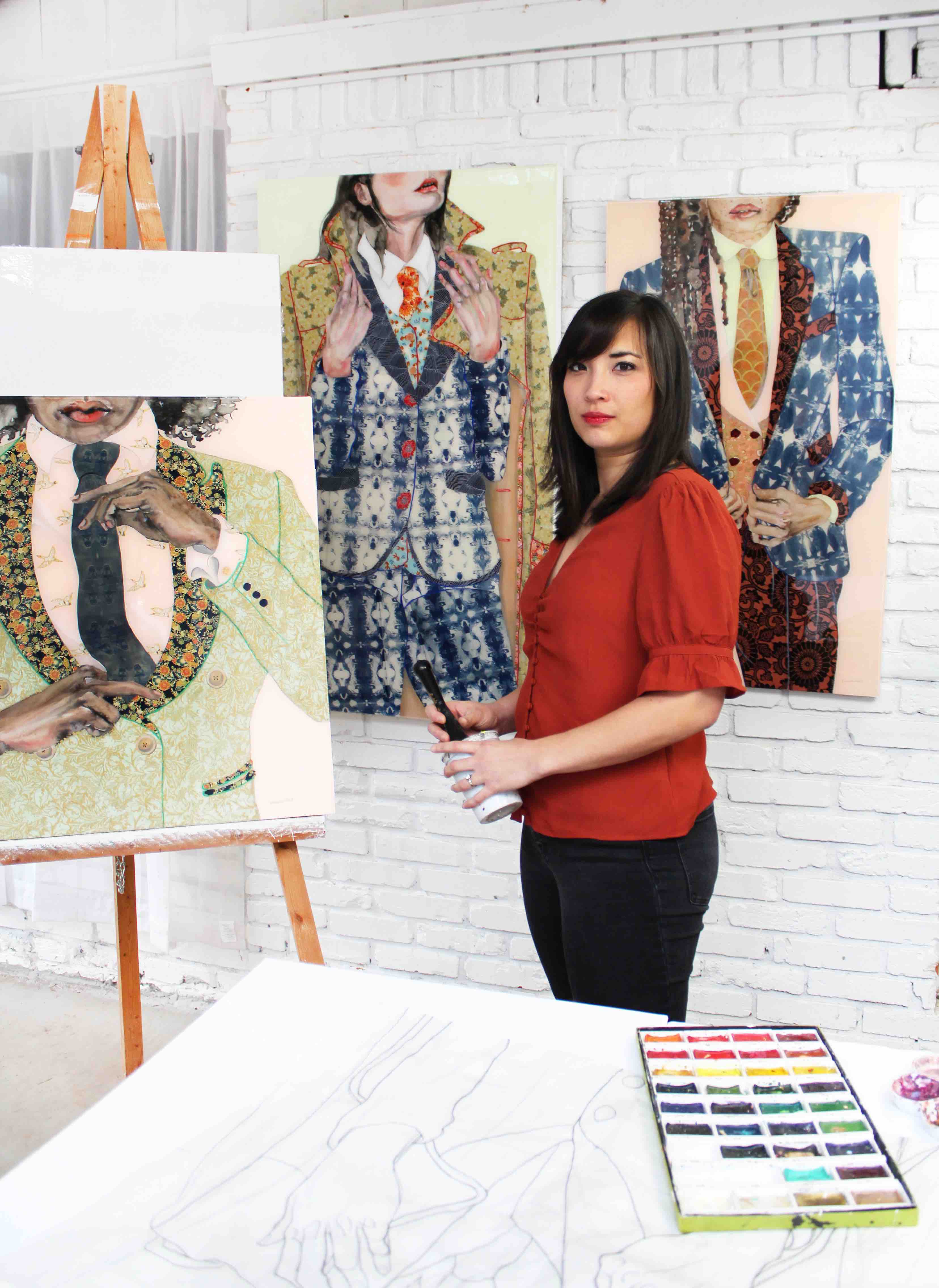 How do viewers respond to your work?
My work is polarizing: people are either strongly drawn to the pieces or not at all. I prefer this, I want a passionate response.
My goal is to change how women are represented not only in art but also in life. It is exciting to see women identify with my artworks and then aspire to match the confidence of these painted figures. Many of my clients hang the work in their offices or professional spaces for this reason.
I am often surprised by the very positive response to my series 'Girls and Giuse' in which the subjects are faceless and 'cut off' by the dramatic cropping of the frame. I had wondered whether the distancing effect might be off-putting, or even sinister, but these artworks are very popular. People can see themselves – or perhaps a more powerful version of themselves – in the works. This is my ultimate goal with my art.
Your advice to female artists?
My advice for all artists… the best way to hone your craft is to make lots of work and, in a similar approach to writing, create work that you know. Keep painting, creating and making. Don't take criticism too much to heart and be proud of your work.  
Lisa has exhibited at The Other Art Fair Brooklyn and Chicago.
In 2018, Krannichfeld won the Grand Award in the 60th Annual Delta Exhibition at the Arkansas Arts Center, and exhibited at the Coagula Curatorial Gallery in Los Angeles. She was named "One to Watch" by Saatchi Art, and a "Woman to Watch" in Soiree Magazine. Her work has been featured in Anthropologie, and can be found in private collections around the world.
Want to meet and buy directly from Lisa Krannichfeld? Well at The Other Art Fair Los Angeles, 28-31st March, Magic Box at The Reef, you can!