Inside the Studio: Gitte Backhausen
Get a glimpse Inside the Studios, a weekly IGTV series where our regional Fair Directors get taken on a personal Live tour around the workspaces and collections of The Other Art Fair exhibitors. Head to our IGTV to watch the interviews in full. 
Danish-born Australian artist Gitte Backhausen impressively creates exploratory, nature-focused artwork across multiple mediums. Following an education in Psychology and Social Science, Gitte's work reflects her fascination for the subconscious mind. Using found objects Gitte collects on her daily walks, she uniquely assembles and prints the natural forms resulting in a beautiful, dynamic artwork. We are delighted to offer our audience a sneak preview 'Inside the Studio' of Gitte…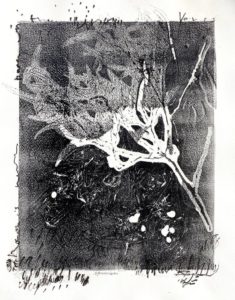 Beauty in the Dark – Limited Edition of 1, Gitte Backhausen
Tell us a little about yourself; such as where are you from and how did your creative career evolve…
I live in Gerringong on the South Coast of NSW (about 1.5hr drive south of Sydney). It's a beautiful little town, we moved here from Sydney about 4 1/2 years ago and we love it, we even have an award winning art gallery here. My art career started in Denmark where I grew up. After completing a degree in Graphic Design (2002) I was so eager to break free from strict guidelines and conventional design and re-connect with free expression. I rented myself an art studio in Copenhagen where my abstract painting practice really started to form and I have continued to create, exhibit and sell my art ever since. I grew up loving all things art and attended any art class I could, so it was great for me to finally have a dedicated space to practice my art.
Moving to Australia in 2005 was a great move for my art. Although I had some busy years studying Applied Social Science (2007-2010) and working part time in mental health, I still found time to go to my studio. Now I'm a full time artist and I have really enjoyed the past 4 years fully committed to my practice.
I'm a multidisciplinary artist. My practice has mainly evolved around abstract painting (which is what I'm mainly known for I'd say), but I also have a printmaking practise which over the last few years have evolved. I have also practiced assemblage art, but that has fallen into the background a bit for now.
When and where did your fascination for human psychology originate? How have you applied this knowledge to your practice?
I have always been interested in psychology, I have a natural curiosity about human behaviour and how we navigate this life. Perhaps it stems from being a deep thinker and feeler, I have just always questioned life, the world and what makes us tick as humans. In my artistic practice this is most often evident in the description and titles of my work. Although my creative process itself involves very little constructed or directed thinking (when I'm in my flow), my work always ties together in a series of work around a theme. Over the years it's become more and more clear to me that they all ties into my interest and background in psychology and the human experience, as well as often having a link to nature in some way.
Where do you gather the objects that you use in your printmaking?
The objects I use in my printmaking I find on my walks. My morning walks have become an important part of my artistic practice actually. I just love all the visual gems along the way, and I always find something new to get excited about. I often take photos of things that inspire me – cracks in the pavement, peeling paint on a wall, shadows, fallen leaves or flowers. Anything that is deteriorated seems to excite me. I collect fallen branches, leaves and flowers I find, they present me with beautiful natural shapes and textures and I love how I can extend their life by creating an artwork from them.
Sunshine on the World – Limited Edition of 1, Gitte Backhausen
"The benefit of presenting the works on paper and board, rather than framed underneath glass, is the more intimate experience with each artwork" – Gitte Backhausen. Can you give us a further insight into the experience you aim to create for the viewer?
When I created the body of work "Presence of Nature 2019" the curator challenged me to present the work differently. It came as a natural extension of the theme of nature to leave the paper exposed. Tricky of course, but with a lot of research I found a way I felt would work, that was still archival.
My aim was to let the viewer into the work, let them fully experience the beautiful natural material that paper is. When works on paper are presented behind glass, you somewhat loose part of the connection with the details of the paper. I use cold-pressed 300gsm arches paper and it has such a stunning texture and feel to it. It felt right to expose it to give the viewer the full benefit of the natural materials, which ties well into the theme of "Presence of Nature".
What have you been working on lately?
The last couple of weeks I have been working on a major studio clean-up and make-over. I can work in any surroundings, mess doesn't bother me when I'm in my creative process. However, I am super excited about having upgraded my studio with fantastic storage, which gives me heaps more space to create. Space is important! I am also working on some new paintings at the moment and I'm looking forward to getting back into printmaking too. I love going back and forth between the two – it's seems that one process and approach informs the other, which keeps my work ever evolving.