Inside the Studio: Britni Mara
Get a glimpse Inside the Studios, a weekly IGTV series where our regional Fair Directors get taken on a personal Live tour around the workspaces and collections of The Other Art Fair exhibitors. Head to our IGTV to watch the interviews in full. 
Chicago-based artist Britni Mara creates natural, abstract paintings that are bursting with energetic strokes and alluring tones. Mara's practice focuses on using sustainable materials, in a conscious effort to widen the discussion around environmentally friendly art.
Tell us about who you are and what you do.
My name is Britni Mara, I'm a visual artist living and working in Chicago. My work has always revolved around dissecting weighty topics. In a time where an artists visual aesthetic is not new, but rather is shared; I think it is extremely important to bolster meaning above visuals. The past two years I have been focusing particularly on creating an eco-friendly art practice with an aim of creating conversation around sustainability.
Can you explain how your practice is sustainable and eco-friendly in its production?
I began making natural dyes I could derive solely from edible sources. I think there's something universal about creating art materials from food. Food is an essential and is something we acquire from the earth. It seemed like a great way to highlight the need for environmentally focused change. I have found I prefer working on unbleached canvas, stretched over wood bars. In the past, I have partnered with local businesses here in Chicago, to recycle their waste and turn it into a usable dye. One of my favorite local partners is Apologue Liqueurs. They use several ingredients in their liqueurs that I can repurpose after their initial use. It has been an interesting way for me to connect and support the local community.
Why is it important for artists to consider a shift towards these materials and a more sustainable practice?
I would like to be the spark of inspiration for other artists to think about their own art practice. The work is meant to engage the viewer, whether that be a fellow artist, or collector. When my work is hung in a collector's home, my goal is to inspire conversations about sustainability. Of course, I hope other artists start exploring their own version of sustainable production.
As much as we love them, acrylics, spray paints, resins, and oil paints are all actually really harmful to the environment. It is time we start examining how our behaviors as artists affect global warming.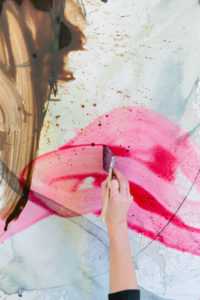 There is so much energy evident across your abstract artworks, how do you achieve this in your process?
I believe you can prep and create small studies to create more successful work. I am, however, not a planner when it comes to an individual painting. Most of my abstracted marks have been acquired over years. You can think of abstract work as it's own language. The longer you do it, the more you learn. I study other abstract artists. I also reflect back on my own paintings I feel were successful. After that, I just trust myself, my skills and my process. Letting go is frighteningly freeing and I think that process allows me to impart life into my work.
What have you been working on lately?
Covid quarantine has taken a heavy toll on my mental health and has changed my work dramatically. I truly love the natural dye work, but throughout quarantine I allowed myself to explore acrylics again. This familiar medium helped me work through some creative blocks, and I am eager to return to The Natural Series with a renewed sense of freedom. Quarantine has been creatively stifling; however, it has also been a time and space for growth. I am excited to see where the coming months take me.
Follow The Other Art Fair's regular 'Inside the Studio' series on Instagram with Live talks between Fair Director's and Fair Artists, and shop all Fair artists via the Online Studios.