In The Studio: Bridget Davies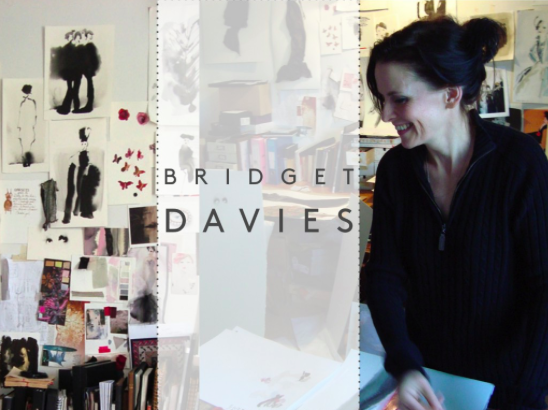 Welcome back to another edition of the fair Bridget! What are you up to at the moment?
I am currently working with collage, following an inspiring week of visiting the V&A's Glamour of Italian Fashion and the Tate's particularly uplifting Matisse – The Cut Outs exhibition.
Both exhibitions have inspired me to introduce texture to my current work. The use of a double layer of glass in the frames — once decorated and painted — either gives a more three dimensional feel to the pieces or obstructs the view asking the viewer to use their imagination. Clouding the image gives a hidden allure and charm, seducing the viewer and igniting their imagination.
My publishers have requested pieces that work in pairs and sets of three. This paves the way for a more anecdotal approach as I work with series that tell short stories or work as triptychs.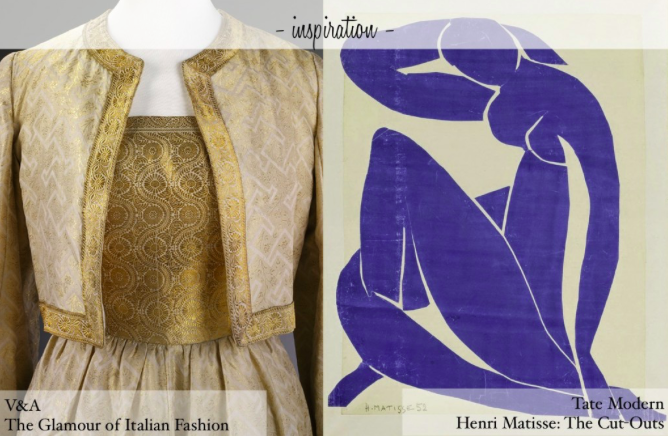 Describe your process from initial inspiration to final artwork.
It's difficult to pinpoint where a concept is conceived. I constantly experiment with techniques and ideas. An idea may come from visiting an exhibition or overhearing a sentence between two passengers on a train. Sometimes ideas just turn up in my head in the middle of the night. I write down every idea and thought onto anything I have at hand, be it a sketchbook or back of a till receipt. Sometimes they need years to develop, mulling over in my head, starting off as a glimmer with hazy pieces of thoughts slowly forming a solid visual interpretation. Other times it's straight to finished piece, no trial or sketches…there are no rules or formulas.  There are times when a piece can be half finished for weeks as I need to think about the placement of a hand or piece of jewellery or reconsider the composition. In terms of successful ideas I often stumble into these by accident. My most popular series, Walking the Dogs, was originally designed for a silk scarf.
The actual application of the ink and line can be tricky. It's taken me a while to find a paper that I am truly comfortable with. My technique is very unforgiving and many of my paintings work around the idea that 'less is more'. I have to be in the right place emotionally to paint or I just waste paper. Once a mark is on the paper it cannot be removed and the mark-making itself is instinctive rather than a decisive decision. I use a lot of water in my work so there is an element of luck to how the ink will react with this which makes it so exciting! I am dealing with the unknown with almost every piece: lucky accidents are part of a process toward more exciting interpretations and conclusions.
As my work dries flat, with each artwork consisting of three or four layers, so I work in rotation painting several pieces at one time. I work with two different types of ink: a watercolour which has a brighter, modern feel and an acrylic. I often finish the acrylic pieces with an ageing crackle glaze. I have a passion for certain bygone eras so my work has a vintage feel.
What is your working day like? Starting early, I spend an hour looking through emails and Facebook on which I follow art, fashion and culture magazines. There is always new and interesting material to read, which leads my imagination to new ideas. I carry on with current projects. This week includes preparationfor a meeting about illustrating a fashion based book and a trip to London visiting exhibitions. The rest of my time is set aside for painting: I need to produce work in pairs for my publisher and a larger work commission by a new buyer.
How do you overcome creative block? I rarely, if ever, have creative blocks. I always have a backlog of ideas that need exploring so there is never any shortage of things to do. I document every idea and thought I have, either with words or drawings. Sometimes my mind gets overloaded: this is when I need a break and step away. Having a big clear up in the studio helps – or a scuba diving trip to the Red Sea has also done the trick in the past! On a boat, just the sea, the fish and me! Needless to say I usually end up painting sunsets.
How is your work inspired by fashion? Your series focuses on women – is this any comment on the way women are portrayed in fashion mediums and how is this changing? Would you consider a similar series using male figures? I am more inspired by the feel of the fashion from the past rather than the changing fashions of today. I am drawn to the classic, ageless beauty of Forties and Fifties and particularly influenced by the elegant fashion drawings by illustrators of this period, as well as contemporary fashion artists and illustrators working today. Nonetheless, I am more concerned by the general feeling and composition rather than getting specific details correct.
I paint mainly women, primarily because I am a woman and there is an element of self-projection in my work. I try to set a mood, using feelings from my experiences and encounters to form the personalities of the women. Although I'm not preoccupied by the constantly changing face of fashion, the silhouette and detail of womens fashion offers me more than that of men. Would I consider a series on men? Maybe, but I think it would be in conjunction with women… a yin/yang approach.

Please tell us about your recent collaborations. How did these come about? What has been your favourite collaboration? I'm proud of all my collaborations to date. Having prints of my work in John Lewis has helped my work become recognised in the UK, the project with Anthropologie (using pieces from my heavy metal collection on their service ware) introduced my work to the US, and working with The Shard was very exciting as it is such a well-known and striking piece of architecture.

Please tell us about one of our favourite pieces on your Shop profile? I generally like the ladies who look like they have attitude but my favourite piece is the limited edition of Fern. There is something ethereal about her and this was one of the first paintings (if not the first) where the large black made up eyes were conceived. I gravitate toward a new piece called 'She had been standing around for far too long…' This is a lady not too happy about being kept waiting – and rightly so!
What advice would you give to an aspiring artist? The main piece of advice is hard work… dull but true. Self-belief also goes a long way. Learn to market yourself. Showing at art fairs has been an invaluable experience for me. Push boundaries — I am never satisfied and will always think that there are ways of improving my work, making it more interesting and exciting. Keep interested in what is happening in the art world and in life as inspiration can spring up from anywhere. Be wild. Remember that you can always tone things down. One of the best pieces of advice I was given at art school was 'convenience ruins creativity'.
Personally I think that drawing from life when you can is essential, if your subject matter allows. I often work from imagination or photos but I do tend to feel that one's relationship with the subject matter is a lot deeper when working from a three dimensional model.
What's next for you? Pushing new ideas. I always feel a little daunted when I set aside time for new work, especially when new untested ideas are floating in my mind. Explore the indefinable boundary between sensuality and sexuality.
I am also trying to produce a small selection of silk scarves using the more fashion related paintings and some embellished limited editions.