How COVID Inspired New Practices
Sydney: The silver lining to lockdown – looking for creative control in times of stress
The lockdowns that came with the pandemic was overall hugely stressful for creatives and artists.  Locked out of studios, lost jobs, and difficulty finding monetary support, a lot of our communities struggled hugely.  A lot of artists were forced to approach making in new ways — and even those who picked up new tools for the first time.
Chance Purpose was one of the many individuals whose life shifted dramatically because of the pandemic – losing his full time job at what he describes as "a big boring financial institution", he suddenly found himself with a lot of downtime, and the opportunity to revisit things that previously brought joy.  On a pre-pandemic trip  to San Francisco to visit his partner, they had been inspired by the Japanese Art of Kintsugi to try their hand at smashing and then fixing a vase — it was that blue vase that now lives on their coffee table that was the seed that grew into his fascinating sculptural pieces.  Rebuilt using technicolour resin, these pieces have a vastly different look than the traditional Japanese gold lacquer that originally piqued his interest.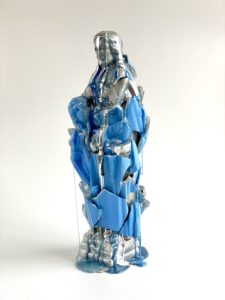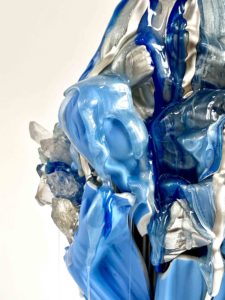 Chance Purpose's practice is intrinsically linked to the experience of going through a lockdown and a pandemic. 
"A friend of mine who's much smarter than I am made a pretty accurate assessment in that she saw my artistic expression during the pandemic for what it really was; a violent but beautiful way to exert control over something else, at a time when none of us felt like we were in control of anything." 
His practice became a type of therapy for him, not just because of the obviously destructive process, but also forcing him  to slow down to a complete meditative stop. "I can only work as fast as the glue or epoxy dries, so I'm often stuck, happily, sitting in my studio literally holding a piece together for minutes at a time until I can move on."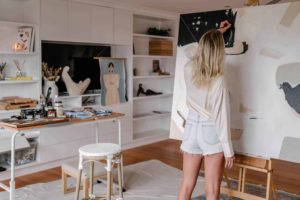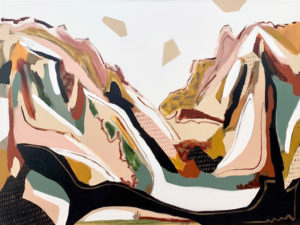 Chance is not the only one who was spurred into a creative practice by circumstances surrounding the pandemic.  Tyler Dan, another first-time exhibitor at The Other Art Fair, began painting at first to keep her young son stimulated while they were stuck indoors. 
"I needed to keep him occupied so I got him some paints. I started playing around with them and instantly fell in love and honestly, became addicted!" 
She started with fast-drying acrylic paints, ideal for working at home with a 5-year old, and has branched out to incorporating oil sticks, charcoal and oil pastels to add texture and interest to her paintings, developing a very distinct palette of neutrals that bring a sense of calm and a beautiful warmth.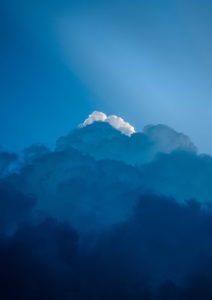 For those who were just waiting for that free time to unlock their potential, the lockdowns of 2020 and 2021 might have been a blessing in disguise, but what about the artists who already had developed practices that had to be suddenly halted? Scott Rennie, a photographer from Sydney had just picked up photography and had taken to carrying his camera around with him.  Suddenly confined to his balcony, he started shooting the sky.  In what most photographers call "golden hour" – right around sunset –  he would shoot the sky's shift, capturing the bright oranges and dusty pinks reflected onto clouds.  This body of work, aptly named "Skysolated", utilized the serial nature of photographing the same sky, and captures both the repetitive nature of lockdown and the passage of time. Although each photo is taken from the same space, each one is uniquely different – a small reminder that while sometimes it feels like we've been walking in place, there's nothing like new challenges to show us new perspectives.
Find Chance, Tyler and Scott at The Other Art Fair Sydney, taking place at The Cutaway at Barangaroo from 2 – 5 December.  Tickets available now.