Getting To Know Maria Qamar
Known as the artist Hatecopy, Pakistani-Canadian artist Maria Qamar has taken the art world (and Instagram) by storm with her feminist-tinged, Pop art-influenced riffs of Desi culture.
This November 4-7, 2021, The Other Art Fair are thrilled to collaborate with Maria as the Brooklyn Fair's Guest Artist on her new installation 'Saathi Arcade' – a fully interactive experience fusing South Asian pop art, 80's arcades, underground carrom clubs, digital media and more.
Premiering at The Other Art Fair Brooklyn this Fall, alongside a Hatecopy gift shop that will feature merchandise, original artwork, and three limited edition, signed prints created exclusively for the Fair, fans of Hatecopy can step into an immersive indigo-hued dreamspace and explore unexpected surprises throughout the exhibit, including fully customized, limited edition arcade tech, dazzling neons and original painted work.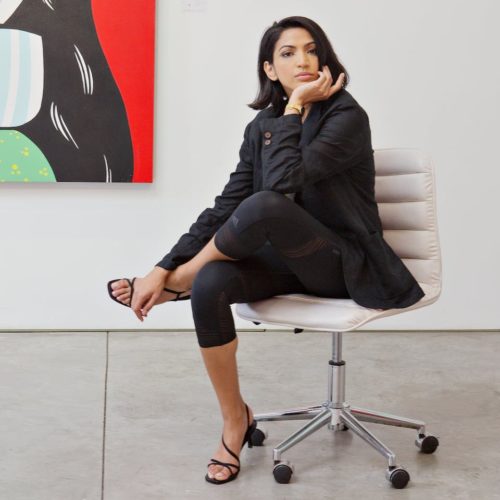 Maria's artist name, Hatecopy, is a reference to how much she disliked her previous career as a copywriter. Maria developed her signature style back in 2015 with a simple drawing on lined paper of a woman tearfully admitting "I burnt the rotis." She shared the work on Instagram with the caption "what if Lichtenstein parodied Indian soap operas."
She continued drawing and painting Bollywood-beautiful women with cartoon speech bubbles that spoke to the trials and tribulations of 21st-century Desi life in a way that immediately seemed to resonate.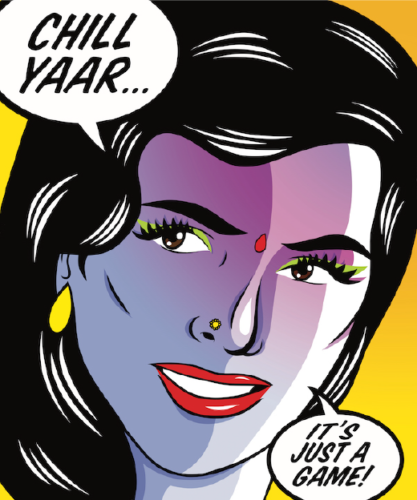 At first, "I actually didn't know I had struck a chord or that it was popular, because I thought everything I was drawing was just something that I found entertaining," Maria recalled. "Then I started getting requests from restaurants and different people."
From a very early age, art was a way for Maria to articulate her struggles between her family's traditions and her life in North America. "For me, comics were a way to communicate," she said. "It's like a teenager writing in her diary—but I'm drawing everything out in panels."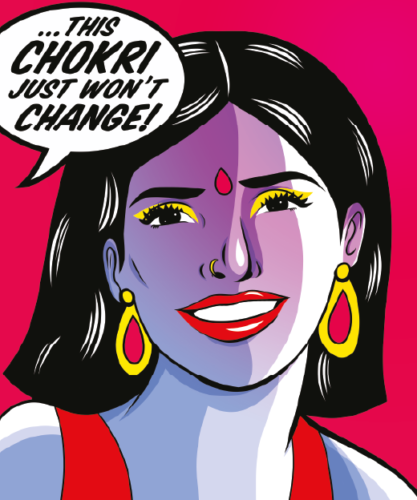 A large part of Maria's audience can relate to the challenges of growing up in a strict South Asian household, with impossible parental standards, a rotating cast of judgmental aunties, and warnings about sharam, or shame, for wearing an immodest outfit.
"There's a billion of us out there," Maria said. "Our culture should be a little bit more known here."
At the same time, she hopes the work resonates with those outside of her own community. "These are specifically the things that I have gone through that have been obstacles in my life," she said. "But don't we all get bullied or picked on for being different? We're not that different—we're fighting for basic human rights for women and women of color."
Inspired by the Saathi Arcade and created specially for The Other Art Fair Brooklyn, Maria will produce and release three different and affordable limited edition, signed prints at the Fair this November 4-7.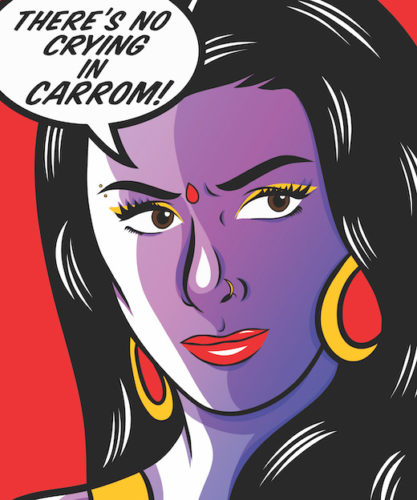 'Chokrichange', 'Chill Yaar Color', and 'No Crying In Carrom' come in an edition of 40 and can be purchased only at the Fair on a first come, first serve basis. These prints will be sold alongside Hatecopy's popular original works of art in the 'Saathi Arcade' gift shop. Prints cost $60 and 50% of sales will directly benefit Children of Promise NYC.