Sydney: Meet Regular 'The Other Art Fair' Artist Clinton Gorst
I met up with Clinton Gorst at the most recent Sydney Fair, to talk a little about his practice and why The Other Art Fair works for him.

It might not be completely obvious from the photos, but Clinton is a collage artist.  Each of his pieces are meticulously constructed by hand from vintage books from the 50s, 60s & 70s, glued down onto wooden board, and then sealed with an archival-quality spray, which leaves a beautiful flat surface that even in person, looks so perfect that you'd be forgiven for wrongly assuming they were photoshopped.  
It's precisely this quality that makes the in-person nature of The Other Art Fair so important for Clinton.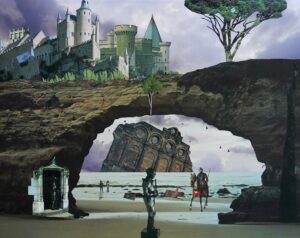 "With me specifically, for collage, it's really great to be able to explain to people what they're looking at because it's not automatically recognizable.  It's invaluable to have that 1 on 1 with people. That's really what the Fair is all about — talking and explaining."
One of the things I hear all the time from artists is how their work doesn't translate online.  While it can be a really great selling and marketing tool, the feedback is very much one-way.   If something isn't doing well, it's almost impossible to know why — is it the price? The size?  In an environment like the Fair, you're getting that feedback right away, and it's a two-way conversation which means artists are able to educate visitors about everything that goes into the process.  
"I think it really does help people to understand the pricing and the value of the works.  One thing I'm very clear about is none of this is made in Photoshop, it's all analogue.  They appreciate the time that I've taken, and people find the process really fascinating.  Then I can direct people to my website or my Instagram where they can see time-lapse videos and how everything has been put together."
Clinton's at-home studio is a bit more like a library, than a traditional studio.  Where you might imagine stacks of paints and brushes, instead Clinton collects books.  On trips to Vintage shops and thrift stores, he's on the lookout for large travel books, picture books, architecture, and anything else that might take his fancy — he's very specific in the books he chooses though, looking for good quality paper stock as much as interesting imagery. 
"I put these rules on myself.   I only use the original pages which gives me only one chance to cut out, rather than making a copy of that and using a print out.  It sort of has a risky element as well. Everything is just one of a kind."
These stacks of vintage books sit on two large shelves in his studio.  On his 'conceptualizing' days, he spends time cutting out and arranging pieces, allowing the stories to evolve and unravel, until they feel right.  There might be 3 or more pieces all in-progress at once, or perhaps just one larger piece.  The whole process can take a few weeks to perfect.
"I camouflage blunt edges, I try to make every image as perfect as possible.  If I've used a double page spread for example, and you can see where the staples were, I'll camouflage that with another piece so you can't tell it's from a book.  That's just what I've always done.  It's always been my style and it's sort of grown as I've pushed it further and further."  When it feels right, Clinton packs them away into individual envelopes so he can start working on the next, saving all the messy gluing for another day.  "Gluing is something you need to build up for."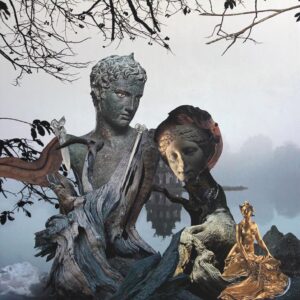 Like a lot of artists, Clinton also has a day job, which leaves him about 1 -2 days a week to work on his practice.  That doesn't just include the thrilling 'conceptualizing' days, but also the 'gluing days' and the 'photographing days' and the dreaded 'admin day', which I'm sure most artists would agree is the least fun of them — but Clinton knows that those things are necessary as part of growing as an artist and getting your work in front of new audiences.  The July Edition of The Other Art Fair Sydney was his 5th Fair, and he's got the admin side of it pretty down.  "I have a list and I work through that."
"Most of the pieces I had created during the year, so I didn't really have to make a lot just a few months before, but it still takes time to get artworks framed and photographed, creating a catalog — there's a lot of things you can do beforehand.  I love to be organized.  If it's your first time I would make an effort to have a postcard available.  I'm a big believer in a free postcard.  That's one really beautiful visual that people who come to the Fair and might not be able to purchase can take away.  That postcard they're looking at on the fridge, and you never know – they might email you about something down the line!"  
Knowing that Clinton was a regular Exhibitor at the Fair, I was curious about those early days and why he first felt the impulse to apply for the Fair, and then what propelled him to keep returning. For Clinton, that first Fair was hugely validating hearing all the positive feedback and selling a lot of work to customers who connected.  It was something that propelled him to carry on and get more ambitious in his investment in himself as an artist.  
"At the first Fair I had one really large piece that I had professionally framed.  It was quite expensive compared to everything else.  This woman had come around 3 times with her daughter and looked, and they were going to get a little piece, and I said 'Go have a drink and come back.  Just think about it'.  I remember [it was] the last day in the last hour and she came back and she said 'No I've changed my mind I want the big piece' and that was such an incredible moment.  It was a big investment.  That was definitely the best moment of all the fairs.  And it was right at the end as well, of the 4 days.  It gave me a complete buzz.  That's probably my favorite memory."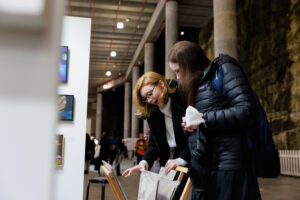 He also started to build a network of other artists around him that helped each-other and grew together, something that as an emerging artist can be really hard even if you are showing frequently in galleries and shows.    
"My first time I remember very distinctly because I was very nervous.  I was thinking, I've been doing collage for years but I haven't really shown in Sydney.  I'd had group shows and things like that, but this was the first Art Fair. What was amazing was meeting the other artists and talking with them.  That was really rewarding for me for the first time.  There's some artists that have become friends, we talk quite often, via Instagram if we don't get to see each other. When I was first approached by my gallery to do prints I hadn't really done prints before.  I reached out to [another Fair artist], as he has such amazing success with his prints [and] it was a really good experience to be able to talk to him and say 'Hey what's your feedback?'.  I wouldn't have had that interaction with an artist [before I started doing the Fair]."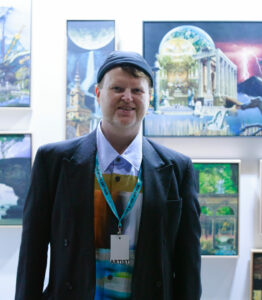 If you're thinking about applying for The Other Art Fair, applications are open now for the Sydney Edition of The Other Art Fair, on December 1 -4.  It's free to apply, and open to all artists across all mediums.  Hit the link below to apply now.
Applications close September 4th, 2022.