This celeb-favorite designer looks for 3 things when sourcing art…
Picture this: a century-old house belonging to a young actress, adorned with playful furniture, eccentric colors, and funky objects procured from flea markets and art fairs. Usually there's no relatability to those A-listers hidden in the Hollywood hills, but that sounds more achievable than you'd think, right? 
To Nicole Gordon (the creative powerhouse behind Nicole Gordon Studio), it's all about creating a space that's as vibrant and unique as the client themselves. Establishing a connection and sense of pride between the homeowner and the space is a must. Grab yourself a coffee, put those feet up and enjoy this Q&A from a renowned Interior Designer spilling the beans on her secret sources for affordable, accessible art and making it work with your home.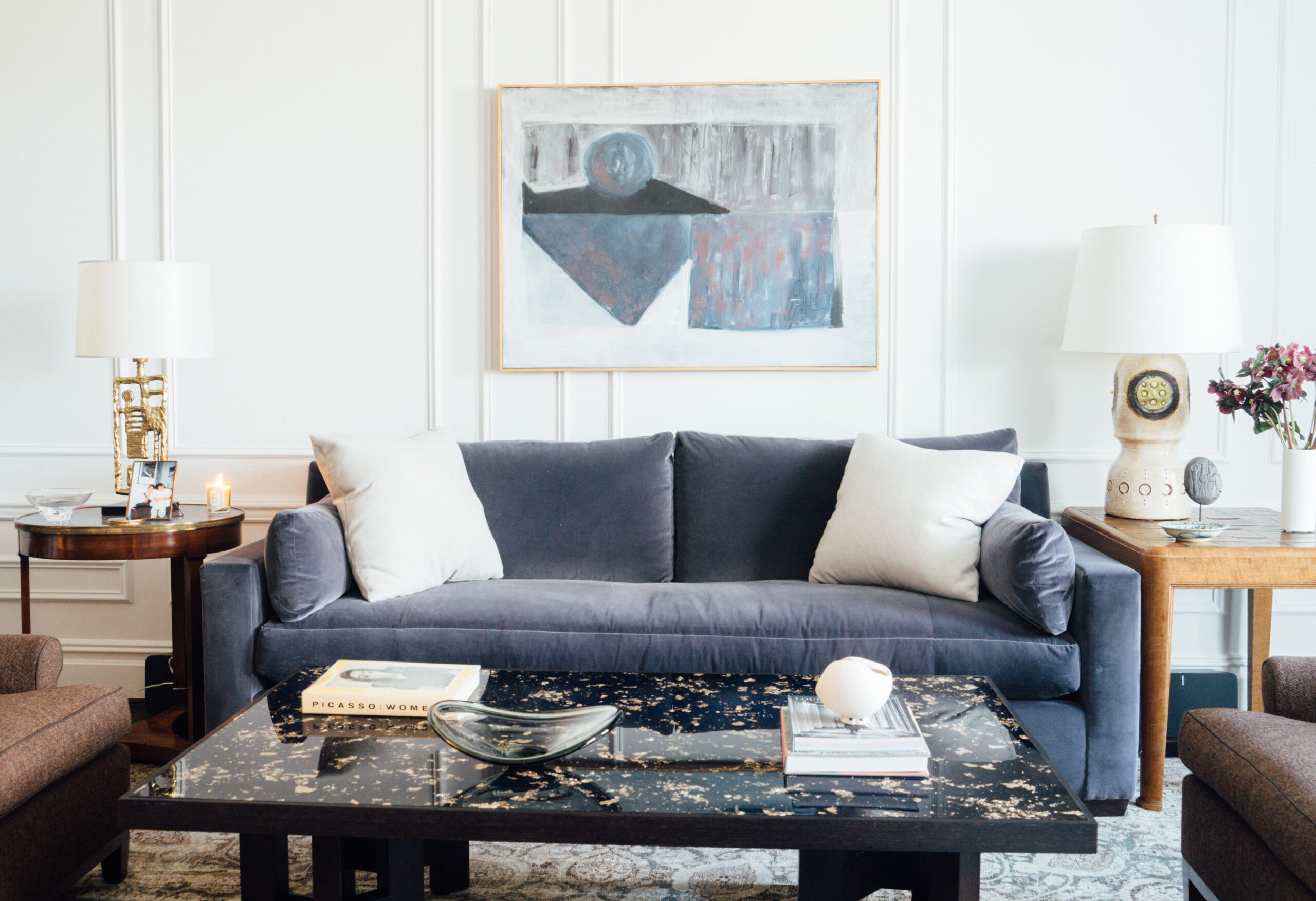 What is the brand ethos behind Nicole Gordon Studio? 
NG: I really feel that our design ethos is based upon firstly the architecture and style of the home, whether it's mid-century or Spanish Mediterranean, and we take a lead from there on what we want to procure for the house. 
Secondly, we truly believe in a close collaboration with the client. We really want to know how they live and how they intend to use the house, whether it be to entertain family, host parties, or if it's a more serene workspace. Recently we just finished a house for my really good friend of 15 years, Ashley Benson, and even though she's a young actress, she purchased a house over 100 years old and is its third owner. 
As the house is quite traditional, we decided to juxtapose its heritage with fun art, eccentric colors, and so forth to bring out her youthfulness and creativity as an actress as well as her love of fashion and travel. We had so much fun buying lots of art and objects at flea markets, at The Other Art Fair, and other small galleries. It is important that the interiors of a house reflect the client's personality, their family, [and] their friends.
We have a lot of young clients that, even if they're quite successful and are able to have a larger home and hire a designer, they are not quite ready to spend a lot of money on art. That's why we really truly appreciate small, emerging art fairs such as The Other Art Fair where there's options from artists that are emerging. We also love to look at art done by students. We purchased a lot of art from The San Francisco Art Institute for our project in South Park for a venture capital firm called Coatue. Even though they are a financial company, we also wanted to show their support of young emerging artists in their local community, where they are establishing their business.
Why the choice to focus on residential interiors in your practice?
NG: We truly love creating a home, and as many people did, found that the act of creating a home took on a whole new meaning during the pandemic. We realized how important this was to our clients, as all of them were so grateful that they had a space their children could return to while being unable to attend college or their workplaces in person. All of a sudden they were using their entire home as they never had before for things like remote learning and working, for playing games together and making family dinners.
There's a special sense of pride when you know that your clients are really enjoying their home and feel grateful for their space that they put all this time and energy into creating. There is also such a personal and intimate connection with a residential home versus a commercial space such as a restaurant or an office space. That being said, we love and appreciate doing commercial projects.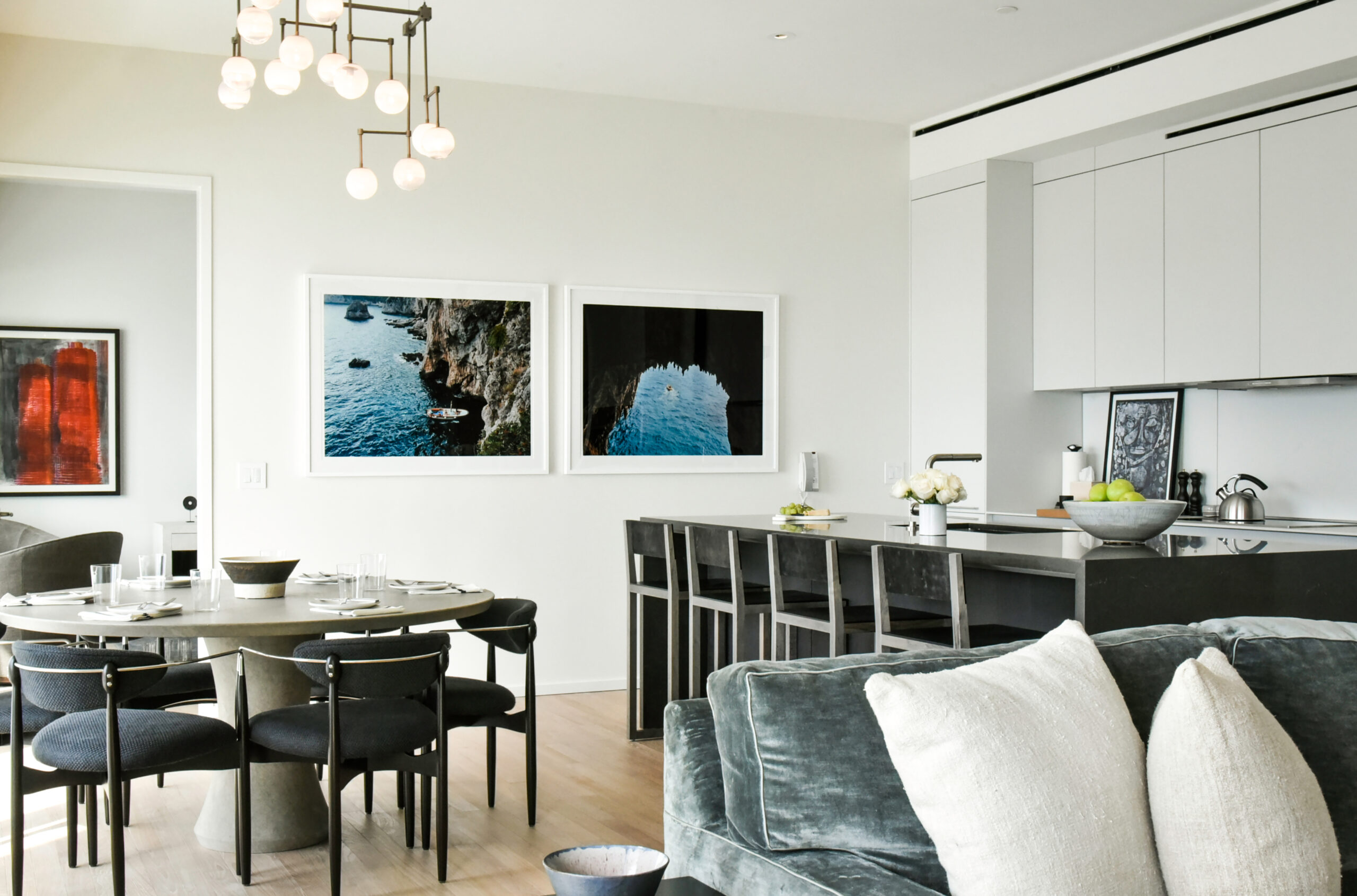 If you could refine what you look for when buying art for your clients to 3 things, what would they be? 
NG: [Firstly] when looking for art, we love to have mixed mediums, such as metals, paper, gouache, and found objects. 
We also look for paintings and drawings with different and interesting frames that are antique or recycled, or mixed woods such as a white oak frame with a detail of walnut for the corner joint – we find that fun. 
[Finally], we love finding pieces with color, that toe the line between abstraction and figuration, and have an interesting story. For example, we recently purchased from The Other Art Fair a piece by Mark Rebennack titled "Exhales in Gold on Navy." Mark creates these amazing linear drawings that reflect the rhythm of his breath or a certain song – of which my client was immediately drawn to as he has a deep [love for] music.
We really do appreciate finding an unknown artist or someone that's just starting their career. It's really fun to see something that not everyone else has on their wall, that is unique and it just feels special and exciting to be able to curate and purchase items like that as well. 
Above: Mark Rebennack
How was your first visit to The Other Art Fair in LA?
NG: We really enjoyed it. Truthfully, we had zero expectations and we did not know what we were in for and we were so pleasantly surprised that 3 of our clients from very different walks of life–a family in Pacific Palisades (1st home & welcoming a child in near future); a client from Chicago (3rd home); and a young actor in Los Angeles (1st house in LA)–were all able to walk through the fair and buy pieces because they responded to it and they liked it and did not have to be concerned about the cost as everything was very well priced, affordable and had great value. 
We were so surprised by the excitement and the interaction with the artists. It was so great they were managing their own booths so we could get the story, their history, where they went to school, how they became interested in the art world. Then, once the piece was put up in the houses, each of my clients were able to say they participated, that they selected the items and even knew the artist that created it. So all of that was such a valuable experience for myself as a designer, as well as for my clients as they all felt that they were more than financially invested but had a personal and emotional experience while finding these items.