Brooklyn: The Sketchbook Project Arrives at The Other Art Fair
The Brooklyn Art Library is home to the largest collection of artist sketchbooks in the world – known as The Sketchbook Project.
A hub of creativity, inspiration and of course sketchbooks. The Brooklyn Art Library currently houses over 40,000 in their storefront space in Brooklyn, NY. Their exhibitions and projects allow anyone to participate and create an approachable museum setting that inspires creation, discussion and education.
A mobile library which brings the library to you. Traveling cross-country five times, from food truck parks in Austin to historic distilleries in Toronto, their pop-up exhibitions operate the same way as their library space does. Visitors are invited to search our catalog to find books on-board and spend time flipping through the pages of an original artist sketchbook.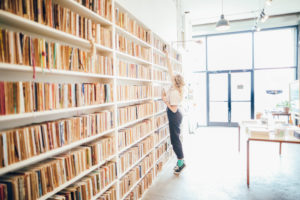 Crowd-sourced from every corner of the globe, The Sketchbook Project is changing the way creative people share their work while creating a worldwide community resource. Launching in May… The Sketchbook Project is introducing the 2019 Challenge. Guests of The Other Art Fair will get exclusive access to order a discounted sketchbook in advance. By filling up your own sketchbook, you are joining the movement, adding your voice and becoming a part of something huge. Draw, write, collage, cut, print, photograph – it starts with an idea.
Find the Sketchbook Project at The Other Art Fair Brooklyn when it return for its third edition from May 3-6 2018 at Greenpoint's Brooklyn Expo Center.