Brooklyn: Bees and Breaking the Rules, a Candid Interview with Devin Rutz.
The Other Art Fair is excited to be exhibiting the work of Devin Rutz at the upcoming Brooklyn Edition of the fair. We were so excited about his work and the fair that we had to ask him some questions to make the wait till November 7th fair a little more bearable!
Devin Rutz is an artist and designer based in New York City. Born in Nevada and raised in California, Devin initially trained as an architect at Savannah College of Art and Design. Devin left architecture to focus on his multifaceted artistic practice. His work is a lively combination of texture and pattern, order and disorder.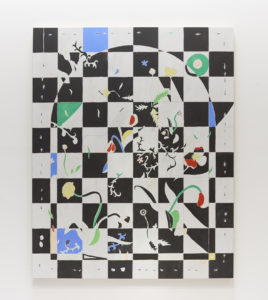 Devin Rutz, All The Bugs Come in When it Rains
Can you tell me about your use of bees wax? How did that process start and how has it evolved?
The bees wax pieces grew out of an interest in natural materials. Around 2008 I had begun work on some similar pieces using tar that I had foraged from a beach that my family would frequent when I was a child. This beach notably named Coal Oil Point, is a natural seep field and the site of numerous man-made oil spills. An oil spill that occurred there in 1969 is widely credited for sparking the US environmental movement. To this day there are regions of the beach that are covered in petrified tar from the '69 spill. I chiseled this same tar off the rocks and melted it down, using a putty knife to apply it to wood panels. The result was a highly textural surface that was mesmerizing to look at. I was interested in how a natural material could be repurposed into a catalyst for conversation about politics, society and our relationship with nature. Fast forward to 2016 and I had begun experimenting with wax in the very same way. Melting it down and applying it in layers to create some interesting studies. The idea solidified for me while I was a resident at the Vermont Studio Center when I began using bees wax.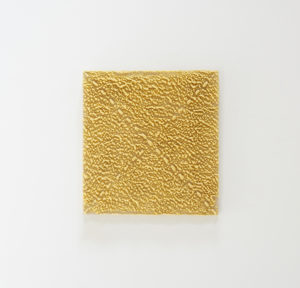 Devin Rutz, Untitled (Beeswax 1)
You have a Masters in Architecture from SCAD, how does that inform your work?
I was always the kind of student that pushed the limits of what I could get away with. To me that meant questioning what architecture was. I almost should have known better than to see the program through but to me I thought creating my own curriculum that asked these questions through my work was a great challenge. You know, you're young and you're dumb and you make rash decisions, like studying architecture… Maybe I'm a glutton for punishment? Anyway, I can't help but feel like I've been trying to get over all of the theory and rules that were instilled in me in school. One of those ideas is about "truth to materiality." Specifically relating to architecture, this idea rose out of modernity and was an anti-decorative stance and ethos in construction. It meant that you weren't supposed to be frivolous with design and that the materials you used in the construction of a building should be visible upon completion as a way of connecting ourselves to the process of creation. A lot of my sculptural work carries this same ethos, especially the wax and tar pieces. When I was thinking about that work I was always conscious of how I was going to make it and how the making of it would be evident in its result. And that I wanted the materials to speak for themselves. I also believe there is a certain amount of formalism that I can't seem to shake loose that stems from my education as well but I'm working on that.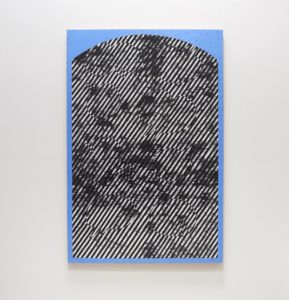 Devin Rutz, A View For Bridgette
What are you inspired by at the moment?
Right now, fashion. I think life is all about the relationship to the environment you are surrounded by and in New York City you have this grit combined with excess and the overlapping of the two is really a sweet spot for me inspirationally. To help subsidize my studio practice I work as a freelance set designer in the fashion industry and the patterns and colors that I've seen have certainly informed my work. But what I'm really interested in is the underlying attitude behind it all, like nothing really matters except for the present moment. There is a certain highbrow / lowbrow aspect to it, like spilling McDonalds ketchup on a Celine dress'. I want my paintings to feel like that.
With your background and work in set design, can you talk a bit about having a multiple disciplinary practice?
I think having a multidisciplinary practice is totally necessary. For me it's impossible to just do one thing. It's nice to have different avenues where I can experiment with different ideas. No matter what I am working on it always feels fresh and challenges me to push forward in new ways creatively. Depending on what I am working on, my art sometimes informs the photoshoots I work on but most of the time, it's my onset experiences that inspire my artwork in the studio. I'm lucky enough that I finished school at the exact wrong time, in 2008, in the exact wrong profession, and that I fell into something that is both fun and challenging that I can make work with my studio practice.
Devin Rutz, Stay Gold Ponyboy
You can see Devin's work at the Brooklyn Edition of the Other Art Fair, November 7-10 2019 at the Brooklyn Expo Center.