Being a 'Guerilla Curator': An Interview with Ryan Lanji
Ryan Lanji (@mslanji) is an artist, DJ, fashion and art curator and producer, the recent winner of Netflix's new reality show 'The Big Flower Fight', and founder of HUNGAMA: A Queer club night for the South Asian community. Ahead of his feature exhibition at The Other Art Fair London, we spoke to Ryan about what inspires him and asked him to curate a collection of works for The Other Art Fair Online Studios.
Your work is so successful at combining aspects of fashion, music, visual arts and contemporary culture. Can you speak a bit about the interdisciplinary nature of your work? Where did you start and how have you been inspired to adapt your practice along the way?
I landed in London ten years ago at the tender age of twenty-three with nothing other than the idea that I wanted to be a part of London's Fashion & Culture scene. I remember a career consultant telling me when I was on job seekers and desperately trying to get a job in a gallery that I was a 'lone-gunslinger' a do so much that I would render myself unemployable. I remember thinking: 'I'm not unemployable… I'm a Guerilla Curator.. so that's the same thing".
It was my first exhibition I curated called 'Nailphilia' which was a Fashion Exhibition looking at nail art as a form of contemporary sculpture that got my name on the map as a Fashion Curator and I began working with Fashion Designers, Brands and artists to showcase their work in ways they never imagined. I have always had a sense of wonder in all my shows, I liked people to forget they have phones and use their eyes. After starting as a guerilla curator, I continued to curate regardless of my obstacles and slowly went from exhibiting shows in the empty spaces of East London to getting the opportunity to curate a show at the V&A Museum and the London Film Museum.
My shows have always incorporated set design, visual art, fashion, spectacle and sound. They are a similar (more artistic) version of these show-stopping V&A Museum shows like Savage Beauty or David Bowie's retrospective – But I love them because they reveal the smaller names in Fashion, the ones who don't get fashion houses but do equally as great. 
After spending almost a decade in fashion and art, I realised I was missing a huge part of my identity. I grew up with Bollywood and after moving to London and ingratiating myself into the worlds I was in… I yearned for space where I could be queer and South Asian. So I started HUNGAMA (please link www.instagram.com/hungama_ldn)  (which means Chaos and Celebration in Hindi) and because of my background in Fashion & Art, it turned into an Indian Studio 54 in East London that is a mosaic of South Asian culture and Creativity. It in a way has started a movement that allows those in the LGBTQIA community to celebrate their ancestry and creativity.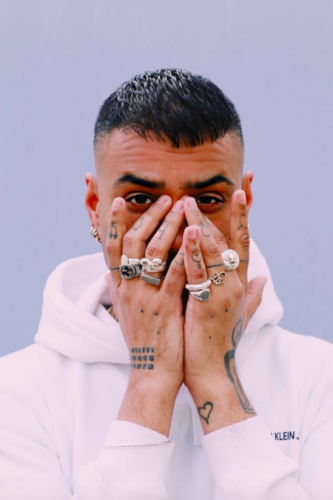 Can you tell us a bit about 'Perspectives of Courage'? – The project you will be showing at the London fair in October. 
Perspectives of Courage is a really special show. It's only been a couple of years since South Asians have found the courage to speak up for themselves, the POC community and decolonise our mentalities and this has largely been through some strong artists and voices who have been championed on social media and around the world. I have always wanted to collaborate with The Other Art Fair and when I was asked to curate the show I wanted to represent those who have been 'othered' but also have made some fantastic and courageous work. So I selected eight artists who are globally recognised as the leading voices in our community and wanted to create a special edition run of one of their pieces. So it's a capsule collection of some of the most courageous voices and perspectives in our community and I am so proud/excited to unveil it (finally) to art collectors and fans of their work.
I am thrilled to have Jasmine Sehra, Babbu The Painter, Furmaan Ahmed, Kazim Rashid, Kully Rehal, Hatecopy, Mamamanvz, Paper Samosa and Vivek Vadoliya exhibiting a piece each.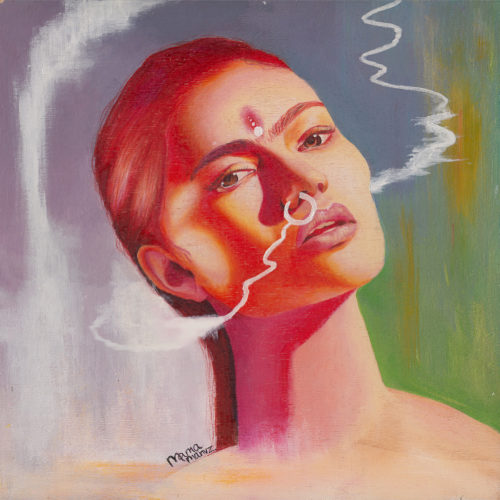 How do you see art as a means to vocalise identity? 
If you watch TV, listen to music, read a book its language and dialogue being communicated. For representation and diversity today it's important that anyone digesting information through their eyes, ears (or any of the sense really) can sense a bit of themself. One of the reasons I do so many things that cross so many different professions is because I want people to see themselves whether that be a creative person who is brown, a queer person who is creative and displace the narrative of all multidisciplinary people being white-centric. So it's important to use your platform and invite inclusivity and diversity into everything you do, create a space for your people to be themselves and you'll see them come… I guess it's radical acceptance and your voice is a celebration of that. 
Taking into account our current climate, what other roles do you think art takes? 
Art can make people feel, and make people think. Social media has turned some of the most powerful works of art into memes and posts but never underestimate the power of an artistic interpretation of something political, radical, or cultural… its impact can bring people together or do quite the opposite as well.
What types of artworks have you chosen for your collection? What do you look out for in an artwork? 
I look out for artists that have something to say. I like art that is courageous in tackling their life experiences and helping others identify theirs. Naturally, I love something aesthetically pleasing and am so happy to have an eye for beauty – but if it makes a beautiful political statement then I'm 100% behind it.
How did you come about to be on The Big Flower Fight? Having watched the series knowing about the work you do, we thought that your talents as a curator, artist and creative producer really shone through and was ultimately what helped your team to be so successful. Can you speak a little bit about what led to your success on the series? 
'The Big Flower Fight' was such a pleasant surprise. After learning about my work as a Curator they approached me and asked if I would be interested. Of course, I knew nothing about flowers (at all) but have curated some ridiculous installations and was up for the challenge. The first episode I was terrified of failing but once I realised that I was in control of my creativity and just had to dig deep and be confident. I am pleased with how the show came out and so happy to have won!
My success on the show was when I took a moment to ask myself what I would want to see on a living sculpture show. How would I change the game with my skills and learn on the fly everything I could learn about flowers. With blind faith, ambition and stamina we made it far and I wanted to do it for all those Queer Asian Artists and Curators who limit themselves in their lives, You can do anything …REALLY!
What's next for you? 
I am excited to be guest designing a sneaker with a cool shoe brand, I am currently hosting two shows 'A Dosa Bollywood w/Ms Lanji' on the fourth Wednesday of every month on Netil Radio and do a monthly HUNGAMA take over on Alphabet Radio (on the third Wednesday of every month) – I am using my platform at the moment to inspire people to get creative and stay positive during this difficult year but am THRILLED to know I will see everyone in October at The Other Art Fair and hopefully on the dance floor at HUNGAMA very soon.
See Ryan's exhibition 'Perspectives of Courage' at The Other Art Fair London in Autumn 2020 and shop his curated collection for The Other Online Studios now.