Aesthetica's 4 Must See Artists at The Other Art Fair New York 2017
Official media partner to The Other Art Fair,  Aesthetica chooses their 4 Must See artists at The Other Art Fair New York.

Intelligent, beautiful, and informative, Aesthetica is one of the leading publications for art, design, and photography. The bi-monthly publication highlights some of the most important artists at work today, both established and emerging, through detailed features and stunning imagery. Each edition includes in-depth coverage of new exhibitions and artists, photography, film and performance, making it a go-to-guide for all art and culture lovers across the world. Subscribe today and save 30% on newsstand prices.
Cassandra Zampini

Cassandra Zampini is a street photographer shooting medium format black and white photography. She views her home city, Boston as her studio, with its geometry and contrast; the urban landscape is the perfect canvas for Cassandra to reveal the humanity alive within it. Cassandra Zampini photographs people in the reality of city, and they are documented as existing in that moment in time when the shutter closes.
She uses elements of shadow, light, contrast, and the geometry she finds in the city to give context to the subjects. Cassandra sees all the elements are meant not only to document, but to capture how it feels to live in a modern city with all the emotion, and the humanity behind the everyday. See more of Cassandra's work.
Kristin Hart

Kristin Hart is an artist who relies on intuition. Her photography is not academic, reifying what she feels and sees. Kristin is inspired by all things in nature – the smell, the color, the pattern, the texture. Her current collection of photography is just that: the beauty and the love she sees and feels in her everyday life in Florida and elsewhere. See more of Kristin's work.
Piotr Pardiak

Born in 1991 in Krakow, Poland, Piotr Pardiak studies at University of Art in Poznań. Piotr describes the subjects in his photographs as a transcendental view of reality. Observing the world and documenting it through his photographs allows him to see beyond a "visible" horizon. See more of Piotr's work.
Denise Dell'Olio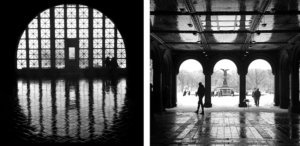 Creative Director Denise Dell'Olio is a part time photographer. Her black and white images of New York City poetically capture everyday scenes in a reflective beautiful manner. In photographing a range of objects and settings, Denise is able to explore New York City and its multiple layers of light and shadow in her current black and white photography collection. See more of Denise's work.
Meet these artists and many more at The Other Art Fair New York June 1-4. Book tickets online now.