Andy Nikol
 

Andy Nikol is a Russian-born German artist, raised in Ukraine, and studied visual arts at the Grekov Art Academy in Odessa. Formerly focusing on painting and drawing, Andy is now based in Munich, where he utilizes graphic and media design together with photography to blend themes of the past and tradition with an openness towards the future and technology. The results are full of color and life and his art has been featured in numerous exhibitions as well as private collections.
How did you began creating art and how has that led to where you are today?
Art attracted me since my early childhood. This attraction led me to study visual arts at the Art Academy, where I studied a large spectrum of techniques. It is probably since then that I preserved a special penchant for experimenting with new artistic media and techniques and am always looking for ways of integrating innovation into my works. At the Art Academy, I had the opportunity to try various artistic media and get familiar with a large spectrum of techniques
Lately I am integrating digital media more and more in my works. Here are some recent works that I have created using the iPad and the Procreate App: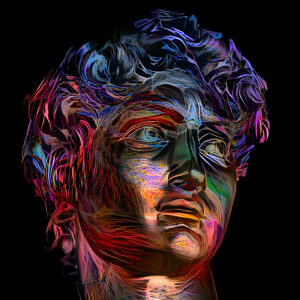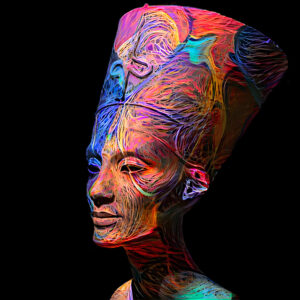 Where do you draw your inspiration from when creating art?
The driving force behind my creations is the intention to recreate the objective and familiar reality with unusual and sometimes unexpected means. This search for the new is always an experiment and it is what real creativity means to me – performing a conscious action to discover or invent something new. Experimenting implies the willingness to search and even to make mistakes for the sake of discovering something that does not yet exist.
Is there a meaning behind the black background in these digital pieces?
Yes, you have noticed it right, the black background in my works is a deliberate choice. The deep black background is meant to intensify the emotional impact of the pieces. When they are exhibited in digital frames, or printed as physical pieces framed behind glass or directly printed under glossy acrylic glass their deep black background creates a certain black mirror effect. This way the artwork interacts with the surrounding interiors, catching and reflecting lights and opening a new space within itself, where the viewer can delve and discover new dimensions of the painting.
A lot of your art focuses on portraiture. Do you enjoy re-creating the same subjects in different ways as well?
Yes, I have a passion for faces of people, as you have noticed, that is why many of my works are portraits. And re-creating the same subjects in different ways actually attracts me very much, that is probably why The Other Avatars Project was a really enjoyable one, since I could create many versions of one and the same subject – Van Gogh!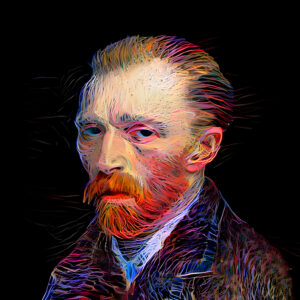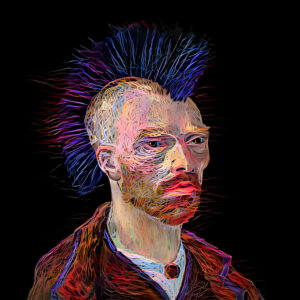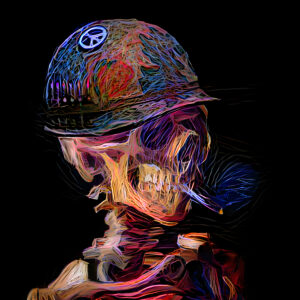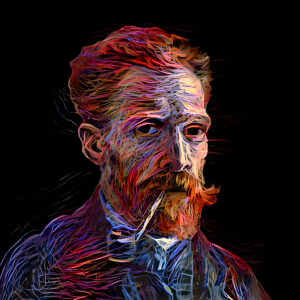 What attracted you to The Other Avatars project and how did you approach working on the Van Gogh avatars?
NFTs are a new world, opening new possibilities, it's all happening before our eyes and it is exciting and very attractive to be a part of it. I've been hearing a lot about NFTs , but didn't know which way to approach them. So when Saatchi gave me the opportunity to be part of The Other Avatars Project, I didn't hesitate to start working. Availing myself of this opportunity, I would like to say that Saatchi has been a great help to all the artists throughout the project!
When I started to work on the project, I asked myself how would Van Gogh have painted his self-portraits if he had had access to today's computer technology? I gave this imaginary Van Gogh within myself an Apple Pencil instead of a brush, an iPad Pro instead of a canvas, and a Procreate App instead of paints.I tried to step into his shoes and I must say "he" got very quickly acquainted with modern technology and in a few weeks my avatars were ready.
Were there any surprises or challenges you encountered along the way in your creative process?
To tell you the truth, the creation process was pure pleasure and enjoyment and the most challenging part was to keep silent about being part of this beautiful project until the NFT drop!
What did you enjoy the most about working on The Other Avatars?
Oh, I enjoyed all the staging of the project, but the most pleasurable part was creating some unexpected and new identities for Van Gogh's portraits and to try and have a look from today's perspective on him.
And of course I really enjoyed the feedback from the collectors who wrote me that they felt lucky to have gotten one of my NFTs!
I
s there anything that you would like for collectors to know about you and your work?
There is probably one more detail that I would like to mention, which might be particularly interesting for collectors – my digital artworks are executed in very large formats, the size of the printing documents reaching up to 256 megapixels, which means they contain many extremely fine details that produce a really striking effect when digitally exhibited or printed in oversized formats: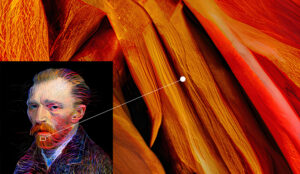 Love reading about all things art? You can have articles from Canvas, curated collections, and stories about emerging artists delivered straight to your inbox. Sign up for the Saatchi Art Newsletter.