Picking the Perfect Frame
You know what's weird about art? It always looks best in a frame. But not sure where to start when it comes to choosing the perfect frame complement to your piece? We're here to help.
Here's how it works: we're an online custom framing service that allows you to either ship us your art (we'll send you prepaid packaging) or upload your photos or artwork for us to print and frame. Our website and app allow you to preview your piece in our frames, and we have designers on staff who are truly excited to work with you. Whether you need an assist while picking your frame or you have a more complicated project, we have your back.
Want a behind-the-scenes peek at what our designers consider when preparing your framing recs? Look no further…
Start with the art.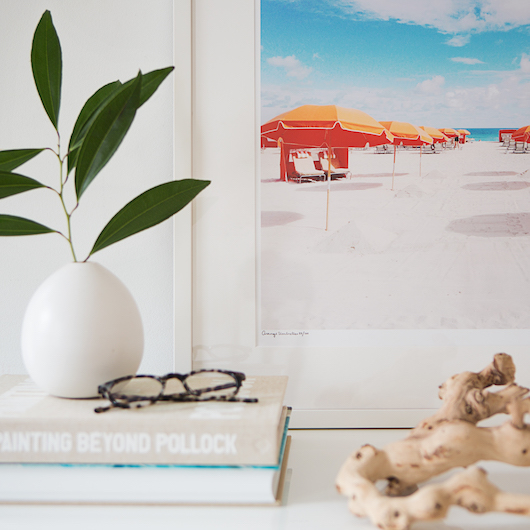 First, consider the style of the art and narrow your choices to a few frames that truly flatter the piece. Then take the style of the space where you plan to hang it into consideration and pick the one that looks best with your décor. Pro Tip: You can never go wrong with a clean, modern frame and a white mat.
Look to color.
Greens look great with gold. Blues look great with silver. Looking to add a frame to an existing gallery wall or vignette? If the piece has black, go with Mercer Slim; if it doesn't, go with Irvine Slim. Still not sure? Just pick "Designer's Choice" and we'll share our four favorite options for your piece. You'll make the final call.
(Almost) everything looks better with a mat.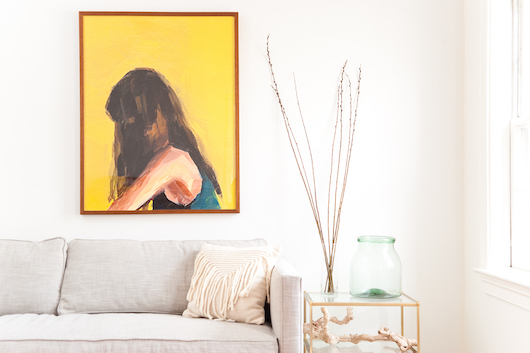 Matting art adds airiness and impact to small pieces and brings the viewer's eye right to the subject. Bonus—it covers up imperfections like wrinkled corners or uneven margins. That said, we love the look of vintage posters, large-format photography, and pieces that are intended to be hung together (like diptychs and triptychs) without mats.
Don't be afraid to go bold.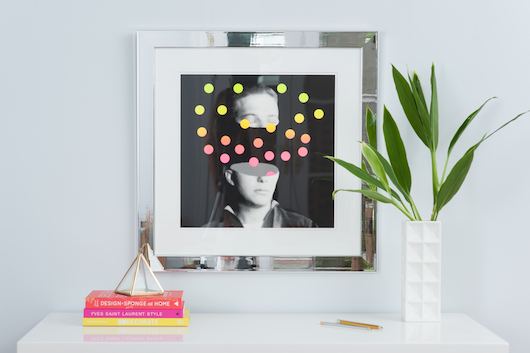 Custom framing has the power to transform a piece of art. Have a charcoal figure drawing? Try a gold bamboo frame for an unexpected glam effect. Bright art or typography print? A mirrored frame might be just the thing to take it to the next level.
Your favorite photos are art, too!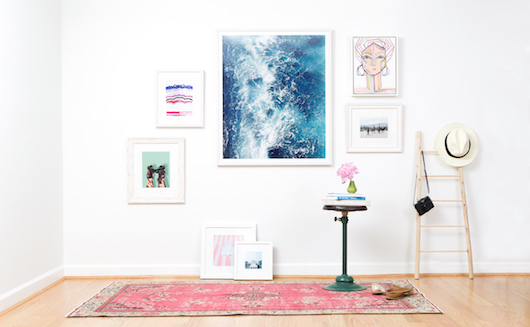 We love the look of abstract or landscape photos hung with art of all styles, and always smile at fun Instagram "minis" given as gifts to friends. iPhone photos are really high quality these days — use that camera and don't be afraid to frame your work!
Gallery walls are easier than you think.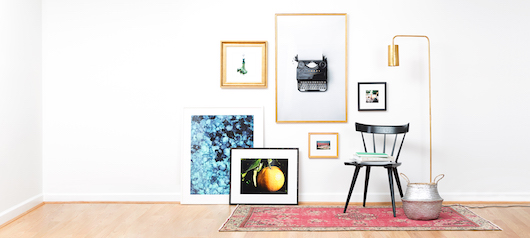 If you're starting a gallery wall from scratch, choose one unifying element — color, size, finish — and carry that theme through all the pieces you choose. If you're working with an eclectic mix of bright art pieces, go with a combo of white and silver or natural wood frames. And don't be afraid to mix metallics! Some of our favorite gallery walls proudly feature gold, silver, and champagne frames. (p.s. we offer a Gallery Wall service to help you work through these details).
Hanging tips.
We've actually created a whole page of detailed tips, but here are the biggies: People always hang art too high. If it's going above a piece of furniture like a couch, the bottom of the art should be 8 to 10 inches above the furniture. If it's hanging on a wall by itself, the center of the art should be 57 inches from the ground. If you're hanging a gallery wall or small grouping of pieces, you should think of them as one big piece for hanging purposes and follow the same rules for placement.
Designer's choice: how it works.
We thought we'd show you what Framebridge frames we would pair with some of our favorite Saatchi Art pieces – and, of course, why.
1. "Trisectual" by Rob Laufer in Irvine Slim
The clean lines in this photography print make our sleek, white Irvine Slim gallery frame a natural choice. Its thin front and deep side ensure all the focus stays on the art.
2. "Continuance" by Simone Truong in Bali
This loosely-patterned floral print is reminiscent of traditional Japanese wallpaper design. With its unique raised bamboo profile and distressed finish, this frame beautifully complements the natural elements in the art.
3. "The Seamstress' Tale" by Christian Johnson in Bolton
The harsh lines of this linocut print are enhanced by the industrial feel of this thin, gunmetal gray frame. Its grommet hardware adds interest, while the delicate profile keeps it light and modern.
4. "Selfie" by Charlotte Evans in Newport
The warm, distressed silver finish of our Newport frame pairs beautifully with the vivid blues in this painting, while its thin profile keeps the overall aesthetic as crisp and clean as the lines in the work.
5. "OF Role" by Micosch Holland in Mercer Slim
The graphic elements in this surrealist drawing really stand out in our slim black gallery frame. The splash of bright blue pops next to the clean, sharp lines of the frame.
Got questions? We've got answers! Head to our site or email us at support@framebridge.com and we'll help you get started.