Why Art for Your Kitchen is Always in Good Taste, Featuring CB2
If you're craving new ways to mix things up at home, discover the pleasure of decorating with art in your kitchen. Saatchi Art's curators partnered with the style experts at CB2 again this week to show how even the most minimal kitchen can bloom into something bigger when styled with some well-chosen modern decorative accents and original art.
Spice up uber-utilitarian kitchens with a splash of texture and shine.
Adding a contrasting frame and wide white matte guarantees that your paintings will pop! Introducing some inviting woven textures and golden metallic accents warms up white surroundings. Styling in some seasonal fruits or flowers is an affordable way to add sculptural elements to your space, and allows you an opportunity to refresh your vignettes every time you visit the farmer's market.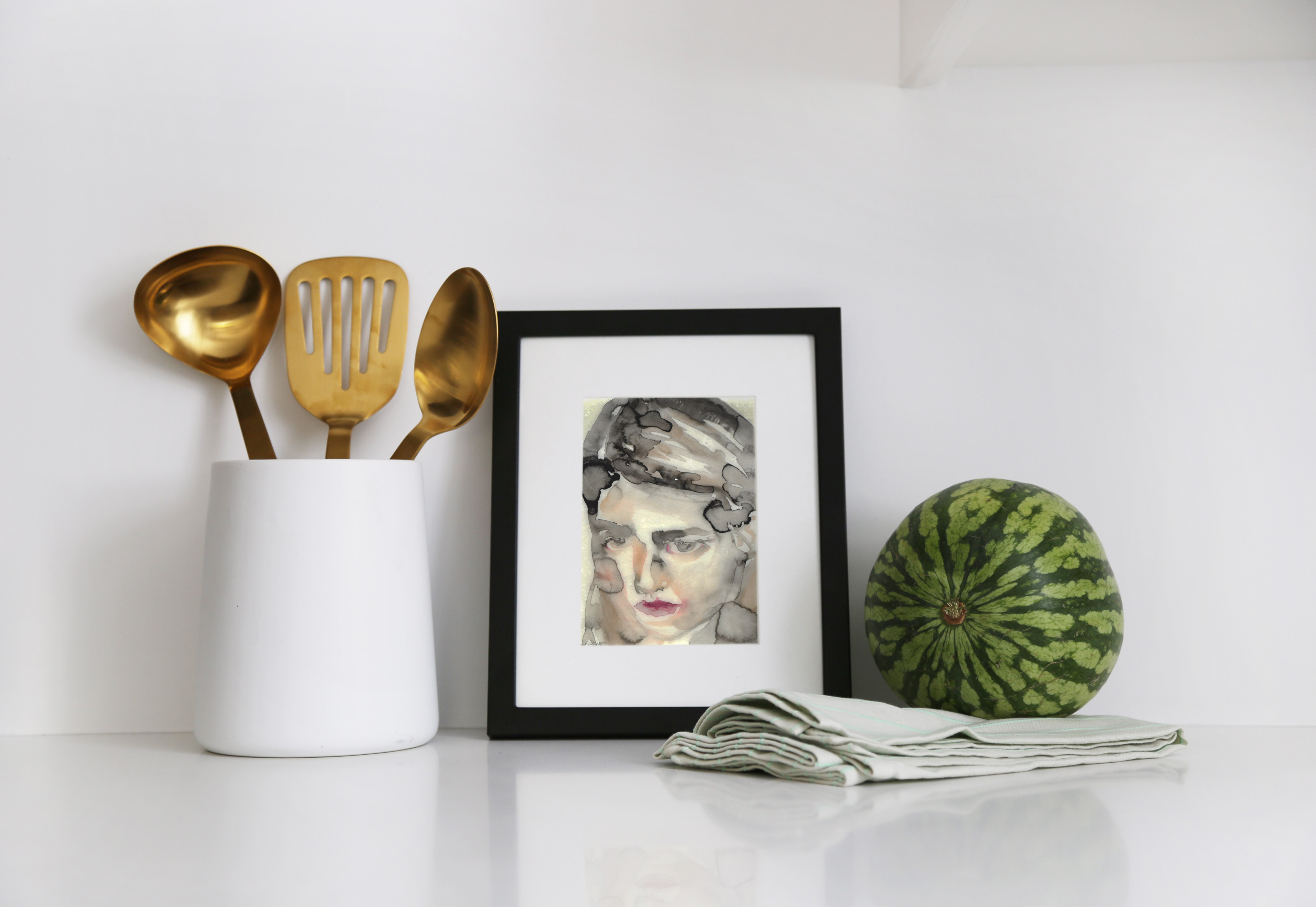 (Image: 2. Sixty-one, a figurative painting by Saatchi Art "One to Watch" artist Lisa Krannichfeld styled with a set of 3 brushed gold kitchen utensils, a matte white utensil holder, and cotton pinstripe mint napkins from CB2. Photography by Saatchi Art.)
Styling your kitchen with color has the power to transform even the most compact cucina.
Whether you decide to lean artwork or hang it, displaying vivid framed art brightens up your backsplash and opens up windowless walls. For a taste of texture, layer in some decorative accents like this etched earthenware Gatz vase from CB2.

Books and art go great together. Try displaying a few of your go-to cookbooks to add some varied height and a dash of design to your kitchen vignettes. (Image: A bigger splash, an original drawing by Saatchi Art artist Hanna Ten Doornkat, styled with CB2's white Gatz vase, black pinstripe napkins and brushed gold kitchen spoon. Photography by Saatchi Art.)
Want some decorative flair without adding color? Go for a group.
Treat yourself to a trio of monochromatic paintings, drawings, or photographs to artfully accent your space, and look forward to dining in again!

(Image: Time (from the series), three original drawings by Saatchi Art "Invest in Art" artist Jenny Lundgren, styled with CB2's brushed gold kitchen utensils shown in a matte white utensil holder and cotton pinstripe napkins in black. Photography by Saatchi Art.)
Ready to turn your galley into a gallery? Shop our new Art for Your Kitchen Collection, see what's new this week, or explore CB2's latest accessories for more inspiration now.