Luxe Lifts: 4 Modern Upgrades for Your Home Design
Who couldn't use a little more luxury in their life?  Introducing a new artwork, a splash of current color, or freshening up some of the finishes in your space can be all that's needed to take things up a notch. Check out these 4 current home design trends we spotted on Houzz and get inspired to upgrade your nest this spring…
1. Bejewel Your Bedroom…
…Or any other room you're ready to turn into a glamorous getaway. Jewel toned walls, upholstered headboards, contemporary paintings, and furnishings continue to be a popular and effective way to elevate the appeal of your space with tones of turquoise, rose quartz, emerald, and amethyst.
If you collect black and white art photography, drawings or framed prints, floating it on a sea of jewel-toned color can add eye-catching contrast. (Image: Design and photo by Diego Alejandro Interior Design, courtesy of Houzz)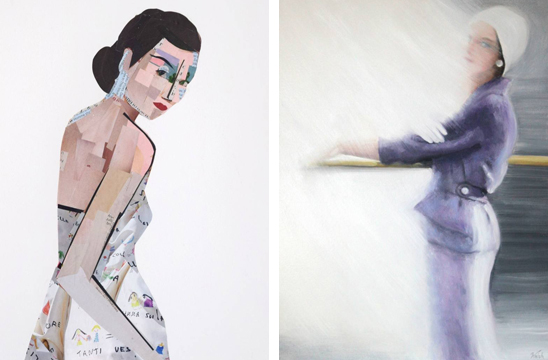 Whether you're a portrait person or live for abstract art, when you're looking for luxe, original artwork in jewel-hued shades is a must. Visit Saatchi Art's new Originals For $2,000 and Under or Abstract Works for Under $2,000 collections to find art you love today… (Image: L: Curiously Compelling, a figurative collage by Saatchi Art artist Olan Quattro and R: Light, 1954, an original vintage fashion-inspired oil on wood in shades of amethyst by Saatchi Art artist Barbara Walsh)
2. Make Way for Marble
Bring in some cool white marble to add a dash of french minimalist style to your kitchen or gathering space.  Modern marble tables, vases, and contemporary stone sculpture are all effortlessly elegant options for adding marble to the mix, minus the commitment of more permanent renovations.
(Image: Design by Sarah Davison Interior Design / Photo by Prue Ruscoe, courtesy of Houzz)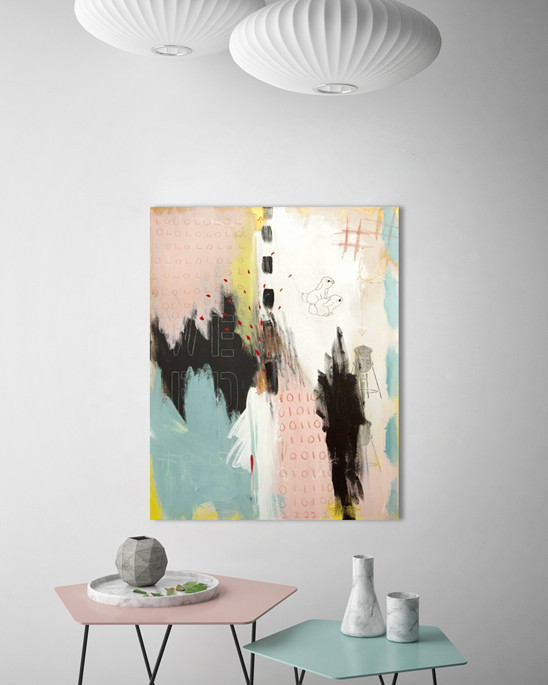 Marble vases, trays, and small sculpture are affordable ways to upgrade your space this spring while adding contrast and compliment to your contemporary art. (Image: Ease on Down the Road, an original mixed media pop art painting by Saatchi Art artist Ashley Cunningham)
3. Cast a Glow With Copper
Earthy and elegant copper ups a room's shine factor while pairing well with wood and modern art. Contemporary art with metallic accents, copper framed mirrors, modern metallic sculpture, and metal bowls are all great ways to steal some glow for yourself this spring without breaking the bank.
Use polished copper pendant lighting to brighten up your minimal or mid century living space. (Image: Design and photo by Photo by Penman Brown Interior Design, courtesy of Houzz)
If you love the look of plants paired with metallics and artwork, try filling a copper planter with greenery. (Image: Design by Décor Aid / Photo by Sigurjón Gudjónsson, courtesy of Houzz)
4. Velvets = Very Inviting
Plush velvets instantly make any space feel more luxurious. Splurge on a comfy jewel-colored seating, or pick up some pillows to add a luxe touch and encourage more relaxation…
Velvet seating brings a sense of the luxe life to a modern eclectic space, especially when presented with statement sized art. (Image: Design and photo by Photo by Brad Ford ID, courtesy of Houzz)
Rich velvets provide a pop of welcoming color when paired with cool marble, grays, or inky walls. (Image: Photo by Ingrid Rasmussen Photography, courtesy of Houzz)
Living with art you love makes anyplace feel more special. Visit our new Spring Catalog or see what's New This Week to uncover a new gem today…