Let's Glow: Beautiful Ideas for Decorating with Holiday Lights
When you're decorating for the holidays, the creative use of light can help transform your home like nothing else. Lighting's welcoming warmth helps gather people together, and it can be used to highlight your favorite artwork or exceptional architectural details.  If you're ready to unwrap a few creative ways to decorate with string lights and candles, take a look at these photos for inspiration…
Rekindle non-working fireplaces with candles or string lights with to create an elegant focal point.

(Image: Photo by Chad Chenier Photography, Design by Ty Larkins Interiors, Courtesy of Houzz)
Wrap up surprising items and create your own delightful light. If you don't have a tree to decorate, or even if you do, try wrapping various items in your home with string lights to make everyday items feel more festive.

(Image: Photo by Dawn Hearn Interior Design, Courtesy of Houzz)
Fill a bowl with light. Surround candles in varying heights and colors with reflective bulbs and bead garland.

(Image: Photo by April Scott Photography, Design by AMR Interior Design & Drafting Ltd, Courtesy of Houzz)
Festoon a door with fairy lights to add more magic.

(Image: Photo by Julie Smith, Courtesy of Houzz)
Wrap a decorative mirror with string lights or combine lights with mirrored garland to create a sparking conversation piece.

(Image: Photo by Mina Brinkey, Courtesy of Houzz)
If you're feeling crafty, try making some of these punched aluminum votive holders. See how here…
Spell out how much you love the holidays…or your nearest and dearest! Use string lights to create a wordy wall installation.
Trim a different kind of tree. Cultivate a chic forest of winter trees to dazzle your decor. I love how this bunch pops against the dark walls.

(Image: Photo by Heritage Oaks Landscaping Inc., Courtesy of Houzz)
Catch some fireflies…for a simple, gorgeous display of light, cluster battery operated string lights under glass bell jars or a cloche.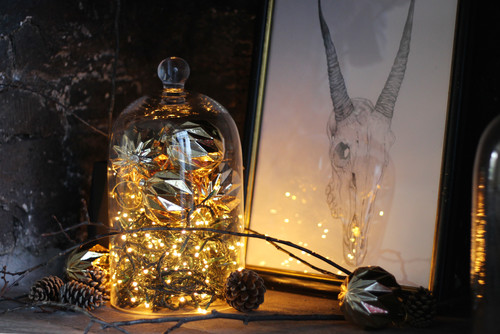 (Image: Photo by April and the Bear, Courtesy of Houzz)
In the market for a different sort of sparkle? Lots of retailers offer specialty string lights, like these starry beauties from Anthropologie. See below for additional suggestions.
Selected Resources:
For string lights, LED candles, flameless candles and tealights, try Amazon or lights.com. Urban Outfitters, Anthropologie, Restoration Hardware, and Pier One offer a selection of specialty string lights as well.
Prepare to be dazzled! Shop Saatchi Art's Light Collection today.