How to Shop Art for Small Spaces
Each space in your home has a distinct style, purpose, and feel. Find art suited for every room with the help of our How To Shop by Room series, complete with collections of suggested artworks hand-picked by our curators. Read on to learn how to build an art collection for smaller spaces, and explore our Art for Every Room catalog here.
Small art doesn't mean small impact, and a smaller scale can open up often overlooked possibilities when it comes to collecting art. If you're looking to decorate a tiny space, now is an opportune time to explore printmaking, drawing, textiles, ceramics, assemblage, and collage—techniques that lend themselves well to small scale. Textile art, such as Maddie Mo's romantic embroidery and Chuck Stolarek's absurdist fabric canvases, can add texture and variety to any space. Sculptures such as Sasi Kladpetch's organic and concrete wall hangings and Emily Maddigan's whimsical, sequined animals also bring a welcome dose of personality and the unexpected.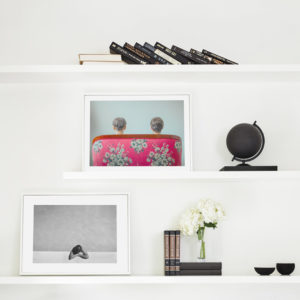 Any tabletop surface, such as a side table or office desk, would call for small objects as well. Works such as Manuel Llaca's abstract alabaster forms and Court Swartz's cast plastic milk cartons make artful and easily movable additions to a tabletop collection.
When displaying small art objects, take advantage of their size and portability to fill unexpected or overlooked places in your home, such as bathrooms, hallways, reading nooks, or even your laundry room. Unlike large-scale works, small art is low commitment and often more affordable, so building a collection for your small space is the perfect time to branch out, take risks, and have fun.
Explore more small but mighty artworks recommended by our curators here. If you would like further guidance, contact our experienced curators for complimentary art advisory here.
Love reading about all things art? You can have articles from Canvas, curated collections, and stories about emerging artists delivered straight to your inbox. Sign up for the Saatchi Art Newsletter.