How to Frame Your Artwork like a Pro
Finding the perfect frame for your new artwork can be just as challenging as finding the artwork in the first place. There are a lot of choices, but the process doesn't need to be overwhelming. When you take your new artwork to a framing shop, framers will often be able to help you make your selections, but it's a good idea to come with ideas of your own. Here are a few tips to help you approach framing like a pro.
1.  Know your artwork

When considering framing, it is important to understand the material and medium of your artwork, whether it be a canvas, photograph, or work on paper, as each category requires a different framing approach. Additionally, not all types of works even require a frame. For example, a gallery wrapped canvas (a canvas wrapped around and secured to the back of its stretcher bars) can be hung directly on your wall without a frame to give the work a contemporary look. Meanwhile, a work on paper, a much more fragile material, will almost always require a frame in the interest of long-term preservation and protection.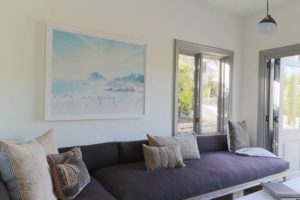 2. Carefully measure your wall

Adding a frame and mat is an easy way to help a smaller artwork take up more space; this is a great hack if you can't necessarily afford a larger work, or if you simply want to lend some drama and visual weight to a small piece. On the other hand, if your work is already on the larger side, you will want to make sure the frame you choose doesn't overwhelm your wall. Whether you're concerned that your new artwork is too large—or not large enough—measuring carefully will help determine the frame that's right for you.
Although it is ultimately a matter of taste, here is a general guideline for how much wall space a work and its frame should fill. An artwork, including the frame, should typically fill two-thirds to three-fourths of the available wall space. Note that "available wall space" does not include the couch in front of your wall, the molding, or the floor lamp blocking part of the wall!
Start by measuring the width and height of your space. Next, multiply each by 0.60 and 0.75 to get the smallest and largest total artwork width and height that your space can accommodate. Finally, subtract the artwork dimensions from these ranges, and divide by 2. This will give you a range for how narrow or wide your framing should be. When in doubt, once you have your calculated dimensions, put some masking tape on the wall and see if the size appeals to you.
3. Complement your artwork
The frame should act as a complement to the artwork and it should not overshadow the piece. For a modern-looking painting that is on a stretched canvas or board, you may want to try a floating frame. This will leave a shadowed gap between the artwork and your frame, lending visual emphasis to the artwork. On the other hand, a more traditional painting can be highlighted by a traditional gilded or decorative frame, giving it a classic, museum-quality feel. Similar to the size of your frame, what complements the artwork is really up to your personal preference. Have fun and experiment by pairing a modern artwork with a more traditional frame, or a small drawing with an outsized mat—framing is your chance to add a personal touch!
4. Push the boundaries with matting
A custom frame often has a mat added around the artwork. This is particularly relevant for photographs or works on paper. Mats are traditionally a shade of white, cream, grey, or black, but you can also mix it up by layering a couple of mats in colors that complement your artwork.
Pro tip: While most matting is contingent on the artwork and your preferences, most framed works will have at least a 2-inch wide mat. Another general rule of thumb is that the mat should be wider than the frame—this variance in width, yields a visual balance that's easy on the eyes! On the other hand, some photographers and printers might opt to print their images full bleed, or to the edge of the paper. For these works, forgo a mat for full-bleed framing, wherein the edge of the image meets the edge of the frame, overlapped by only a small lip on each side.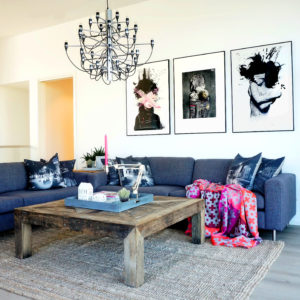 5.  Keep preservation in mind
Artwork often serves as a family heirloom, and a frame can be crucial for protecting it long term. If the work is on paper, it is very important to choose a 100 percent acid-free mat, so that the work does not discolor, or "burn," over time.
The glass for your frame is another key component of preservation. While clear picture-frame glass is the most common and least expensive, it has no UV light blocking capabilities. UV rays are detrimental to art, and its damage is cumulative and non-reversible—so if your artwork will hang in a room with a lot of natural light, it is important to choose a UV filtering glass to keep your artwork preserved for generations to come.
Plexiglass is also a great option for UV blocking, and as an added benefit, it's less prone to breakage than traditional glass, and is therefore often recommended for large-scale works. 
We hope these tips help you uncover your own tastes feel more confident when it comes to buying and displaying art! When in doubt, work with a framer in person to determine the framing approach that best serves your artwork. If you have questions about artwork or any of the tips we've shared, contact our curators for a free consultation.