Fresh Paint: 4 Home Design Colors to Know Now
Introducing new contemporary artwork is a great go-to when you want to add an instant color boost to your home design. If it's time for a major update and you're ready to repaint, gather some fresh inspiration from these 4 popular paint color trends happening in interior design now. Plus, you can't go wrong with our Pops of Color collection.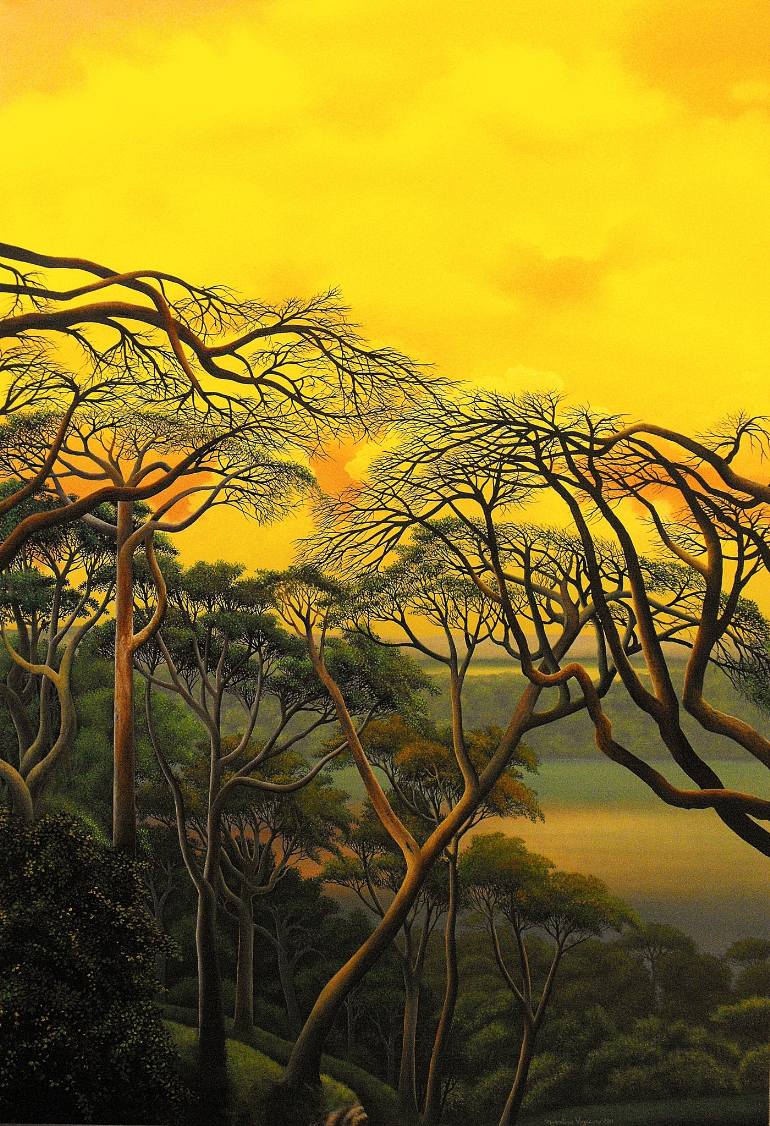 Residential or commercial, Saatchi Art's free Art Advisory is here to help put the finishing touches on your space.  Contact our curators today for personalized assistance finding the perfect original painting, modern artwork, or contemporary art photograph to compliment a newly designed or remodeled interior. (Image: La luz dorada del amanecer, an original landscape in oil on canvas, by Saatchi Art artist Marcelino Vizcaino)
1. Renewing Blues
Whether you're creating a luxe space or a minimal modern oasis, keep relaxing blues in mind. Better Homes and Gardens notes that navy continues to be a popular choice for revamping bedrooms this year, and its rich hue provides a beautiful background for both framed photography and statement paintings. Consider adding a small marble side table, vase, or sculpture for extra elegance.

(Image: Design by LGB Interiors / Photo by Robert Clark Photography, courtesy of Houzz)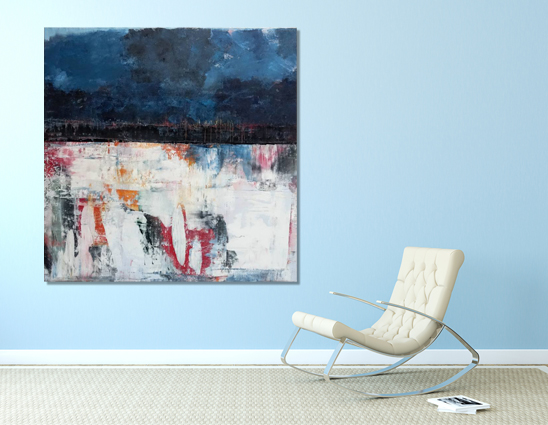 (Image: PULSE, an original oversized abstract painting by Saatchi Art artist Eigirdas Scinskas)
2. Nature-Inspired Neutrals
When it comes to painting walls, remaining neutral often offers the most flexibility for decorating with art and an eclectic mix of furnishings. If you're looking to stay away from colder grays, and desire an earthier feel, try Mushroom! According to House Beautiful, this shade pairs well with a range of colors and is predicted to be the next-big favorite for neutral walls.
(Image: Design by Ruhl Walker Architects / Photo by Eric Roth Photography, courtesy of Houzz)
3. Uplifting Yellows
To exhilarate your entryway or perk up your kitchen and dining nook, go yellow! Sun-tinged walls are shining in both spring fashion and home decor right now. Get this look for yourself with a color like Behr's Lemon Burst or Sherwin-Williams Bee. Pair yellow walls with live greenery, organic sculpture, natural accents, or bright abstract artwork and prepare to be re-energized!
(Image: Design and Photo by Lynda Miehe Associates, courtesy of Houzz)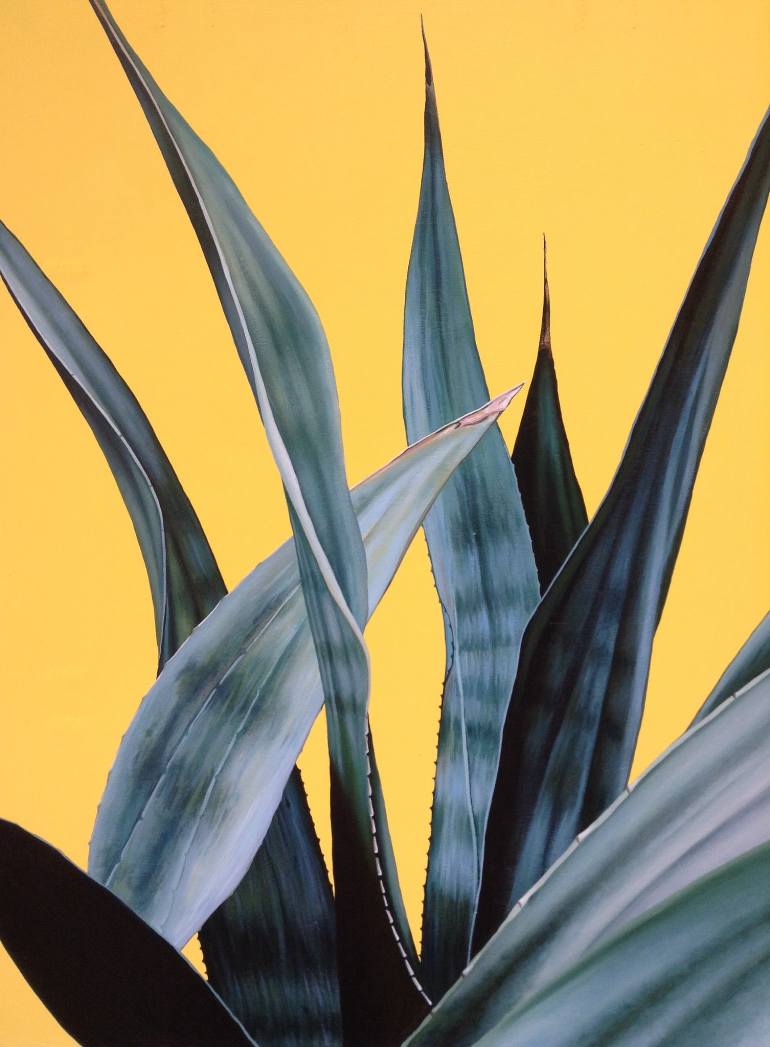 Affordable original art means upgrading your interior color scheme is within reach even if your design budget is limited or you're renting and repainting is not an option. Visit our Affordable Originals For $500 And Under collection to see more beauties like this. (Image: Pita, an original botanical painting by Saatchi Art artist Lide Kaltzada)
4. Versatile Violets
In the mood for the unexpected? Pick purple…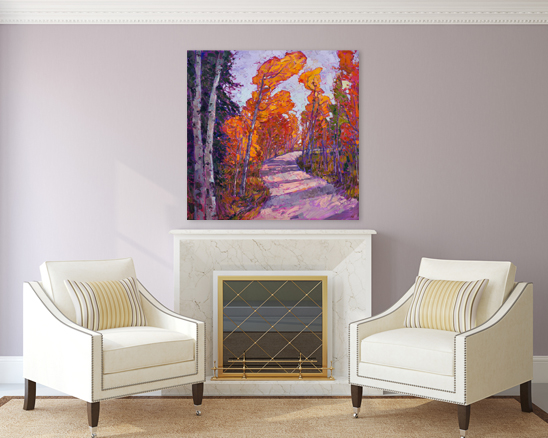 (Image: Shaded Breeze, an original Expressionistic landscape in oil, by Saatchi Art artist Erin Hanson. Learn more about Erin at Inside the Studio…)
Jewel-tones continue to be popular choices for modern interiors. For unforgettable glam and drama, paint an accent wall in a dusky, mysterious shade like Benjamin-Moore's 2017 Color of the Year, Shadow.
If you're seeking a softer space, check out Cloudberry, Olympic's 2017 color pick, seen here at Bob Vila, or go for a rich amethyst shade…
Show off your contemporary art photography, original drawings and art prints surrounded by a splash of current color. Using a contrasting frame or wide matte helps your art collection remain in the spotlight. (Image: Design by MANI & Co / Architecture Stephen Bruns / Photo by Tricia Shay, courtesy of Houzz)
Read more about 2017 Paint Colors of the Year on Houzz…
Art you love makes any space feel more fabulous. Find a pop of color that speaks to you in this fresh collection of works.