Create Your Best Home Office With Color
In addition to ideal ergonomics and optimum organization, color is a valuable tool to consider when designing your perfect home office. Regardless of whether you decide to take the plunge and paint your walls, contemporary art is a great place to start when considering updates to the color scheme in your workspace.
See how choosing the right color artwork can help reinvent your office… We also love special requests! If you have a favorite color or style in mind, contact Saatchi Art's Art Advisory today for personalized assistance finding original art you'll love.
Blue
Blue is the color most associated with mindfulness. When you want to keep things calm and collected, facilitate improved communications with co-workers or clients, or create a focal point for brainstorming better ideas, bring in some blue art. Blues can also be combined with other more energetic colors to encourage a feeling of stability.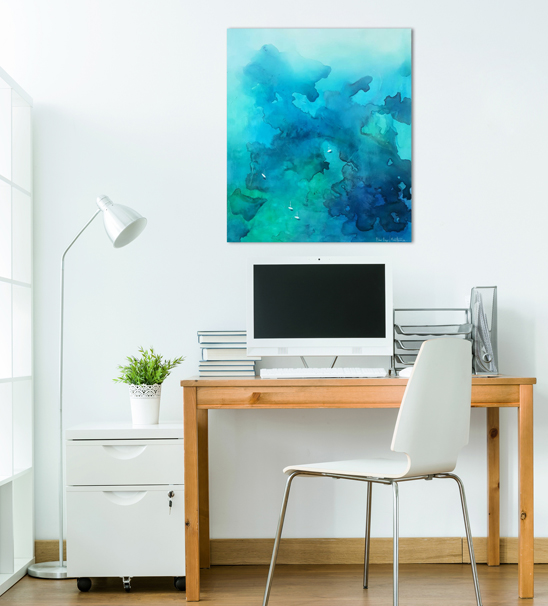 (Image: Blue Bay | off shore, an original sea painting by Saatchi Art artist M a r t y n o v a) If you love what you see, take a glimpse of Yuliya Martynova at work in our Inside the Studio feature, or visit Saatchi Art's Abstracts for $1500 and Under collection to see more today…
Green
If your goal is to crank up your creativity and invite innovation this year, go green. Green accented artwork is a great color choice for inspiring harmony, and is thought to be easy on the eyes, making it a great choice for writers, designers, and anyone else who spends a lot of time in front of the computer. In addition to green art, prints and furnishings, picking up a few fresh plants is an easy way to green up your desk and improve the air quality in your office.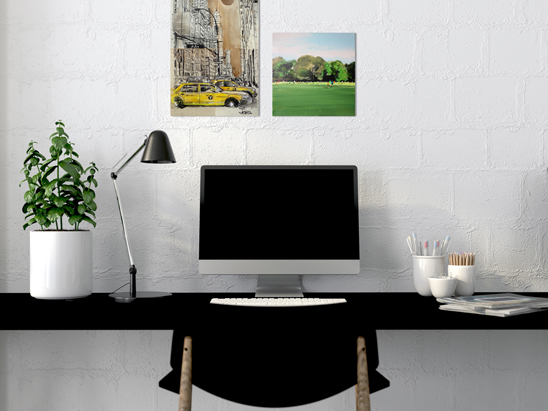 Pops of fresh green and cheerful yellow can help invoke out of the box thinking and an increased sense of optimism. Open up your blank interior walls with small landscape paintings, drawings and bright art prints, and prepare to be inspired again. (Image: L: 5th avenue study, a drawing by Saatchi Art artist LOUI JOVER; art prints available from $70 and up. R: Green n1, an original landscape by Saatchi Art artist Sanja Milenkovic)
Yellow
Sunny yellows are an effective way to boost your self-confidence and infuse your workspace with a more uplifting, energetic, and creative vibe. Think contemporary artwork or prints featuring yellow tones and patterns, yellow rugs, furnishings, lighting, and modern accessories. Be sure to balance yellow with neutrals, whites, and soothing blues to maximize its cheer factor and avoid feeling anxious.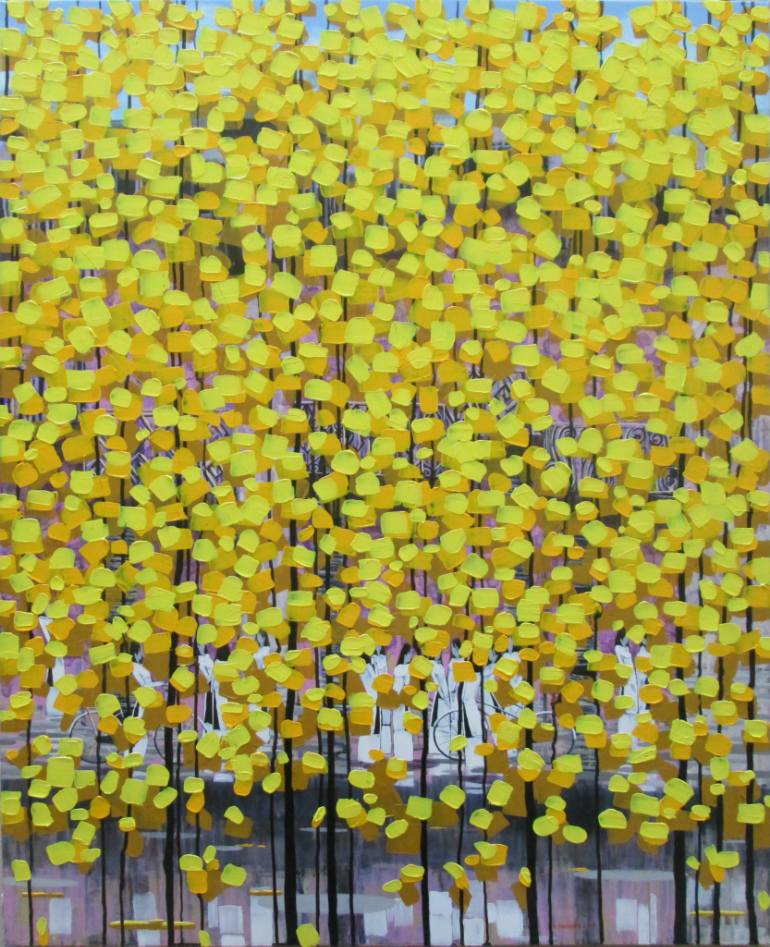 If your home office is out in the open, oversized artworks can help define your workspace within a larger room. Try introducing some yellow artwork to lighten up subdued gray spaces.  (Image: Rows of yellow trees #1, an original oversized acrylic painting on canvas by Saatchi Art artist xuan khanh nguyen.)
White
Fresh white workspaces can be conducive to creativity, especially when infused with abundant natural light, but too much minimalism may not be the best choice for your office. Research has shown that working surrounded with art you love can make coming to work feel brand new again, while increasing your productivity and inspiration.
Look who we spotted on Houzz… Two of Saatchi Art artist Ed Freeman's desert landscape photographs are part of this inviting home office gallery wall. (Image: Design by FOUR POINT DESIGN BUILD INC / Photography by Riley Jamison, courtesy of Houzz)
Red
When you're looking for a push to keep working after hours or the stamina to close a sale, a touch of red can do the trick. Use modern art with hints of red to instill your office with energy and show that you're someone who is not afraid to attract attention and express your feelings with confidence.

(Image: Dynamo, an original geometric abstract painting by Saatchi Art artist Alyson Khan) For more eye-catching geometric artworks, be sure to visit our Geometric Abstracts collection.)
For more on how to improve your office with color, check out these informative articles and infographics at Entrepreneur and Elle Decor…
Ready to get to work finding art you'll love? There are lots of places to look… You can explore New This Week or our Art for Your Office Lobby Collection to discover a new favorite today, or see what's new in Saatchi Art's Originals for $1000 and Under now…